UK 0121 286 7782
US Toll Free 888-768-4401
Overseas +44 121 286 7782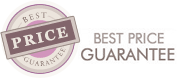 Villa Accommodation Details
Villa Details
bedrooms: 4
---
bathrooms: 3
---
available for: 9 to 10 people
---
Pool type: Private Pool
---
2014 Prices per villa


from
774
to
2639
GBP

Location address: Lucolena - Florence
Show on map
-

(4 reviews)
Villa photos
& Description
Site, Pool & nearest towns Info
Price availability
& book now
Client
Reviews & Tips
Frequent Questions

---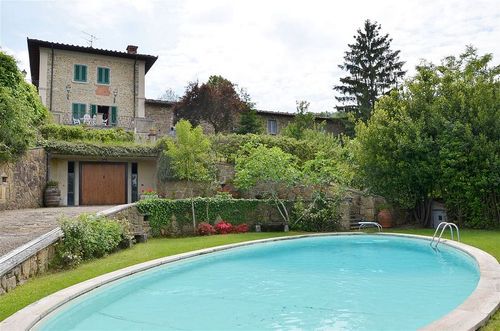 Perched on a green and forested valley of the Chianti, in the small picturesque village of Lucolena, sits Casa Puliti a comfortable country home with a private pool and open views from its raised terraces.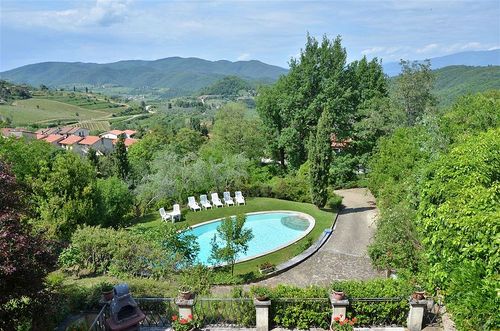 The well-tended terraced gardens are planted with flowers typical of the Chianti area giving a fragrant aroma throughout. The garden leads down to the swimming pool.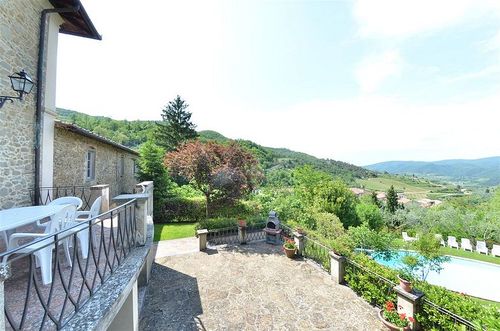 The swimming pool has been bordered in natural stone, which in turn is bordered with lawn to lend an ample area around the pool for relaxing in the warm Tuscany sun.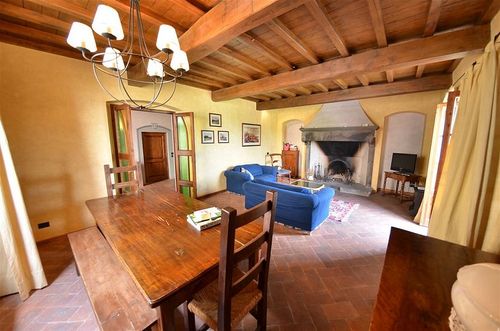 The villa has been beautifully decorated; the owner's original intention was to use Casa Puliti for his own family country home. Some of the best features - the ancient wooden doorway, heavy wooden beams and terracotta floors - have been restored to their former glory, while the bathrooms have been finished in marble.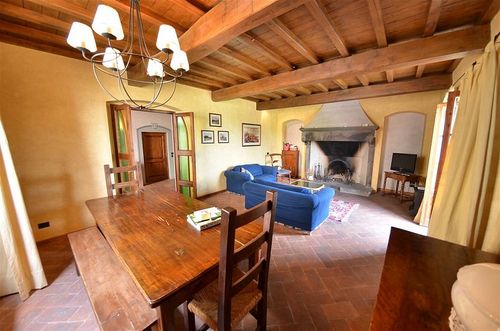 The living-dining room on the ground floor is comfortably furnished with two sofas and some chairs around a large fireplace. To one side of the room is a dining table with a bench seat and chairs. Doors lead to the terrace where there are spectacular views. The spacious kitchen is well equipped with 5 gas hobs, a large oven, fridge-freezer, microwave, and dishwasher.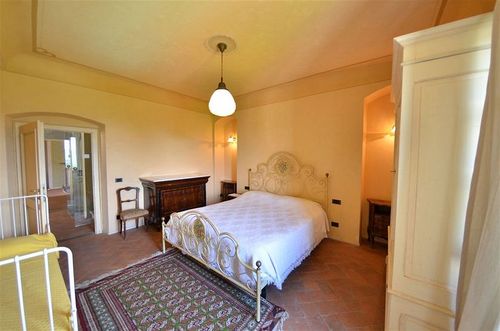 Also on the ground floor near the entrance is a guest toilet, the washing machine can also be found here. A central open stairway leads up to the first floor where three of the bedrooms are located. The first bedroom on the left hand side has a double bedroom and a single day-bed, wardrobe and a chest of drawers. There is a window from the room overlooking the garden and swimming pool. The ensuite bathroom has a toilet and bath with a handheld shower.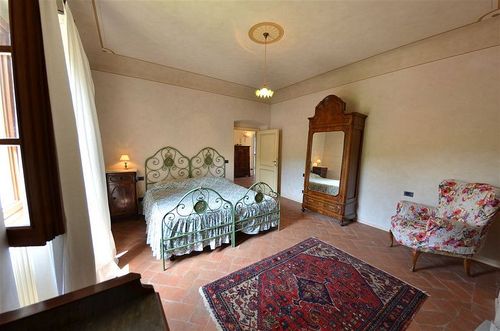 The twin bedrooms are spacious and have plenty of wardrobe space.
There is a single open bedroom on the second floor/attic conversion; there is a tiny toilet room with washbasin.


The bathrooms are all finished in marble, the ensuite bathroom has a large bath tub with hand held shower attachment and the other complete bathroom has a large shower.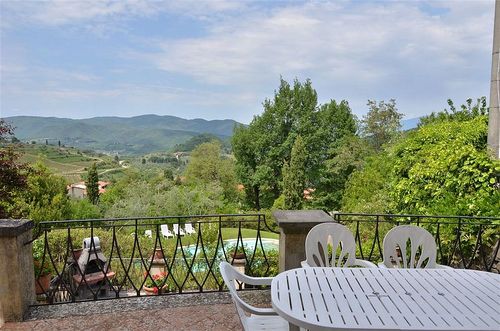 A barbecue terrace in the gardens, or the large stone terrace provides a wonderful place to enjoy al fresco meals whilst discussing the day's adventures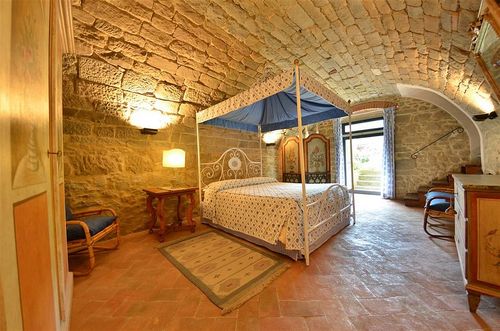 Going downstairs from the entrance hall there is a small double bedroom with access to a little garden. This is a pretty room with a typical Tuscan vaulted ceiling in terracotta tiles. The room is furnished with a large wardrobe and a couple of comfortable chairs. This is the coolest room of the villa.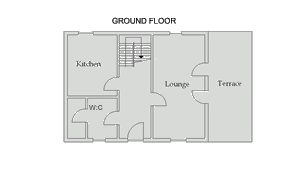 The garden level bedroom is not shown on the floor plan.

Casa Puliti is in a peaceful village yet it and it's grounds are private.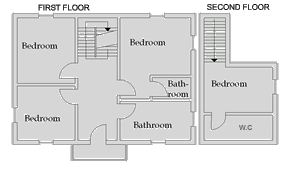 There are splendid views across the valley from the house, garden and pool.
Due to it's village position Casa Puliti is occasionally visited by the neighbour's cat.
---
In House Details
---
The size of the villa is 220 sqm
In House: Facilities
---
1 baby cot
Furnished terrace
Decorative fireplace
Private garden
Separate kitchen
TV
CD player
Microwave oven
Fully equipped kitchen
Barbecue
Stove top espresso machine
Kettle
Washing Machine Inhouse
Dishwasher

Pool Info
---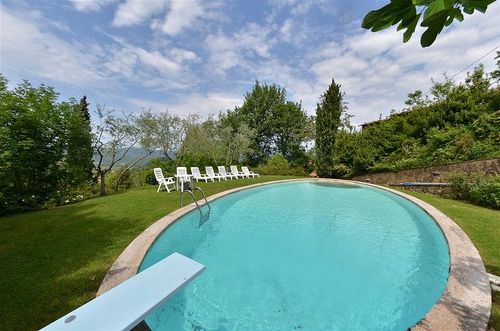 The pool is the perfect place to relax in the Tuscan sun. While enjoying the breathtaking view of the countryside you can work on your tan, and enjoy the peaceful atmosphere to be found in rural Tuscany.

The pool is 14 x 7 meters and open from May to October
A clien'ts suggestion for walks:

TUSCAN WALKS
A walking holiday in Tuscany meant buying a good book. There is one fortunately whose title is listed at the end. We chose four walks all of which were distinctive and beautiful. It is a good idea to know a plan of the route you want to go on and how long it takes as Italian footpaths are not well signposted. A red, green and white (the Italian flag) mark on stones, trees and boulders indicating a path does exist but not everywhere. Footwear is of the utmost importance and walking boots or walking trainers are essential as many paths are often stony and many are steep gradients, so a good grip is vital.
We established our four circular routes written in the book and kept to them. At times it proved a little difficult to follow owing to the sometimes amusing instructions but we were well rewarded and never completely lost our way. We enjoyed wonderful views of the Tuscan countryside where the blue hills unfold into the distance, cool strolls through dappled, half sunlit mossy woods, the sights of swallows and swifts cutting through the balmy air, clouds of exotic butterflies, a multitude of different scents, and the feeling of having known a uniquely beautiful and graceful landscape.
The walk from Monteriggione near Siena proved the most challenging and there was a long winding route uphill from one village Abbadia Isola where a shop was thankfully open for us to replenish water supplies. However we enjoyed the magnificent views of the medieval fortressed town with its intact walls from the Monte Maggio and the beautiful route down the hill through sunflower meadows and carefully tended olive groves in the amber evening light.
One particular walk to Lamole from Monte St Michele was very close to the villa Puliti in Lucalena. On this particular walk down to Limole varieties of wildflowers proliferated creating a tapestry of colour. We could find oxeye daisies, cornflowers, celandines, vetches, lilies, field scabious, and pretty wild sweet peas, among the great bushes of yellow broom on the side of the footpath. Most of the trees seemed to be either the hardy fir and small chestnut and oak trees with twisted trunks growing out of the harsh sunbaked soil. On the rocks small lizards could be seen scuttling into the undergrowth. In the air we could detect various scents of mint, lavender and balm. The cicadas were heard with their distinctive metronomic clicking sounds.
There is a fine restaurant in Lamole, called Ristoro di Lamole, with an adjoining shop which would have been useful had it been open. It is worth checking to discover whether places are open or not before setting out for the walk. The restaurant however is not very accessible by road from the villa but would be worth a visit for the aspect alone.
Further away from the villa in Lucalena the attractive hairpinned road winds out of Greve affording sublime views over the undulating, open cast countryside of Chianti. Our third walk took us to Badia a Passignano a monastery founded in 1049 where Galileo taught. Inside the church of Saint Baigio rests the remains of frescoes dating back centuries. Sadly the monastery was closed so it is worth checking beforehand if places worth visiting are open. This did not detract from the walk's beauty and we were rewarded with a sighting of wild boars crossing our path as they crashed from the woods. Along the route we discovered hard thin porcupine spines, although we did not spot any of the creatures. On the route home it is worth visiting Montefioralle, a picturesque village with more superb views across the land, views that formed the background of so many Renaissance paintings.
The landscape is dotted with hilltop towns some of which pass through the route described in the books. One such town was Volpaia near Radda in Chianti a short drive from Lucalena which provided a timeless medieval view from afar and did not disappoint on closer acquaintance with its circular stone houses and terracotta roofs. The castle has many of its walls formed in an ellipse still visible as well as the smaller towers. In front of the town grew the silvery olive trees and green neatly spaced light green vineyards interspersed with the ubiquitous dark cypress trees.
Volpaia basked in warm sunshine yet between the shuttered stone buildings and in the alleyways we could find a cool shade. The church known as La Commenda shows architecture from the brunellesque order. Restoration work was taking place underlining its importance. There were several cafes in the square and we enjoyed a refreshing drink under a shady canopy in the café Ucci.
The castle and towers were the legacy of its role as a military lookout in the sixteenth century acting as a bulwark in the endless medieval battles between Siena and Florence. The town built in the eleventh century lies on the border between the two warring towns and at the head of two valleys, hence its strategic importance. A son of Volpaia was a friend of Leonardo and built the planetary clock in the Plaza Vecchio on commission for the Medici in Florence.
We walked down a long avenue of tall cypresses leading out of the town with its interplay of light and shade. We continued past several lovely farmhouses and down through the chestnut, fir and oak woods, such a feature of the Tuscan landscape. Like the church in Volpaia the church at Santa Maria, which ended our trek, was similarly being restored indicating the importance of preserving Italy's rich heritage. Here the church a date back to 1010 and has splendid decoration on the capitals unusual for the area. This was our last walk and in some ways the most splendid but every walk we did had its own unique delights.
We did walk during the midday when the heat was at its fiercest, but evenings and mornings are the best times especially in the summer months. Walking in the early evening when the heat is lessening, the shadows lengthening, the route almost completed and the sunlight playing on the round wooded hills and hilltop distant towns was an unforgettable experience. This is a gentle rolling landscape which casts a spell over those fortunate to visit.
Our Four circular routes chosen were:
Monteriggione roughly 5 hours
Badia a Passignano roughly 4 hours
Lamole roughly 3.5 hours
Volpaia roughly 4.5. hours
These walks and others can all be found in the book which is listed on the Amazon website. The title is 'Walking And Eating In Tuscany And Umbria' by James Lasdun and Pia Davis.
Martin Swanzy


Nearest town
---
Casa Puliti is located in a little typical village, Lucolena, the small shop is a short walk from the villa. It is a Alimentare (grocery store) that stocks a fabulous range of local products and the essentials. The village also has a bar. Further a field, about 10km away, is Greve in Chianti this Chianti town is rich with typical stores
A few minutes drive from the villa there is a good restaurant, called Borgo Antico, it is in a the village Dimezzano.
---
Onsite: Facilities and Local Services
---
Swimming pool - Open May to October 14x7 mtrs and 1.3 to 2.5 mtrs deep (weather permitting)
Golf - nearest course 20km Ugolino www.ugolino.it
Washing Machine Onsite - washer and ironing room
House Maid - local lady available - book in advance
Cook on request - book in advance, see FAQ for further info
Distances - Florence 30km, Siena 40km, San Gimignano 50km, Pisa 110km, Rome 260km
Approach road - All tar road
Tennis - Figline Valdarno 10km
Railways - Figline Valdarno 10km
click on a week TO BOOK


7 Night Villa Price in GBP for up to 10 people - Price is NOT per head



2013

availability

To Tuscany's up to date availability data-base is checked at the moment of your request.

November

30. - 07.

774 GBP

December

07. - 14.

774 GBP

14. - 21.

1183 GBP

21. - 28.

1183 GBP

Important booking info
Important booking info
---
Price: per accommodation per week
Arrival/Departure day: Saturday
Terms and conditions: please read the booking contract
The Security Deposit is 500 Euro or equivalent in your own currency, this will be held by the owner for the duration of your stay. Any damages plus heating/air conditioning, where applicable, costs will be taken from this with the remainder returned at the end of your holiday.
Payment method for security deposit: Cash

Weekly linen and bathroom towels: included - service provided by local supplier
Central heating: by week
Mandatory final clean: included - service provided by local supplier
Baby cot: 1 available on request, no extra cost
High chair: 1 available on request, no extra cost
How to read the To Tuscany availability calendar.
| | | |
| --- | --- | --- |
| | 27. - 03. | Available - click on a week TO BOOK |
| | 27. - 03. | Booked - the week is subject to a previous reservation - click on this week to search for another similar property |
| | 27. - 03. | Option - the week is subject to an option and may become available again - click on this week to search for another similar property |
| | 27. - 03. | Available: Special offer. The price shown is the discounted price |
Click on a date to book


Important booking info
---
Price: per accommodation per week
Arrival/Departure day: Saturday
Terms and conditions: please read the booking contract
The Security Deposit is 500 Euro or equivalent in your own currency, this will be held by the owner for the duration of your stay. Any damages plus heating/air conditioning, where applicable, costs will be taken from this with the remainder returned at the end of your holiday.
Payment method for security deposit: Cash

Weekly linen and bathroom towels: included - service provided by local supplier
Central heating: by week
Mandatory final clean: included - service provided by local supplier
Baby cot: 1 available on request, no extra cost
High chair: 1 available on request, no extra cost
The guest reviews published below represent the personal opinions of To Tuscany customers who completed a questionnaire after their stay at the villa or apartment. These opinions do not necessarily represent the view of To Tuscany. For help with translation we recommend
http://translate.google.com/

Family with older children

Turriff, United Kingdom
Review date:
Stay: September 2013

Great location in village and fairly well equipped. Plenty of space for six of us and good facilities. Nice secluded garden and pool. Good cooking facilities and great ingredients available locally. Lovely large terrace to eat out on.
Plenty of nice bathrooms.
Great house with loads of character- probably ideal in heat of summer but slightly chilly at times in October.
Good walks locally and easy to get to places such as Greve, Volterra etc.
The fresh figs from tree in garden were wonderful.

No-one checked us in or contacted us. But not a problem - keys under mat as specified. We were there early October and had two days running of thunderstorms and heavy rain so house felt dank and damp and we had a hard time drying clothes. If it had lasted longer we would have rung owner to turn on heating morning/evening for a little while. Couldn't turn it on ourselves as boiler was locked. House north facing so at that time of year terrace didn't get much sun although out and about in village etc it was warm and sunny - not so much at Casa Puliti. The lighting was dreadful especially in living room at night. Could barely to see to read!

The local shop in Lucolena was great. Stocked almost everything. Best shopping in Figline Valdarno - large co-op open on Sundays . We liked FV better than Greve which is nice but a bit twee although it has a great pork butcher- most unusual with super products. The restaurant in Lucolena is a well kept secret. It is downstairs in bar and is really large when you get there. Great food and reasonable wine. Six of us had three courses and two litres of wine and it was just under 100 euros. The flaw is it is open only on Fridays and Saturdays -certainly when we were there. Nice walks round about and nice places to drive to. Good train connection to various places. Loads of nice small restaurants in places round about.

Group of friends

Paris, France
Review date:
Stay: August 2013

Idéalement située entre Florence, Sienne et Arrezo, la maison est très accessible depuis la place du village mais, tournée vers la vallée, elle a les avantages d'une maison isolée. Il y a une supérette dans le pâté de maisons. Les villageois font souvent des fêtes et sont très accueillants (ils sortent le baby-foot sur la place les soirs d'été et font de petits bals pour tous autour de la casa del popolo).
La maison est joliment conçue et entretenue. Nous y avons séjourné à trois familles sans jamais nous gêner, notamment grâce à l'aménagement des sanitaires.

Nous sommes allés à Sienne et avons dîné dans un restaurant délicieux, authentique et pas cher, à l'accueil chaleureux — nous étions avec six enfants –, tout proche de la piazza del Campo, le premier dans la rue qui borde le palazzo Vecchio à droite, via Giovanni Duprè.

Family with young children

Eschenbach, Switzerland
Review date:
Stay: June 2013

Super Lage, Italien pur, Natur pur
Guter Ausgangspunkt für Bike- und Weintouren
Ideal für 2 bis 3 Familien
Grosse Küche

Für Kleinkinder nicht ideal (4 Ebenen)

Greve Radda Sehr viele sehr gute Restaurants

Family with older children

Apeldoorn, Netherlands
Review date:
Stay: August 2012

Het huis is ruim van opzet en het is ook gezellig dat je in een dorpje zit.
De keuken is goed ingericht en lekker ruim.

Het ontbreken van horren. ( we hebben ook al eens gehad dat er beneden horren waren bij een paar deuren en ramen en boven op iedere kamer een ventilator (muggen houden niet van wind!)) De ijskast stond op een onhandige plaats. Lekkage gootsteen keuken.

Fattoria L'Ottavo: ligt min of meer onder Casa Puliti. Hier verkopen ze heerlijke olijfolie en ook lekkere wijn!
Thierry

Wezembeek-Oppem, Belgium
Review date:
Stay: July 2010
What were the highlights of your holiday? very quiet village and nice neighbourhood.
What was your overall impression of the accommodation? very very good
Did you have any unpleasant surprises during your stay with us? in the house: kitchen equipment was a bit old, worn out and a bit messy ( not 2 identical wine glasses !!)
but this was improved after we notified it
Do you have any other comments regarding the accommodation or service? we had a very nice stay, thanks
Thierry François
Belgium
July 2010

FAQ - Frequently Asked Questions
At what time should we arrive and depart?

Arrival time 16.00 if you arrive after 19.00 please telephone
Departure time 10.00 am
Can you help with travel arrangements?
For help on travel arrangements by car, by plane or by train select Reach Tuscany from the home page.
Are the prices per person or per villa?

The price displayed are per villa.
Are linen and towels provided or do I need to bring my own?

Yes linen and towels are provided and included in the price displayed, bring your own pool towel.
Is the central heating included in the price?

No, the central heating is charged on consumption when required.
Is there a swimming pool?

Yes, there a 14 x 7 meters pool open from May to October
Is there a telephone, fax, email connection available?

No, but in most villages and towns there is public phone. In Greve there is a fax and Internet cafe.
Are there local grocery stores?

Yes there is one in Lucolena.
How far are the airports?
Florence 40 minutes, Pisa 2 hours, Bologna 2 hours, Rome 3 hours.
When do I get road directions?

Directions are provided with your final confirmation, after full payment is received.
Where do I find the directions?
The directions can be found as a link on your final confirmation email. They can also be accessed by logging into your booking details using your useremail and password.
What is the cost of the dinners?

The owner can provide the followivng types of dinners, you must book these in advance so that the cook is availalable for the day that you require. When booking please also confirm the number of people (minimum 6 ) and time you wish to eat.
Menu 1 - First course, second course, side dish and dessert for 45 Euro
Menu 2 - Starter, first course, second course, side dish and dessert for 50 Euro
Children's menu (under 6 years old) - 25 Euro
The items of the menus will be typical Tuscan and at the descretion of the cook based on available local produce. Drinks are extra.
The owner of this house also has a small hotel where he will offer guests at his house a special price. Dinner at Villa La Borghetta 28,00 Euro per person, 3 courses from La Carte menu (beverage not included). Please click here for further info:
http://www.villalaborghetta.net/restaurant/
To Tuscany Community
Follow Us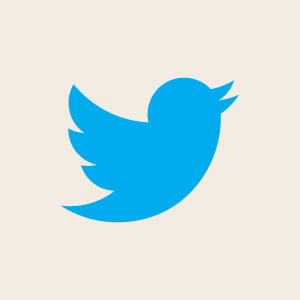 read what clients and the press say about us
client comment
Camarillo, United States of America
01.12.2013

Young couple
"The location was great. We were able to explore the Tuscan country side as well as Lucca, Pisa, and Montlechino. The flat had adequate living space. Would be ... "


client comment
Sevenoaks, United Kingdom
23.11.2013

Family with young children
"We enjoyed the outstanding views from the terrace, particularly the autumnal colour from the surrounding vineyards. The family Viti made us very welcome and Martina was very helpful and spoke ... "


press comment
Tim Jepson
Daily Telegraph
I like To Tuscany, partly because it has a tremendous range of villas, and partly because (unlike many companies) it has an excellent website that provides what you really want when choosing a villa.

press comment
Frank Gardner
BBC - Security Correspondent
Our accommodation, which cost less than £800 for the week, is in a converted stone farmhouse next to a 12th Century Franciscan chapel. There is a pergola shaded by vines round the back here we quickly settle into a rhythm of eating long pasta suppers while the shadows lengthen.