Bob the Cook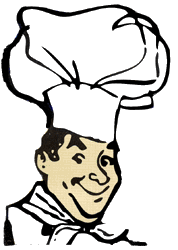 Organizing a special meal or event in beautiful Tuscany?
On vacation and want to eat like a real Italian at home without all the hassles of the kitchen? Or have you rented your own villa in Tuscany and want to impress your guests by serving the best in Italian cuisine?
Roberto The Chef (a.k.a. "Bob The Cook") will fulfill your every culinary desire, right in your own kitchen.
"Bob The Cook" will consult with you to create the perfect menu, he will shop for all the best ingredients and he will recommend the best wine for the meal and for the occasion.
"Bob The Cook" will handle all the details of the preparation and presentation of the meal, leaving your kitchen in the same clean and orderly condition he found it. "Bob The Cook" travels throughout Europe offering cooking courses (minimum 1 week), organizing special meals and events and making available his experience and knowledge of fine Italian food and wine.
Contact "Bob The Cook", your personal Italian chef away from home.
http://www.bobthecook.com/inglese/indexEn.htm