Mangi A Casa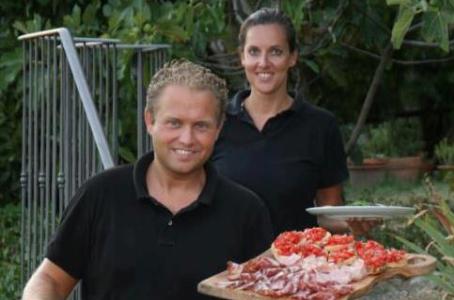 Mangi A Casa
A Dutch couple who can cook for you in Tuscany.
Enjoy a traditional Italian or Tuscan meal in the comfort of your own holiday villa in Tuscany. Being served outside as the sun sets and crickets play background music, knowing you do not have to drive home. Mangi a casa - Italian for dinner at home - provides this service. They prepare a high standard four course menu and serve this where you want for reasonable prices. They also offer a great wines to accompany the food!
Go to
http://etenintoscane.nl/en
for more information
Customer review.
Ruth: I truly enjoyed the service and food of Mangi a casa when I stayed in Tuscany with my family. Bert en Marieke served with a smile and prepared a lovely dinner in the kitchen of our rental tuscany villa. What a treat to sit outside and wait for the next course! The food was simple and very tasty, and they made something special for our daughter. The wines were from the region and we ended dinner with a glass of homemade freezing limoncello. There is no better way to spend a Tuscan evening.