Tuscany Tours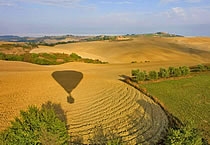 Tuscany in Tour
Based in Florence, Tuscany in Tour is a licensed Tuscany tour operator that has been sharing the beauty of our region with tourists since 2001. Their private and personalised Tuscany tours for small groups take place in comfortable, air-conditioned vehicles and come complete with a licensed driver who will speak your required foreign language and will act as your tour guide and interpreter as well.
After advising you on the right Tuscany tour for you, they will come with you on your visit and show you the best restaurants and sights to see, offering interesting information along the way rather than just staying in the car.
From daily tours and package tours, to wine tasting or fully customised tours - Tuscany in Tour promises a 24/7, highly competent and efficient service at very competitive prices. They also provide private transfers & airport transfers from any part of Italy to Tuscany and vice versa.
Contact
Tuscany in Tour
www.tuscanyintour.com
info@tuscanyintour.com
Tel + 39 055 6810014