photo-competition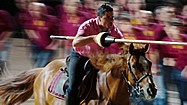 TO-TUSCANY ANNUAL PHOTO COMPETITION
Congratulations to Jim Hartman who was our 2010 photo competition winner with his entry "Giostra del Saracino".
Jim received a hamper of Tuscan goodies for Christmas.
All the entries to this years photo competition (and also to last years competition) can be seen on the Flickr website. You can add your comments to the photos too.
http://www.flickr.com/photos/tuscany-competition/
The 2011 photo competition is open again from January, we love receiving all the photos so please keep sending them.
Competition - General Tuscany Photos
There are no set categories for the general photocompetition, you can send in JPEG copies of anything that reminds you of your holiday (to a maximum of 5 photos). Towards the end of the year, the To Tuscany team will pick a winner and two runners up from all the entries. The winner will receive a hamper of Tuscan specialities.
Please email your entries (maximum of 5) to
dympna@to-tuscany.com
. You must include your name, holiday reference number and a caption for each photo when emailing. All winners and runners up will be notified directly and all photos will be displayed on the To Tuscany website and the Flickr website, details of the winners will be announced in the newsletter and on the To Tuscany website. To Tuscany reserves the right to use any of the images submitted on their own website or for promotional purposes.
We have a winner!
Congratulations to Jim Hartman who is the winner of our 2010 Photo Competition with his fantastic photo of the Giostra del Saracino.
Jim received a hamper with Tuscan specialties.
Images of the 2010 photo competition: