Cooking School Malborghetto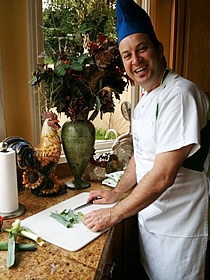 Cooking School Malborghetto
Lessons are held in the professional kitchens of the Malborghetto Restaurant located in Lecchi in Chianti. The classes are taught by the resident chef and are for a maximum of 6 persons, thus ensuring you have individual in depth tuition.
The courses take place in the morning and last for three hours; students will prepare a four course menu consisting of an appetiser, homemade pasta dish, main course and desert, all of which they will get to eat at the end of the lesson.
The menu is flexible and can incorporate client's requests or will be based on ingredients available according to the season. At the end of each cookery class a sommelier will discuss which local wines would complement each dish.
The price is €90 per person which covers all tuition, ingredients, kitchen equipment including clothing, the advice of a sommelier and wine with each course.
For more information -
www.malborghetto.net
See our blog
http://blog.to-tuscany.com/2015/04/too-many-cooks-not-in-this-kitchen.html
This video shows our Canadian agent Susan and her family enjoying cookery school at Malborghetto:
www.youtube.com/watch?v=Wwfotd3Mh2o&feature=youtu.be

Cooking School Malborghetto
---