Castello dell'Imperatore-Prato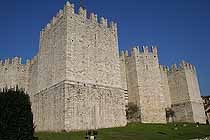 CASTELLO DELL'IMPERATORE (EMPORER CASTLE)
This is a huge imposing structure with high crenellated walls and towers. Built for the medieval emperor and King of Sicily Frederick II, it was built on top of a previous fortification of which two towers remain. Building stopped when Frederick died and the interior was never fully completed. Although some destruction took place during the fascist regime, much reconstruction work has taken place and is ongoing. It is possible to climb the stairs up to the top of the castle walls and walkways which have fantastic views over the surrounding city of Prato.
A small entrance fee applies. Reduction for children aged 4 – 18 years under 4 years free of charge.
A reduced combined ticket is available for the castle, the museum dell'Opera dell Duomo and the exhibition of the sacred images.
Location:
Prato
Open from:
Open weekdays and holidays - closed Tuesdays
October – March 09.00 – 13.00
April – September 09.00 – 13.00 and 16.00 – 19.00
Tel:
+39 0574 38207
Website:
http://en.wikipedia.org/wiki/Castello_dell%27Imperatore