Cavallino Matto in Donoratico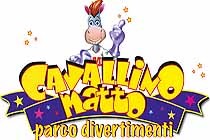 CAVALLINO MATTO AMUSEMENT PARK
An amusement park with a variety of rides, they also have magic and water shows throughout the day, but check the website for times as these are subject to change. The water show is only in high season. The park has a selection of restaurants and fast food outlets as well as picnic areas if you bring your own food.
Opening hours: Open on certain weekends only in March, April and October from 10.00 – 18.00
Then every day from mid May until mid September from 10.00 – 18.00 and until 20.00 in the middle of August. Admission is reduced for over 65 years and under 10 years, those under 90cm are free of charge but there are height restrictions on some of the rides.
Location:
Via Pò 1 - 57024 Marina di Castagneto (LI)
Open From:
Mid May – Mid September 10.00 – 18.00 and until 20.00 in August. Limited opening during the winter months – check the website for latest details
Tel:
Tel +39 0565 74.57.20 - Fax +39 0565 74.67.70
Website:
www.cavallinomatto.it