Marmore Falls-Terni-Umbria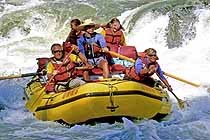 MARMORE FALLS – TERNI -Umbria
The Marmore Falls are the highest in Europe and are less than an hours drive from Rome. The Falls are surrounded by lush vegetation which gives the area a beautiful tropical-like setting. Rafting Marmore have been operating for 10 years and have guided thousands of rafters from all over the world down the 3 kilometredescent from the Marmore Falls along the Nera River in Umbria. The trip lasts approximately one hour and each raft can take six people and the licensed guide.
To take part in the rafting there are no particular skills required but you must be a good swimmer and in good health (see website for medical/health restriction details). Participants must be between the ages of 16-55 - an adult must accompany children from 16-18. All the instruction and practice takes place before you begin your descent and full equipment - waterproofs, helmets and lifejackets - is provided.
Location:
Papigno - Terni
Opening Dates:
The center is open all Saturdays and Sundays from march 15th to October 31st, and every day in July, August, and September.
Tel:
0039 330 753420 – 0039 337 729154
Website:
http://www.raftingmarmore.com/english/rafting-marmore/la-cascata-ed-il-parco-del-nera/
Email:
info@raftingmarmore.com