Palazzo Vecchio Family Museum-Florence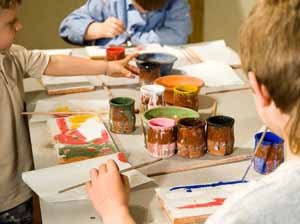 Palazzo Vecchio Family Museum
Located in Palazzo Vecchio one of the best known landmark buildings in the city of Florence.
The museum has a number of attractions for children of all ages, with two theatres one the "Bia and Garcia's storytelling room" is for younger visitors (from 3 years) and the other know as "Renaissance civilization in Florence" for older visitors (from 8 to 88 years old). Short plays are staged with the help of audience participation most of which concern life in the court of Cosimo I de Medici and his wife Eleonora di Toledo who used to live in the Palace. For the younger members stories are told by the Palace mice and various other characters.
Make a fresco using the traditional techniques used in the Renaissance period and take this away as a souvenir, or investigate the multimedia room.
The museum has a variety of guided tours including the secret passages of the palace.
For adults and families
Tel. +39 055 2768224 Fax +39 055 2768558
Monday to Sunday, from 9.30am to 5pm
email: info.museoragazzi@comune.fi.it
http://www.palazzovecchio-familymuseum.it/?page_id=2