Personal Wine Shopper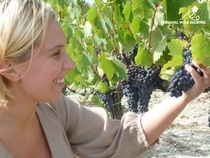 Personal Wine Shopper
In a place like Tuscany, having a personal wine shopper can be an absolute dream and Paola Pavan is certainly passionate about her wine. In her own words: "A sip of wine opens my heart."
After many experiences around the world (which has left her speaking English, German, Spanish and French as well as Italian) she now escapes abroad by giving her foreign guests a taste of "La Dolce Vita" . - not just by guiding them through the purchasing of wine, but also by giving tailor-made wine and food experiences. Her excellent knowledge of the local area and relationships with many famous wineries means Paola is perfectly placed to find even the rarest bottles of wine for you.
She offers her personal wine shopper service anywhere in Tuscany and can shop with you or for you. Paola can also organise private tastings in your villa, during which you'll dive into the Tuscan traditions and lifestyle and above all drink some fantastic wine. These tastings usually last around 2 hours and can also include some typical apetisers.
Contact
Personal Wine Shopper - Paola Pavan
www.personalwineshopper.it
paola@personalwineshopper.it
Tel: +39 345 8832604