Tuscan Wine School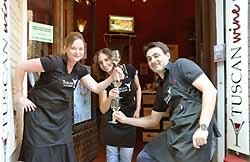 Tuscan Wine School
The Tuscan Wine School is based in Siena and Florence and offers short courses in Tuscan wine tasting or Siena wine tasting, as well as informative classes about Italian food. It's a great way for wine novices & wine lovers alike to learn more about Italian wines in a relaxed environment.
Wine tasting courses in Tuscany
Courses usually last around two hours and include six different wines. For those who prefer a shorter class, they also offer a crash course in wine tasting, which includes just three wines. Classes are held Mondays to Saturdays for the crash course and Sundays as well for the two hour course, with a maximum of 20 students per class, so advance booking is recommended.
Organised tours
To really treat yourself, why not try a luxury Tuscan wine tour, led by a local wine expert and tour guide. You can either go 'private' with a personal tour, or join a group tour leaving Florence. You will be escorted in a comfortable air-conditioned vehicle by an expert guide leading you to various vineyards and local villages, where you can meet and greet the locals and try different local specialities for lunch and/or dinner.
Contact
Tuscany wine tasting website:
www.tuscanwineschool.com
Tuscany wine tour website:
www.tuscan-wine-tours.com
info@tuscanwineschool.com
Siena: 0039 3337229716
Florence: 0039 0552344142