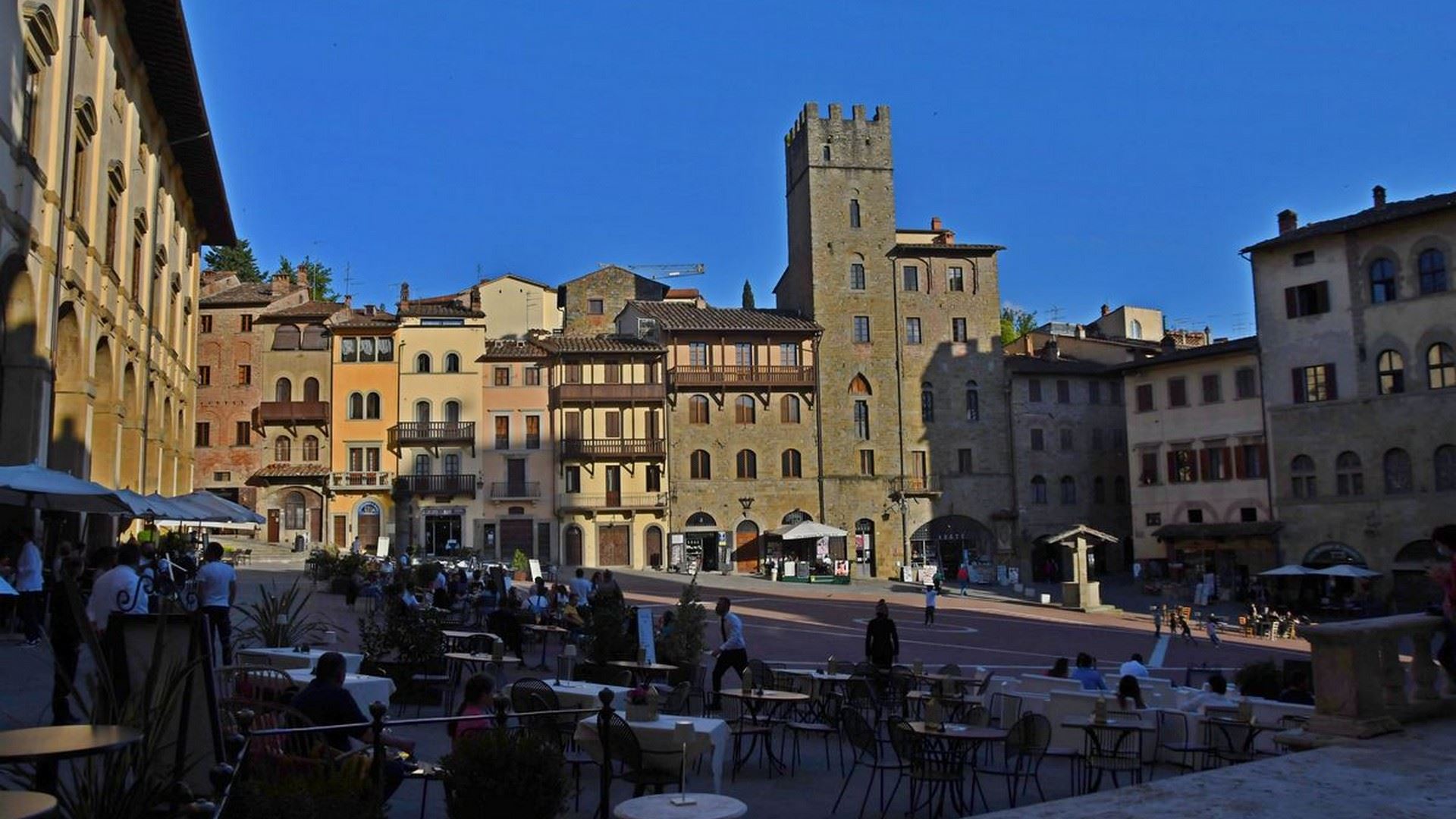 Arezzo
Situated mid-way between Florence and Perugia, Arezzo has not sold its soul to tourism. The city abounds in monuments but tourism is mostly muted in this underrated city. In a real sense, Arezzo is a hidden gem as it has built its fortune on jewellery. Arezzo was a major town in the Etruscan federation, thanks to its strategic position on a hill at the meeting point of three valleys. Today, it's one of Tuscany's wealthiest cities, as witnessed by the proliferation of jewellers, goldsmiths and an¬tique shops. The lopsided main square is a magnet for celebrations and strolls, as is the neighbouring Corso Italia. Culturally, the city belongs to Piero della Francecsa, the artist who has most left his mark on Arezzo. Medieval monuments cluster together in the northern part of Arezzo, including the Duomo, sheltered by the encircling walls of the 16th-century Fortezza, now a park with fine views.
Essential Arezzo Information
Top Ten Things to Do
Arezzo's main attractions are its magical main square and its churches, often linked to Piero della Francesca. But the best thing to do in Arezzo is simply to appreciate life in a Tuscan city that does not define itself by tourism. Beyond Arezzo, we recommend day trips along the arty Piero della Francesca trail to Sansepolcro and Monterchi. Our other favourite trips are to hilltop Cortona and to a chic wine estate.
Read more
Eating & Drinking
Local cuisine from Arezzo is highly recommended, with a great range of both traditional and modern Tuscan cuisine. At the rustic end, expect a hearty version of classic Tuscan cuisine, with inns serving salami, cheese platters, stuffed pasta or a filling ribollita soup (made with beans).  Also expect porchetta (whole deboned pigs, stuffed with garlic and herbs), succulent sausages and cold cuts. Homely inns might serve tripe and grifi con polenta, lambs' cheeks with polenta, or dishes based on veal, pork or venison.  Also look out for bistecca alla fiorentina, chargrilled T-bone steak, especially as neighbouring Val di Chiana is considered the best place for steak in Tuscany.

Arezzo is the capital of a significant wine-producing province, and offers everything from local Chianti (Chianti Colli Arentini DOCG) to Vinsanto (Vinsanto del Chianti Colli Arentini DOC). In addition, a number of estates, such as Il Borro, produce SuperTuscans, including those inspired by French models. To know more, follow the local Wine Route, the Strada del Vino. The 200-km-long Terre di Arezzo route takes in over 120 wine estates.

Read more
Shopping, Parking & Getting Around
Arezzo has a commercial soul so shopping is definitely on the agenda, even if it's only about browsing the markets. Be tempted by the jewellery shops on Corso Italia before lingering over a leisurely lunch around Piazza Grande. The glut of jewellers and goldsmiths has made Arezzo rich. On the first weekend of every month, this square welcomes an antiques market, the largest of its kind in Italy. Browse for art déco knick-knacks, jewellery, clocks, books, antiquarian prints and paintings, musical instruments and vintage clothing. Not to mention vintage signs or pulpits ripped out of Neapolitan churches.
Read more