Shopping
SHOPPING

SUPERMARKETS
There are a few large supermarkets which have the opening hours of 8.00 to 13.00 and 16.00 to 20.00.The main one is at Orvieto Scalo, near the railway station. This is a COOP supermarket open from Monday to Saturday from 8.30 to 20.00 and on Sundays only in the morning until 13.00:

Coop
P.zza del Commercio, 2
Tel: +39 0763302473

GROCERY SHOPS
Grocery shops are a little more expensive but give you a good idea of the Italian village life. Sometimes they will have better products than the big supermarkets. Orvieto is also filled with small corner grocery stores.

Gastronomia Carraro
Italian delicatessen shop
Corso Cavour, 101
+39 0763 342870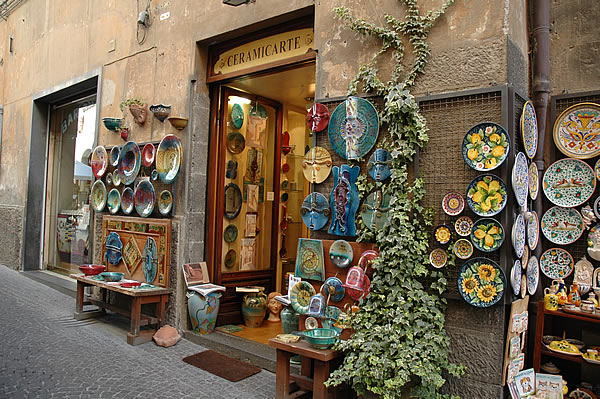 WINE SHOPS
Orvieto is a town not only renowed for its Etruscan origins and the marvellous cathedral but also for its delicious wine. Orvieto Classico is the most famous: it is a dry white wine, clean and somewhat delicate, very pleasant as an aperitif in hot weather. It is possible to buy other very good Orvieto wines in the town in wine shops (Enoteca).

La Loggia Enoteca
Specialized in the niche market of "fine wines".
Corso Cavour, 135
+39 0763 341657
Their web site: click here
Their wine price list: click here
Closed Wednesday afternoon

Enoteca Tozzi
Piazza Del Duomo, 13
+39 0763 344393

BAR AND CAFES
Caffé Montanucci
internet café, terrace in the summer, good pastry and chocolate
Corso Cavour, 21
Tel.+39 0763/341261
Closed Wednesday

Gelateria Pasqualetti
The best ice-cream in town
Piazza Duomo, 14
Orvieto
tel:+39 0763 341034

INTERNET POINTS
Mail Boxes Etc.
C.so Cavour 279/281
Tel.: 0763-393440
For more info click here

Caffe' Montanucci
Corso Cavour, 21
tel:+39 0763 341261
Closed Wednesday

Pizzeria Charlie
WI-FI connection available
Corso Cavour, 194
tel: +39 0763 344766
Closed Tuesday

THEATRE
The Teatro Mancinelli hosts regular seasons of prose (Stagione Teatrale), operas, festivals and concerts (Umbria Jazz Winter - for more info about Umbria Jazz Winter click here, Stagione della Musica d'Autore), ballets and other theatrical performances and cabaret.
It is also possible to visit the theatre:
Info: +39 0763 340493
Bookings: segreteria@teatromancinelli.it
For more info about the theatre click here

BANKS
Orvieto has many banks, most are open in the mornings until 13.30 and then again for an hour in the afternoons. The afternoon opening times vary from bank to bank.
Here is a list of Banks in the centre of Orvieto:

BANCA COMMERCIALE ITALIANA - INTESABCI
via Garibaldi, 41
tel. +39 0763/344681

BANCA DI ROMA
corso Cavour, 62
tel. +39 0763/393496

MONTE DEI PASCHI DI SIENA
via Garibaldi, 24
tel. +39 0763/39821

BANCA NAZIONALE DEL LAVORO
via di Piazza del Popolo
tel. +39 0763/344833 - 344855

CASSA DI RISPARMIO DI ORVIETO
p.zza della Repubblica, 21
tel. 0763/399001

MASS
There are many churches in Orvieto which have regular masses. There are also masses held in the Cathederal at Piazza del Duomo every Sunday morning at 8.30/10/12 and weekdays at 9.

PETROL STATIONS
There are many petrol stations that operate a 24 hour machine service, you will need a 5, 10 or 20 Euro note when they are closed. They are normally open Monday to Saturday 07.30/12.30 and 15.30/19.30.

Carabinieri EMERGENCY
Carabinieri tel. 112

Polizia Urbana
CORPO DI GUARDIA (Emergency)
Piazza della Repubblica, 7
tel.+39 0763/343724

FIRE ALERT
EMERGENCY RESCUE tel. 115

TOURIST OFFICE
Piazza Duomo, 20
tel. +39 0763/341772 - 341911 - 343658
OPEN TO THE PUBLIC
Monday – Friday 8am – 1.50pm / 4-7pm
Saturdays, Sundays and holidays 10am – 1pm / 3-6pm
Closed December 25th.

TAXIS
Piazza Matteotti, 15 – Orvieto Scalo
tel. +39 0763/301903
Piazza della Repubblica – Orvieto
tel. 0763/342613
Giulio Moncelsi
tel. +39 360/433057 (night service also)

CAR RENTAL
Hertz Orvieto
100 mts from the Railway Station
Via VII Martiri, 32F- 05018 Orvieto Scalo
Tel. +39 0763301303
Avis Autonoleggio
Viale 1° maggio, 57 - Orvieto
Tel. +39 0763390030

TOLL PARKING
PARCHEGGIO "EX CAMPO DELLA FIERA"
places n. 490 on two floors - from the parking there is an escalator and an elevator that comfortably lead to the centre of Orvieto.
OPENING HOURS
from 7.00 to 2.00 every day
tel. +39 0763341774

FREE PARKING
Parking at Via Roma - Orvieto Centre (No camper)
Railway station parking - Orvieto Scalo (also for campers) from where there is the funicular to the centre of Orvieto

ACI Breakdown rescue
ACI : tel. 116
OFFICINA SOCCORSO STRADALE
Via Montevettore - ORVIETO SCALO
tel. +39 0763/305716 - +39 335/8333631

HOSPITAL
Via Sette Martiri, 7
+39 0763 3071

FIRST AID STATION
via Sette Martiri, 7 - 05019 CICONIA
tel. +39 0763/307366
AMBULANCE tel. 118

CHEMISTS
There are a number of chemists in Orvieto. On Sundays and holidays there will be only one open, you can find out which by checking a notice that is found outside all chemists. Here is a list of chemists in the centre:

Farmacia BONIFAZI
corso Cavour, 89
tel. +39 0763/344100

Farmacia COMUNALE
via C. Manente, 3
tel. +39 0763/342568

Farmacia GAMMAROTA
corso Cavour, 33
tel. +39 0763/341726

Farmacia ZANCHI
corso Cavour, 171
tel. +39 0763/341747

MARKETS
There is a market every Thursday and Saturday morning until 13.30 at Piazza del Popolo close to the Palazzo del Capitano del Popolo (Congress Centre).

POST OFFICE
Largo M. Ravelli
tel. +39 0763/39831
open from Monday to Friday from 8 to 18.30 and on Saturdays until 12.30.

MUSEUM INFO
CARTA ORVIETO UNICA is a pre-paid card that gives the bearer access to the monuments of Orvieto.
Where to buy it: currently the card is for sale at the sales point that has been installed specially in the railway station parking, as well as at the Servizio Turistico Orvietano in Piazza Duomo.
Cost: full € 12.50
reduction € 10.50 (students, the elderly, groups of over 15 people)
free(children under 5 years old).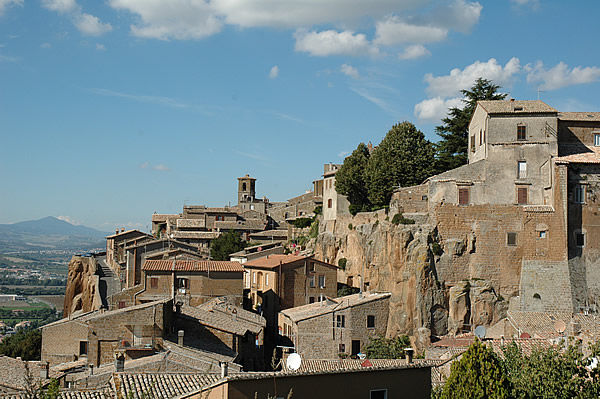 MUSEUMS AND SIGHTSEEINGS
Museo Faina
The Museo Faina contains one of Italy's finest archaeological collections, brought
together by two aristocrats, Mauro and Eugenio Faina, who from 1864 went personally
on digs and acquired items on the open market. This is considered one of the most important collections in Umbria. You will find excellent examples of Etruscan sculpture and pottery. Located in Palazzo Faina, the Museo Claudio Faina is directly opposite the Duomo and extends on two floors of the building.

OPENING HOURS
APRIL / SEPTEMBER
9.30am – 6pm
GUIDED TOURS: 11am and 4pm

OCTOBER / MARCH
10am – 5pm
GUIDED TOURS: 11am and 3pm

NOVEMBER / FEBRUARY
Closed Mondays

PRICES: single € 4.50
reductions € 3 (bus and funicular ticket holders, elderly, children 7/12, groups:
schools, families, adults) guided tours are available at an extra charge of € 1 (groups of at least 15 people) also at times other than those listed.

Museo Emilio Greco
The Museo Emilio Greco is housed in the 14th century Palazzo Soliano, next to the Duomo.The museum holds an imposing collection of 32 bronze sculptures and 60graphic works that include etchings, prints and drawings donated to the city by Emilio Greco, the sculptor of the bronze doors of the Duomo.

OPENING HOURS
OCTOBER - MARCH
Open every day: 10.30am-1pm / 2-5.30pm

APRIL - SEPTEMBER
Monday-Friday: 10.30am-1pm / 2-6.30pm
Holidays and Saturdays: 10.30am-1pm / 2-7pm

Info:
Museo Emilio Greco
Piazza Duomo
Tel. +39 0763344605

ORVIETO UNDERGROUND
A second city beneath the Orvieto that stands above ground. Most of this fascinating network of passages and underground streets is today open to the public and easily accessible. In just one hour visitors can get a good idea of what this surprising 'underground city' really is.

OPENING HOURS
EVERY DAY
11am and 12.15pm / 4 and 5.15pm
departure from Piazza Duomo, 24
guided tours in Italian, English, German
other times available on request
PRICES: single € 5.50
reductions € 4.50 (groups of over 20 people, Pozzo della Cava ticket holders)
reductions € 3.50 (students, Carta d'Argento holders)
free (children under 5 years old)

Info:
Orvieto Underground
Piazza Duomo, 24
tel. +39 0763/344891
tel. +39 339/7332764
tel. +39 347/3831472
For more info about Orvieto Underground click here

ST PATRICK'S WELL
Built in 1527 by order of Pope Clement VII, the Pozzo di San Patrizio was designed by Antonio da Sangallo the Younger to supply water to the city in the event of siege.The ingenious design of the well uses two opposite doors that lead to spiralling staircases down to the water, for a total of 248 steps, built in such a way that those descending with their mules or donkeys would never meet those ascending in the opposite direction.

OPENING HOURS
APRIL / SEPTEMBER
10am - 6:45pm

OCTOBER / MARCH
10am - 5:45pm
PRICES: single € 3.50
reductions € 2.50 (groups, students, the elderly, children, disabled)

THE TORRE DEL MORO
Tickets are on sale at the entrance but it is worth bearing in mind that this monument is one of the four sights included in the Carta Unica Città di Orvieto round ticket. Torre del Moro can be mounted either on foot or with the aid of an elevator for part of the way.It is really worth it with clear weather for the stunning view of the town and the countryside around it.

OPENING HOURS
MARCH /APRIL- SEPTEMBER/ OCTOBER
10am – 7pm
MAY / AUGUST
10am – 8pm
NOVEMBER / FEBRUARY
10:30am – 1pm / 2:30 – 5pm
TICKETS
Full € 2.80

ETRUSCAN TOMBS
On the northwest road that leads to the funicular, there are a series of Etruscan Tombs. The contents of the tombs are in museums around the world, including Orvieto.

TRANSPORT INFO
From the railway station you can reach the centre of Orvieto by using the FUNICOLAR + MINIBUS.

FUNICULAR RUNNING TIMES
Weekdays: from 7.20am to 8.30pm every 10 minutes
Holidays: from 8am to 8.30pm every 15 minutes
The funicular runs coincide with the Line A and Line B minibus rides into and from the old town centre.
Bicycles are allowed on the funicular in the following cases:
PLANNED RUNS:
MAX 4 BICYCLES WITH 35 ON BOARD AT MOST
EXTRA RUNS(only bikers)
MAX 12 BICYCLES
The cost for bringing the bicycle on the funicular is € 0.80

RAILWAY STATION
The railway station is only 10 minutes drive from the centre of Orvieto, reachable even by the funicular in 2 minutes. There are trains to Rome and to Florence every hour.
For more info about trains click here: http://www.trenitalia.com/