2023

Prices per villa
7 nights from
$608 to $1,877
Bougainvillea at La Pineta, Marina di Castagneto Carducci - Castagneto Carducci - Livorno and Coast
1 bedroom
1 bathroom
2 to 3 guests
Without Pool
---
La Pineta villa is found in a residential section of the 300 year old pine woods planted by Grand Dukes of Tuscany that stretch right along the region's coastline. The villa's four Tuscan beach style apartments all have their own outside dining area with a grill and a convenient external shower. The tall pines surrounding the villa means the 400 meters stroll to the beach is shaded. Coast lovers will not want to use their car once settled into their new beach life, the village centre's bars, restaurants and shops are at 500 meters.

Sightseers may want to head into the deep green hills that run inland from the coast up to the Caselli nature reserve, stopping to sample the slow pace at the ancient hilltop towns of Castagneto Carducci at 6 Km and Monteverdi Marittimo or head to the Bolgheri wine region at 10 Km for an early evening wine tasting, while the younger ones will want to stay in the Castagneto Carducci village for a ride at the Cavallino Matto amusement park. Nights in the peaceful Castagneto Carducci village may tempt you out to lounge under the night skies with a digestive drink while the locals line up for their favourite ice cream.

About the villa
Ground floor Tuscan apartment with furnished terrace and gazebo perfect for dining al fresco.
Ground Floor

Kitchen/diner/lounge
Fully equiped kitchen with electric hobs, medium-sized fridge with separate freezer compartment, dining table for 4, triple sofa, 2 armchairs, TV, door to outside area

Bedroom
Double bed (Can be converted into twins), Single bed suitable for under 12 year old child, wardrobe

Bathroom
Shower, bidet, sink, WC
Pool:
There is no swimming pool, however the property is situated 450 metres walk from the nearest beach.
---
Facilities
---
Villa rates
27 May - 01 Jul 2023
$851
01 Jul - 29 Jul 2023
$1,418
29 Jul - 19 Aug 2023
$1,877
19 Aug - 26 Aug 2023
$1,418
26 Aug - 09 Sep 2023
$851
09 Sep - 30 Dec 2023
$608
30 Dec - 25 May 2024
$608
25 May - 29 Jun 2024
$851
29 Jun - 27 Jul 2024
$1,418
27 Jul - 17 Aug 2024
$1,877
17 Aug - 24 Aug 2024
$1,418
24 Aug - 07 Sep 2024
$851
07 Sep - 28 Dec 2024
$608
---
House rules
Tourist tax: 1,00 € per person, per night, some exemptions apply
Charged based on usage: Heating Villa
Arrival guide
Meet and greet
Arrival time is 15:00 - 19:00. Departure time is before 9:00.
Approach road: Paved
Parking: Public, onsite parking - 4 uncovered spaces
---

Let us help you with your enquiry
Please complete the form below and our Villa Specialists will be in touch to help with your request.
---
To Tuscany Enquiries

1-929-445-5929 Toll Free
Layout (50 sqm)
Ground floor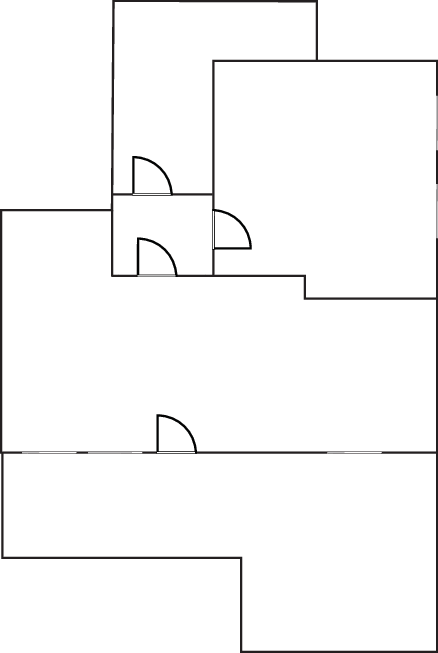 ---
Villa location
How far are the airports? Distances and driving time
Aeroporto Pisa: 76km - 0h 48m
Florence Airport: 130km - 1h 30m
Aeroporto Bologna: 219km - 2h 20m
How far are the nearest towns? Distances and driving time
Bolgheri: 12km - 0h 18m
Cecina: 18km - 0h 20m
Follonica: 39km - 0h 35m
The property is located in the town Marina di Castagneto where there are several shops and restaurants, all within walking distance. There is also a small supermarket. A wider choice is available in Castagneto Carducci, 8km away. There is also a bank, post office, several cafès, doctor's office and a pharmacy and a petrol station.
---
Guest reviews: Bougainvillea at La Pineta


To Tuscany team comments for this review:
Vielen Dank für Ihr freundliches Feedback! Sollten Probleme während Ihres Aufenthaltes vorfallen, können Sie immer gerne uns oder unser Team vor Ort kontaktieren, damit wir unser Bestes tun können, diese zu beheben. Wir freuen uns, dass Sie trotzdem eine schöne Zeit in Boungainvillea hatten.
---
June 2023
| | | | | | | |
| --- | --- | --- | --- | --- | --- | --- |
| Mo | Tu | We | Th | Fr | Sa | Su |
| | | | 1 | 2 | 3 | 4 |
| 5 | 6 | 7 | 8 | 9 | 10 | 11 |
| 12 | 13 | 14 | 15 | 16 | 17 | 18 |
| 19 | 20 | 21 | 22 | 23 | 24 | 25 |
| 26 | 27 | 28 | 29 | 30 | | |
July 2023
| | | | | | | |
| --- | --- | --- | --- | --- | --- | --- |
| Mo | Tu | We | Th | Fr | Sa | Su |
| | | | | | 1 | 2 |
| 3 | 4 | 5 | 6 | 7 | 8 | 9 |
| 10 | 11 | 12 | 13 | 14 | 15 | 16 |
| 17 | 18 | 19 | 20 | 21 | 22 | 23 |
| 24 | 25 | 26 | 27 | 28 | 29 | 30 |
| 31 | | | | | | |
August 2023
| | | | | | | |
| --- | --- | --- | --- | --- | --- | --- |
| Mo | Tu | We | Th | Fr | Sa | Su |
| | 1 | 2 | 3 | 4 | 5 | 6 |
| 7 | 8 | 9 | 10 | 11 | 12 | 13 |
| 14 | 15 | 16 | 17 | 18 | 19 | 20 |
| 21 | 22 | 23 | 24 | 25 | 26 | 27 |
| 28 | 29 | 30 | 31 | | | |
September 2023
| | | | | | | |
| --- | --- | --- | --- | --- | --- | --- |
| Mo | Tu | We | Th | Fr | Sa | Su |
| | | | | 1 | 2 | 3 |
| 4 | 5 | 6 | 7 | 8 | 9 | 10 |
| 11 | 12 | 13 | 14 | 15 | 16 | 17 |
| 18 | 19 | 20 | 21 | 22 | 23 | 24 |
| 25 | 26 | 27 | 28 | 29 | 30 | |
October 2023
| | | | | | | |
| --- | --- | --- | --- | --- | --- | --- |
| Mo | Tu | We | Th | Fr | Sa | Su |
| | | | | | | 1 |
| 2 | 3 | 4 | 5 | 6 | 7 | 8 |
| 9 | 10 | 11 | 12 | 13 | 14 | 15 |
| 16 | 17 | 18 | 19 | 20 | 21 | 22 |
| 23 | 24 | 25 | 26 | 27 | 28 | 29 |
| 30 | 31 | | | | | |
November 2023
| | | | | | | |
| --- | --- | --- | --- | --- | --- | --- |
| Mo | Tu | We | Th | Fr | Sa | Su |
| | | 1 | 2 | 3 | 4 | 5 |
| 6 | 7 | 8 | 9 | 10 | 11 | 12 |
| 13 | 14 | 15 | 16 | 17 | 18 | 19 |
| 20 | 21 | 22 | 23 | 24 | 25 | 26 |
| 27 | 28 | 29 | 30 | | | |
December 2023
| | | | | | | |
| --- | --- | --- | --- | --- | --- | --- |
| Mo | Tu | We | Th | Fr | Sa | Su |
| | | | | 1 | 2 | 3 |
| 4 | 5 | 6 | 7 | 8 | 9 | 10 |
| 11 | 12 | 13 | 14 | 15 | 16 | 17 |
| 18 | 19 | 20 | 21 | 22 | 23 | 24 |
| 25 | 26 | 27 | 28 | 29 | 30 | 31 |
January 2024
| | | | | | | |
| --- | --- | --- | --- | --- | --- | --- |
| Mo | Tu | We | Th | Fr | Sa | Su |
| 1 | 2 | 3 | 4 | 5 | 6 | 7 |
| 8 | 9 | 10 | 11 | 12 | 13 | 14 |
| 15 | 16 | 17 | 18 | 19 | 20 | 21 |
| 22 | 23 | 24 | 25 | 26 | 27 | 28 |
| 29 | 30 | 31 | | | | |
February 2024
| | | | | | | |
| --- | --- | --- | --- | --- | --- | --- |
| Mo | Tu | We | Th | Fr | Sa | Su |
| | | | 1 | 2 | 3 | 4 |
| 5 | 6 | 7 | 8 | 9 | 10 | 11 |
| 12 | 13 | 14 | 15 | 16 | 17 | 18 |
| 19 | 20 | 21 | 22 | 23 | 24 | 25 |
| 26 | 27 | 28 | 29 | | | |
March 2024
| | | | | | | |
| --- | --- | --- | --- | --- | --- | --- |
| Mo | Tu | We | Th | Fr | Sa | Su |
| | | | | 1 | 2 | 3 |
| 4 | 5 | 6 | 7 | 8 | 9 | 10 |
| 11 | 12 | 13 | 14 | 15 | 16 | 17 |
| 18 | 19 | 20 | 21 | 22 | 23 | 24 |
| 25 | 26 | 27 | 28 | 29 | 30 | 31 |
April 2024
| | | | | | | |
| --- | --- | --- | --- | --- | --- | --- |
| Mo | Tu | We | Th | Fr | Sa | Su |
| 1 | 2 | 3 | 4 | 5 | 6 | 7 |
| 8 | 9 | 10 | 11 | 12 | 13 | 14 |
| 15 | 16 | 17 | 18 | 19 | 20 | 21 |
| 22 | 23 | 24 | 25 | 26 | 27 | 28 |
| 29 | 30 | | | | | |
May 2024
| | | | | | | |
| --- | --- | --- | --- | --- | --- | --- |
| Mo | Tu | We | Th | Fr | Sa | Su |
| | | 1 | 2 | 3 | 4 | 5 |
| 6 | 7 | 8 | 9 | 10 | 11 | 12 |
| 13 | 14 | 15 | 16 | 17 | 18 | 19 |
| 20 | 21 | 22 | 23 | 24 | 25 | 26 |
| 27 | 28 | 29 | 30 | 31 | | |
June 2024
| | | | | | | |
| --- | --- | --- | --- | --- | --- | --- |
| Mo | Tu | We | Th | Fr | Sa | Su |
| | | | | | 1 | 2 |
| 3 | 4 | 5 | 6 | 7 | 8 | 9 |
| 10 | 11 | 12 | 13 | 14 | 15 | 16 |
| 17 | 18 | 19 | 20 | 21 | 22 | 23 |
| 24 | 25 | 26 | 27 | 28 | 29 | 30 |
July 2024
| | | | | | | |
| --- | --- | --- | --- | --- | --- | --- |
| Mo | Tu | We | Th | Fr | Sa | Su |
| 1 | 2 | 3 | 4 | 5 | 6 | 7 |
| 8 | 9 | 10 | 11 | 12 | 13 | 14 |
| 15 | 16 | 17 | 18 | 19 | 20 | 21 |
| 22 | 23 | 24 | 25 | 26 | 27 | 28 |
| 29 | 30 | 31 | | | | |
August 2024
| | | | | | | |
| --- | --- | --- | --- | --- | --- | --- |
| Mo | Tu | We | Th | Fr | Sa | Su |
| | | | 1 | 2 | 3 | 4 |
| 5 | 6 | 7 | 8 | 9 | 10 | 11 |
| 12 | 13 | 14 | 15 | 16 | 17 | 18 |
| 19 | 20 | 21 | 22 | 23 | 24 | 25 |
| 26 | 27 | 28 | 29 | 30 | 31 | |
September 2024
| | | | | | | |
| --- | --- | --- | --- | --- | --- | --- |
| Mo | Tu | We | Th | Fr | Sa | Su |
| | | | | | | 1 |
| 2 | 3 | 4 | 5 | 6 | 7 | 8 |
| 9 | 10 | 11 | 12 | 13 | 14 | 15 |
| 16 | 17 | 18 | 19 | 20 | 21 | 22 |
| 23 | 24 | 25 | 26 | 27 | 28 | 29 |
| 30 | | | | | | |
October 2024
| | | | | | | |
| --- | --- | --- | --- | --- | --- | --- |
| Mo | Tu | We | Th | Fr | Sa | Su |
| | 1 | 2 | 3 | 4 | 5 | 6 |
| 7 | 8 | 9 | 10 | 11 | 12 | 13 |
| 14 | 15 | 16 | 17 | 18 | 19 | 20 |
| 21 | 22 | 23 | 24 | 25 | 26 | 27 |
| 28 | 29 | 30 | 31 | | | |
November 2024
| | | | | | | |
| --- | --- | --- | --- | --- | --- | --- |
| Mo | Tu | We | Th | Fr | Sa | Su |
| | | | | 1 | 2 | 3 |
| 4 | 5 | 6 | 7 | 8 | 9 | 10 |
| 11 | 12 | 13 | 14 | 15 | 16 | 17 |
| 18 | 19 | 20 | 21 | 22 | 23 | 24 |
| 25 | 26 | 27 | 28 | 29 | 30 | |
December 2024
| | | | | | | |
| --- | --- | --- | --- | --- | --- | --- |
| Mo | Tu | We | Th | Fr | Sa | Su |
| | | | | | | 1 |
| 2 | 3 | 4 | 5 | 6 | 7 | 8 |
| 9 | 10 | 11 | 12 | 13 | 14 | 15 |
| 16 | 17 | 18 | 19 | 20 | 21 | 22 |
| 23 | 24 | 25 | 26 | 27 | 28 | 29 |
| 30 | 31 | | | | | |
2 more villas at this property on our site:
Iris at La Pineta

1

1

2

(1)

Azalea at La Pineta

3

2

6 to 7

(2)
^