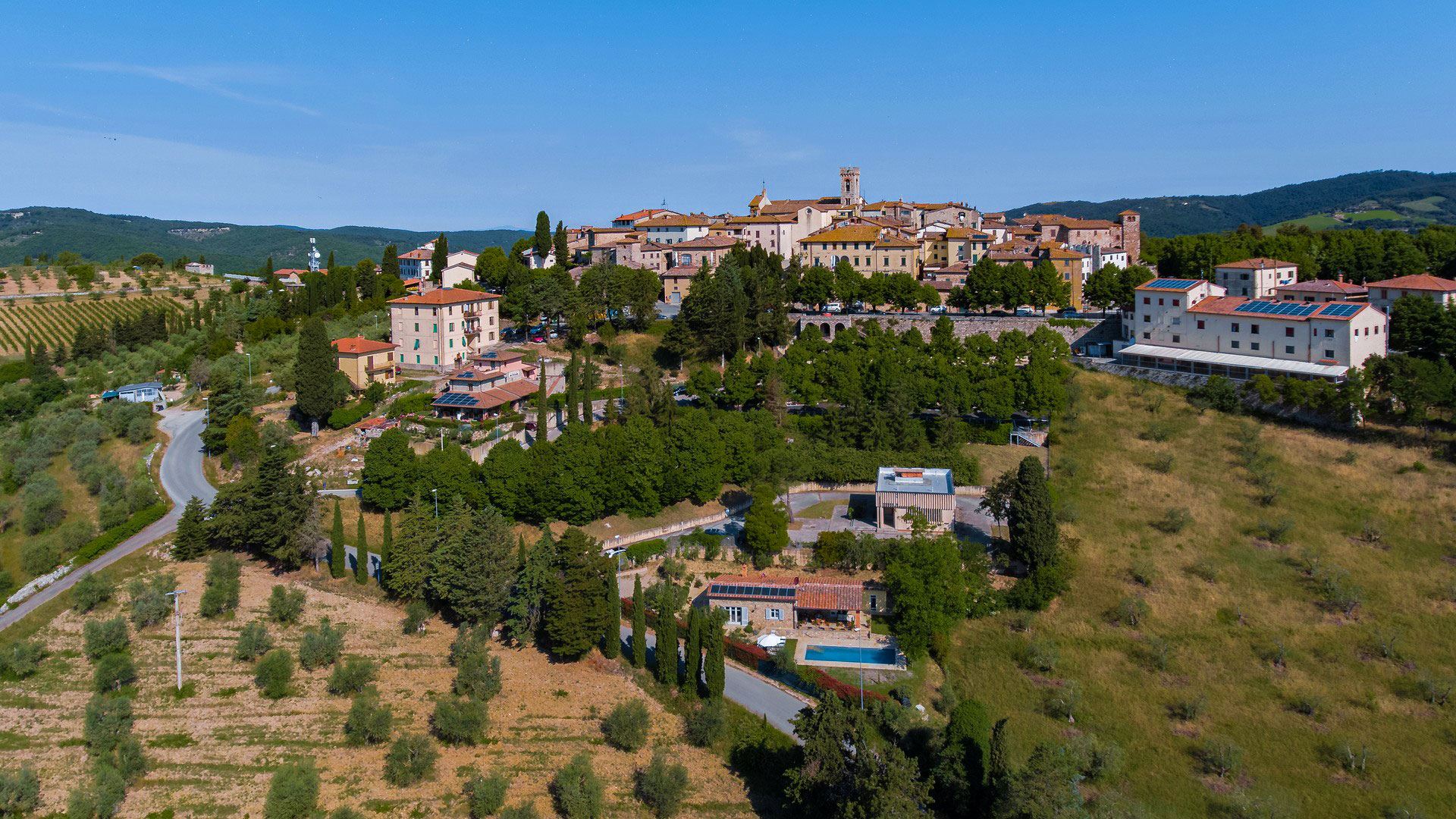 Radda in Chianti
If Greve is the commercial brain of Chianti, Radda is its soul. With its small-town mood, picturesque Radda makes an appealing base for exploring wine country. Given its prime position between Gaiole and Castellina, Radda served as the capital of Chianti, and was the medieval capital of the Chianti League. The fortifications reflect Radda's history as a borderlands and bulwark against Sienese attacks. Peace finally came to this area after Siena was incorporated into the Republic of Florence in 1559. Hilltop Radda retains its medieval street plan and imposing town hall. Formerly known as the Palazzo del Podesta, the 16th-century town hall displays heraldic shields on its façade. Radda is still bound by its defensive walls, with cobblestoned alleys fanning out from the main square. Today's mellow scene is centred on the Casa Chianti Classico, a showcase for everything wine-related so come here to make sense of the Chianti spirit.

Essential Radda in Chianti Information
Radda in Chianti
Radda makes a great base for activities as varied as visiting a Chianti cashmere goat farm or taking in a centre for contemporary art. As well as drinking up wine estates, you could visit a wine museum or try a wine appreciation class. Or perhaps cycle to a vineyard. Even if Radda itself is a key attraction on the Chiantigiana, the Chianti Way also leads to forays to neighbouring Chianti wine hamlets, such as atmospheric Volpaia. As for culture, consider day trips to San GimignanoSiena and Florence

This is just a taster to the Chianti. See our specific guides to top Chianti outposts, all accessed through our Destinations listings, For starters, check out our guides to GaioleGrevePanzanoCastellinaRadda and Castelnuovo Beradenga. Our additional Chianti guides cover Castagnoli VolpaiaSan GusmeSan Donato in Poggio and Vagliagli.
Read more
Shopping, Parking & Getting Around
Browsing for ceramics or cashmere in Radda makes a change from wine-shopping. Even so, on the wine front, do call into L'Accademia del Buon Gusto in Panzano in Chianti for one of the most entertaining wine-tastings in Tuscany. Then turn your thoughts to ceramics. Tuscan ceramics made in the area are often inspired by ancient models, including Renaissance designs. The Medici dynasty had sets of dishes designed for each of their country villas, virtually inventing the concept of elegant place setting.

Read more
Eating & Drinking
Radda is wine central. It was just over 300 years ago that the boundaries of the Chianti wine region were set. These borders largely correspond to the current Chianti Classico zone. Radda is still awash with Chianti Classico but it's not the only wine in town. Meals often end with a tasting of sweet Vin Santo. Trebbiani and Malvasia grapes also hang up to dry for Vin Santo, made in Chianti and other parts of Tuscany. The wine is fermented and aged for up to six years in small barrels, known as orcaratelli. This strong dessert wine is comparable to a good medium sherry. Our recommended wine estates are featured in each of the individual Chianti guides.

This area has everything to offer the foodie, with dishes designed to bring out the richness of the wine. From the macho T-bone steaks to peasant soups, wild boar stews, truffle sauces, hearty cheeses and divine cakes, this is as far removed from faddish cuisine as you can get.

This is just a taster to the Chianti. Check our restaurant recommendations below and also see our other guides to top Chianti towns and villages, all accessed through our Destinations listings.

Read more