Exclusively
To Tuscany
2024

Prices per villa
7 nights from
$1,310 to $1,721
Il Tiglio at Casale Bellaluce, Canale Nuovo - Orvieto - Orvieto in Umbria
2 bedrooms
1 bathroom
4 guests
In Resort with Pool
---
Casale Bellaluce is a traditional stone built house, which was completely renovated in 2003 into 4 apartments. The makeover has been done in a very sympathetic manner, keeping many of the original features, yet bringing the property up to date and providing all the expected modern comforts. The large inviting swimming pool is positioned in one corner of the garden; it is completely surrounded by fencing with a gate for safety. The paved pool surround is furnished with sun loungers, chairs and umbrellas. From the pool and garden you have far reaching views across farmland to the rolling Umbrian hills in the distance.
The original farmhouse was built on this plot around 1000 AD, although the current house is much later. It was also at one time a Benedictine Monastry which is why there is the church attached to one side of the building. The area itself has been inhabited for far longer than that, it was during the renovation work that a Roman cistern was found. The property has three separate apartments and a detached cottage. The three apartments are located in the main building and the cottage is located opposite the main house. The largest apartment is on the first floor while the ground floor houses the two smaller apartments. Each accommodation has its own private outside space where you can enjoy dining al fresco. There is a 13th century chapel attached to the left side of the house which has lovely 16th century frescoes inside. The chapel is still consecrated and at the end of July each year there is a service held to celebrate a local religious festival.
Ground Floor
Lounge-Diner
Dining table with 4 chairs, 2 sofas, TV, open fireplace.
Kitchen
Fully equipped kitchenette, gas hob with 4 rings.
Bedroom 1
Double bed (cannot be converted into twin beds), wardrobe.
Bedroom 2
Pair of twin beds (can be converted into a double bed), wardrobe.
Bathroom
Bath with shower attachment, bidet, sink, WC.
Notes
1 double bed which cannot be converted into twin beds.
1 pair of twin beds which cannot be converted into a double bed.
1 bathroom with bathtub. The bathroom is not en-suite.
This property is situated entirely on the ground floor.
The pool may occasionally be used by members of the owner's family.
Shared Pool:
Length: 12 metres
Width: 6 metres
Depth: 1.0 to 1.45 metres
Entrance: Roman steps
Opening times: May to September
Fenced: Yes
Furnished: Sunloungers and parasols
Cleansed: Chlorine
Distance from villa: 30 metres
---
Facilities
---
Villa rates
23 Sep - 11 Nov 2023
$1,283
11 Nov - 16 Dec 2023
$1,283
16 Dec - 30 Dec 2023
$1,458
30 Dec - 06 Jan 2024
$1,485
06 Jan - 23 Mar 2024
$1,310
23 Mar - 18 May 2024
$1,310
18 May - 06 Jul 2024
$1,485
06 Jul - 24 Aug 2024
$1,721
24 Aug - 28 Sep 2024
$1,485
28 Sep - 09 Nov 2024
$1,310
09 Nov - 21 Dec 2024
$1,310
21 Dec - 28 Dec 2024
$1,485
---
House rules
Charged based on usage: Heating Villa
Arrival guide
Meet and greet
Arrival time is 16:00 - 19:00. Departure time is before 10:00.
Approach road: Unpaved, even
Parking: Public, onsite parking
---

Let us help you with your enquiry
Please complete the form below and our Villa Specialists will be in touch to help with your request.
---
To Tuscany Enquiries

1-929-445-5929 Toll Free
Layout (70 sqm)
Ground floor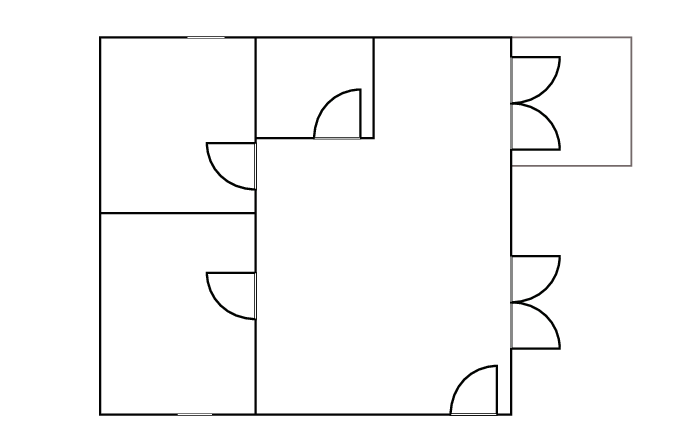 ---
Villa location
How far are the airports? Distances and driving time
Aeroporto Perugia: 77km - 1h 08m
Ciampino Airport: 143km - 1h 35m
Aeroporto Roma: 160km - 1h 39m
How far are the nearest towns? Distances and driving time
Bolsena: 15km - 0h 21m
Orvieto: 21km - 0h 31m
Montefiascone: 22km - 0h 27m
The nearest town to the house is Lubriano which is only 1 mile away. Here you will find all the basic essentials at the mini market, butchers, greengrocer and bakers. There is also a post office, bank and a selection of bars and restaurants. For a greater choice of shops and restaurants the larger town of Bagnoregio is approximately 3.5 miles away.
---
Guest reviews: Il Tiglio at Casale Bellaluce


To Tuscany team comments for this review:
Dziękujemy i zapraszamy ponownie!
---
October 2023
| | | | | | | |
| --- | --- | --- | --- | --- | --- | --- |
| Mo | Tu | We | Th | Fr | Sa | Su |
| | | | | | | 1 |
| 2 | 3 | 4 | 5 | 6 | 7 | 8 |
| 9 | 10 | 11 | 12 | 13 | 14 | 15 |
| 16 | 17 | 18 | 19 | 20 | 21 | 22 |
| 23 | 24 | 25 | 26 | 27 | 28 | 29 |
| 30 | 31 | | | | | |
November 2023
| | | | | | | |
| --- | --- | --- | --- | --- | --- | --- |
| Mo | Tu | We | Th | Fr | Sa | Su |
| | | 1 | 2 | 3 | 4 | 5 |
| 6 | 7 | 8 | 9 | 10 | 11 | 12 |
| 13 | 14 | 15 | 16 | 17 | 18 | 19 |
| 20 | 21 | 22 | 23 | 24 | 25 | 26 |
| 27 | 28 | 29 | 30 | | | |
December 2023
| | | | | | | |
| --- | --- | --- | --- | --- | --- | --- |
| Mo | Tu | We | Th | Fr | Sa | Su |
| | | | | 1 | 2 | 3 |
| 4 | 5 | 6 | 7 | 8 | 9 | 10 |
| 11 | 12 | 13 | 14 | 15 | 16 | 17 |
| 18 | 19 | 20 | 21 | 22 | 23 | 24 |
| 25 | 26 | 27 | 28 | 29 | 30 | 31 |
January 2024
| | | | | | | |
| --- | --- | --- | --- | --- | --- | --- |
| Mo | Tu | We | Th | Fr | Sa | Su |
| 1 | 2 | 3 | 4 | 5 | 6 | 7 |
| 8 | 9 | 10 | 11 | 12 | 13 | 14 |
| 15 | 16 | 17 | 18 | 19 | 20 | 21 |
| 22 | 23 | 24 | 25 | 26 | 27 | 28 |
| 29 | 30 | 31 | | | | |
February 2024
| | | | | | | |
| --- | --- | --- | --- | --- | --- | --- |
| Mo | Tu | We | Th | Fr | Sa | Su |
| | | | 1 | 2 | 3 | 4 |
| 5 | 6 | 7 | 8 | 9 | 10 | 11 |
| 12 | 13 | 14 | 15 | 16 | 17 | 18 |
| 19 | 20 | 21 | 22 | 23 | 24 | 25 |
| 26 | 27 | 28 | 29 | | | |
March 2024
| | | | | | | |
| --- | --- | --- | --- | --- | --- | --- |
| Mo | Tu | We | Th | Fr | Sa | Su |
| | | | | 1 | 2 | 3 |
| 4 | 5 | 6 | 7 | 8 | 9 | 10 |
| 11 | 12 | 13 | 14 | 15 | 16 | 17 |
| 18 | 19 | 20 | 21 | 22 | 23 | 24 |
| 25 | 26 | 27 | 28 | 29 | 30 | 31 |
April 2024
| | | | | | | |
| --- | --- | --- | --- | --- | --- | --- |
| Mo | Tu | We | Th | Fr | Sa | Su |
| 1 | 2 | 3 | 4 | 5 | 6 | 7 |
| 8 | 9 | 10 | 11 | 12 | 13 | 14 |
| 15 | 16 | 17 | 18 | 19 | 20 | 21 |
| 22 | 23 | 24 | 25 | 26 | 27 | 28 |
| 29 | 30 | | | | | |
May 2024
| | | | | | | |
| --- | --- | --- | --- | --- | --- | --- |
| Mo | Tu | We | Th | Fr | Sa | Su |
| | | 1 | 2 | 3 | 4 | 5 |
| 6 | 7 | 8 | 9 | 10 | 11 | 12 |
| 13 | 14 | 15 | 16 | 17 | 18 | 19 |
| 20 | 21 | 22 | 23 | 24 | 25 | 26 |
| 27 | 28 | 29 | 30 | 31 | | |
June 2024
| | | | | | | |
| --- | --- | --- | --- | --- | --- | --- |
| Mo | Tu | We | Th | Fr | Sa | Su |
| | | | | | 1 | 2 |
| 3 | 4 | 5 | 6 | 7 | 8 | 9 |
| 10 | 11 | 12 | 13 | 14 | 15 | 16 |
| 17 | 18 | 19 | 20 | 21 | 22 | 23 |
| 24 | 25 | 26 | 27 | 28 | 29 | 30 |
July 2024
| | | | | | | |
| --- | --- | --- | --- | --- | --- | --- |
| Mo | Tu | We | Th | Fr | Sa | Su |
| 1 | 2 | 3 | 4 | 5 | 6 | 7 |
| 8 | 9 | 10 | 11 | 12 | 13 | 14 |
| 15 | 16 | 17 | 18 | 19 | 20 | 21 |
| 22 | 23 | 24 | 25 | 26 | 27 | 28 |
| 29 | 30 | 31 | | | | |
August 2024
| | | | | | | |
| --- | --- | --- | --- | --- | --- | --- |
| Mo | Tu | We | Th | Fr | Sa | Su |
| | | | 1 | 2 | 3 | 4 |
| 5 | 6 | 7 | 8 | 9 | 10 | 11 |
| 12 | 13 | 14 | 15 | 16 | 17 | 18 |
| 19 | 20 | 21 | 22 | 23 | 24 | 25 |
| 26 | 27 | 28 | 29 | 30 | 31 | |
September 2024
| | | | | | | |
| --- | --- | --- | --- | --- | --- | --- |
| Mo | Tu | We | Th | Fr | Sa | Su |
| | | | | | | 1 |
| 2 | 3 | 4 | 5 | 6 | 7 | 8 |
| 9 | 10 | 11 | 12 | 13 | 14 | 15 |
| 16 | 17 | 18 | 19 | 20 | 21 | 22 |
| 23 | 24 | 25 | 26 | 27 | 28 | 29 |
| 30 | | | | | | |
October 2024
| | | | | | | |
| --- | --- | --- | --- | --- | --- | --- |
| Mo | Tu | We | Th | Fr | Sa | Su |
| | 1 | 2 | 3 | 4 | 5 | 6 |
| 7 | 8 | 9 | 10 | 11 | 12 | 13 |
| 14 | 15 | 16 | 17 | 18 | 19 | 20 |
| 21 | 22 | 23 | 24 | 25 | 26 | 27 |
| 28 | 29 | 30 | 31 | | | |
November 2024
| | | | | | | |
| --- | --- | --- | --- | --- | --- | --- |
| Mo | Tu | We | Th | Fr | Sa | Su |
| | | | | 1 | 2 | 3 |
| 4 | 5 | 6 | 7 | 8 | 9 | 10 |
| 11 | 12 | 13 | 14 | 15 | 16 | 17 |
| 18 | 19 | 20 | 21 | 22 | 23 | 24 |
| 25 | 26 | 27 | 28 | 29 | 30 | |
December 2024
| | | | | | | |
| --- | --- | --- | --- | --- | --- | --- |
| Mo | Tu | We | Th | Fr | Sa | Su |
| | | | | | | 1 |
| 2 | 3 | 4 | 5 | 6 | 7 | 8 |
| 9 | 10 | 11 | 12 | 13 | 14 | 15 |
| 16 | 17 | 18 | 19 | 20 | 21 | 22 |
| 23 | 24 | 25 | 26 | 27 | 28 | 29 |
| 30 | 31 | | | | | |
3 more villas at this property on our site:
Il Mandorlo at Casale Bellaluce

1

1

2

(4)

La Quercia at Casale Bellaluce

4

3

9

(4)

L'Elce at Casale Bellaluce

2

2

4

(1)
^