2023

Prices per villa
7 nights from
$1,283 to $1,917
Francesca 3 at Villa Ricetro, Montemagno - Camaiore - Lucca and Viareggio
2 bedrooms
2 bathrooms
2 to 4 guests
In Resort with Pool
---
Villa Ricetro is a collection of Tuscan villas located in the hills and overlooking the plains of Viareggio. There are pretty sights of the forest-covered hills surrounding the estate, and beautiful views across to the Torre del Lago, Puccini lake and even the sea. From the property there is easy access to Camaiore and Lucca. Within walking distance is the little nearby village with a pair of excellent restaurants. This is a great location to stay if you're visiting the Puccini Opera festival, held every summer near the lake.
In the perfectly maintained garden there is a fenced pool area. This is located a short distance away, down a slope in the garden. It's a lovely area with plenty of furnishings to relax under the warm Tuscan sun. Within the garden there is a shared stone barbeque near a table and chairs. The three villas each also have their own private areas, directly in front of their entrances which are furnished.
Ground Floor

Kitchen-Diner with Lounge
Fully equipped kitchen, gas hob with 4 rings, dining table with 5 chairs, sofa, 3 chairs, TV, decorative fireplace.

Bedroom 1
Double bed (cannot be converted into twin beds), chest of drawers.

En-suite Bathroom
Shower, bidet, sink, WC.

Bedroom 2 (only suitable for children)
Pair of twin beds (cannot be converted into a double bed), clothes storage cupboard.

Bathroom
Bathtub with shower attachment, bidet, sink, WC.

Barbeque (communal)
Shared Pool:
Length: 7 metres
Width: 4.7 metres
Depth: 1.2 metres
Entrance: Metal ladder
Opening times: May to October
Fenced: Yes
Furnished: Sunloungers and parasols
Cleansed: Chlorine
Distance from villa: 10 metres

Hot tub (for 6 people)
Cleansed: chlorine-free
Distance from villa: 10 metres
Opening times: May to October

---
Facilities
---
Villa rates
23 Sep - 11 Nov 2023
$1,283
11 Nov - 16 Dec 2023
$1,283
16 Dec - 30 Dec 2023
$1,499
---
House rules
Tourist tax: included in the rental price
Arrival guide
Meet and greet
Arrival time is 16:00 - 19:00. Departure time is before 10:00.
Approach road: Paved
Parking: Public, onsite parking - 3 uncovered spaces
---

Let us help you with your enquiry
Please complete the form below and our Villa Specialists will be in touch to help with your request.
---
To Tuscany Enquiries

1-929-445-5929 Toll Free
Layout (75 sqm)
Ground floor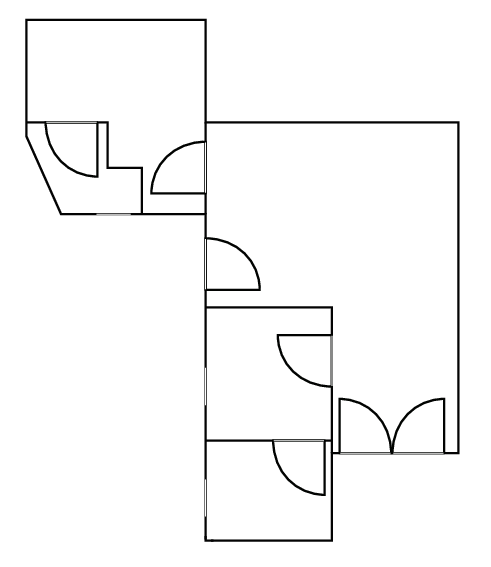 ---
Villa location
How far are the airports? Distances and driving time
Aeroporto Pisa: 48km - 0h 40m
Florence Airport: 94km - 1h 05m
Genoa Airport: 159km - 1h 57m
How far are the nearest towns? Distances and driving time
Viareggio: 14km - 0h 23m
Lucca: 20km - 0h 32m
Forte dei marmi: 21km - 0h 35m
The nearest village is Montemagno, which has a couple of restaurants and a small grocery shop. There is also a couple of bars/cafés. The nearest town is Camaiore. It is about 8km away and has all amenities including banks, post office, pharmacy and petrol station.
---
Guest reviews: Francesca 3 at Villa Ricetro

---
September 2023
| | | | | | | |
| --- | --- | --- | --- | --- | --- | --- |
| Mo | Tu | We | Th | Fr | Sa | Su |
| | | | | 1 | 2 | 3 |
| 4 | 5 | 6 | 7 | 8 | 9 | 10 |
| 11 | 12 | 13 | 14 | 15 | 16 | 17 |
| 18 | 19 | 20 | 21 | 22 | 23 | 24 |
| 25 | 26 | 27 | 28 | 29 | 30 | |
October 2023
| | | | | | | |
| --- | --- | --- | --- | --- | --- | --- |
| Mo | Tu | We | Th | Fr | Sa | Su |
| | | | | | | 1 |
| 2 | 3 | 4 | 5 | 6 | 7 | 8 |
| 9 | 10 | 11 | 12 | 13 | 14 | 15 |
| 16 | 17 | 18 | 19 | 20 | 21 | 22 |
| 23 | 24 | 25 | 26 | 27 | 28 | 29 |
| 30 | 31 | | | | | |
November 2023
| | | | | | | |
| --- | --- | --- | --- | --- | --- | --- |
| Mo | Tu | We | Th | Fr | Sa | Su |
| | | 1 | 2 | 3 | 4 | 5 |
| 6 | 7 | 8 | 9 | 10 | 11 | 12 |
| 13 | 14 | 15 | 16 | 17 | 18 | 19 |
| 20 | 21 | 22 | 23 | 24 | 25 | 26 |
| 27 | 28 | 29 | 30 | | | |
December 2023
| | | | | | | |
| --- | --- | --- | --- | --- | --- | --- |
| Mo | Tu | We | Th | Fr | Sa | Su |
| | | | | 1 | 2 | 3 |
| 4 | 5 | 6 | 7 | 8 | 9 | 10 |
| 11 | 12 | 13 | 14 | 15 | 16 | 17 |
| 18 | 19 | 20 | 21 | 22 | 23 | 24 |
| 25 | 26 | 27 | 28 | 29 | 30 | 31 |
January 2024
| | | | | | | |
| --- | --- | --- | --- | --- | --- | --- |
| Mo | Tu | We | Th | Fr | Sa | Su |
| 1 | 2 | 3 | 4 | 5 | 6 | 7 |
| 8 | 9 | 10 | 11 | 12 | 13 | 14 |
| 15 | 16 | 17 | 18 | 19 | 20 | 21 |
| 22 | 23 | 24 | 25 | 26 | 27 | 28 |
| 29 | 30 | 31 | | | | |
February 2024
| | | | | | | |
| --- | --- | --- | --- | --- | --- | --- |
| Mo | Tu | We | Th | Fr | Sa | Su |
| | | | 1 | 2 | 3 | 4 |
| 5 | 6 | 7 | 8 | 9 | 10 | 11 |
| 12 | 13 | 14 | 15 | 16 | 17 | 18 |
| 19 | 20 | 21 | 22 | 23 | 24 | 25 |
| 26 | 27 | 28 | 29 | | | |
March 2024
| | | | | | | |
| --- | --- | --- | --- | --- | --- | --- |
| Mo | Tu | We | Th | Fr | Sa | Su |
| | | | | 1 | 2 | 3 |
| 4 | 5 | 6 | 7 | 8 | 9 | 10 |
| 11 | 12 | 13 | 14 | 15 | 16 | 17 |
| 18 | 19 | 20 | 21 | 22 | 23 | 24 |
| 25 | 26 | 27 | 28 | 29 | 30 | 31 |
April 2024
| | | | | | | |
| --- | --- | --- | --- | --- | --- | --- |
| Mo | Tu | We | Th | Fr | Sa | Su |
| 1 | 2 | 3 | 4 | 5 | 6 | 7 |
| 8 | 9 | 10 | 11 | 12 | 13 | 14 |
| 15 | 16 | 17 | 18 | 19 | 20 | 21 |
| 22 | 23 | 24 | 25 | 26 | 27 | 28 |
| 29 | 30 | | | | | |
May 2024
| | | | | | | |
| --- | --- | --- | --- | --- | --- | --- |
| Mo | Tu | We | Th | Fr | Sa | Su |
| | | 1 | 2 | 3 | 4 | 5 |
| 6 | 7 | 8 | 9 | 10 | 11 | 12 |
| 13 | 14 | 15 | 16 | 17 | 18 | 19 |
| 20 | 21 | 22 | 23 | 24 | 25 | 26 |
| 27 | 28 | 29 | 30 | 31 | | |
June 2024
| | | | | | | |
| --- | --- | --- | --- | --- | --- | --- |
| Mo | Tu | We | Th | Fr | Sa | Su |
| | | | | | 1 | 2 |
| 3 | 4 | 5 | 6 | 7 | 8 | 9 |
| 10 | 11 | 12 | 13 | 14 | 15 | 16 |
| 17 | 18 | 19 | 20 | 21 | 22 | 23 |
| 24 | 25 | 26 | 27 | 28 | 29 | 30 |
July 2024
| | | | | | | |
| --- | --- | --- | --- | --- | --- | --- |
| Mo | Tu | We | Th | Fr | Sa | Su |
| 1 | 2 | 3 | 4 | 5 | 6 | 7 |
| 8 | 9 | 10 | 11 | 12 | 13 | 14 |
| 15 | 16 | 17 | 18 | 19 | 20 | 21 |
| 22 | 23 | 24 | 25 | 26 | 27 | 28 |
| 29 | 30 | 31 | | | | |
August 2024
| | | | | | | |
| --- | --- | --- | --- | --- | --- | --- |
| Mo | Tu | We | Th | Fr | Sa | Su |
| | | | 1 | 2 | 3 | 4 |
| 5 | 6 | 7 | 8 | 9 | 10 | 11 |
| 12 | 13 | 14 | 15 | 16 | 17 | 18 |
| 19 | 20 | 21 | 22 | 23 | 24 | 25 |
| 26 | 27 | 28 | 29 | 30 | 31 | |
September 2024
| | | | | | | |
| --- | --- | --- | --- | --- | --- | --- |
| Mo | Tu | We | Th | Fr | Sa | Su |
| | | | | | | 1 |
| 2 | 3 | 4 | 5 | 6 | 7 | 8 |
| 9 | 10 | 11 | 12 | 13 | 14 | 15 |
| 16 | 17 | 18 | 19 | 20 | 21 | 22 |
| 23 | 24 | 25 | 26 | 27 | 28 | 29 |
| 30 | | | | | | |
October 2024
| | | | | | | |
| --- | --- | --- | --- | --- | --- | --- |
| Mo | Tu | We | Th | Fr | Sa | Su |
| | 1 | 2 | 3 | 4 | 5 | 6 |
| 7 | 8 | 9 | 10 | 11 | 12 | 13 |
| 14 | 15 | 16 | 17 | 18 | 19 | 20 |
| 21 | 22 | 23 | 24 | 25 | 26 | 27 |
| 28 | 29 | 30 | 31 | | | |
November 2024
| | | | | | | |
| --- | --- | --- | --- | --- | --- | --- |
| Mo | Tu | We | Th | Fr | Sa | Su |
| | | | | 1 | 2 | 3 |
| 4 | 5 | 6 | 7 | 8 | 9 | 10 |
| 11 | 12 | 13 | 14 | 15 | 16 | 17 |
| 18 | 19 | 20 | 21 | 22 | 23 | 24 |
| 25 | 26 | 27 | 28 | 29 | 30 | |
December 2024
| | | | | | | |
| --- | --- | --- | --- | --- | --- | --- |
| Mo | Tu | We | Th | Fr | Sa | Su |
| | | | | | | 1 |
| 2 | 3 | 4 | 5 | 6 | 7 | 8 |
| 9 | 10 | 11 | 12 | 13 | 14 | 15 |
| 16 | 17 | 18 | 19 | 20 | 21 | 22 |
| 23 | 24 | 25 | 26 | 27 | 28 | 29 |
| 30 | 31 | | | | | |
2 more villas at this property on our site:
Francesca 2 at Villa Ricetro

2

1

4

(7)

Francesca 1 at Villa Ricetro

1

1

2

(8)
^