Exclusively
To Tuscany
2023

Prices per villa
7 nights from
$2,255 to $3,348
Il Passo Degli Ulivi, Paganico - Civitella Paganico - Grosseto and Maremma
3 bedrooms
3 bathrooms
6 to 7 guests
Private Pool
---
This lovely property in Grosseto province is an ideal base if you're a party of up to seven guests wishing to explore this unsung area of Tuscany. Within easy reach are the city of Grosseto and the wild Maremma coast, a lovely place to spend a day on the sands. Set in neat, well-maintained gardens, with accommodation across one level, Il Passo has been refurbished to a high standard in country villa style, but with contemporary twists in its colour palette, modern soft furnishings and tiling. Divided into two apartments, it offers a degree of flexibility, allowing two guests, who perhaps crave their own space, a bit of independence. (All the better if they're musical because they get their own piano, too.)
While the inside is very comfortably kitted out, outside, the large private pool, complete with Jacuzzi, is all yours to enjoy. Take your pick from the three outdoor spaces from which to take in the superb rural views. Chill out on the large furnished terrace or create a memorable meal and come together in the loggia to dine al-fresco, finishing with a nightcap as the moon rises.

This is such a delightful villa, with its setting in large, pretty gardens, offering plenty of space – and a lovely large pool – for parties of up to seven. It's ideal for multigenerational groups, too, with a triple room for families with young children and an en-suite double with its own entrance and lounge – perfect for grandparents who want their own space. There's lots to keep everyone amused nearby, too – from cycling, horse-riding and walking, to wine- and olive oil-tasting for the grown-ups.

There is no communicating door between the two apartments. The owners' relatives live in the neighbouring villa, but privacy is ensured by a high hedge between the two houses.
Ground Floor

Apartment 1

Lounge-Diner
Sofa, armchair, table and chairs, display cabinet, coffee table, fireplace, main entrance.

Kitchen
Fully equipped, table and chairs, door to bedroom.

Bedroom 1
Double bed (can't be converted into twins), single bed, wardrobe, cabinet, fireplace, doors to terrace.

En-suite bathroom
Shower, sink, WC.

Bedroom 2
Twin beds (can be converted into a double), wardrobe, chair.

En-suite bathroom
Shower, sink, WC.

Apartment 2

Reception hall
Main entrance.

Lounge
Sofa, coffee table, desk and chair, piano, door to terrace, main entrance.

Bedroom 1
Double bed (cannot be converted into twins), wardrobe, chair.

En-suite bathroom
Shower, sink, WC.
Private Pool
Length: 12 metres
Width: 6 metres
Depth: 1.2 - 2.4 metres
Entrance: Roman steps
Opening times: May to September
Fenced: Yes
Furnished: Sunloungers and parasols, diving board and shower
Cleansed: Chlorine

---
Facilities
---
Villa rates
23 Sep - 11 Nov 2023
$2,255
11 Nov - 16 Dec 2023
$2,255
16 Dec - 30 Dec 2023
$2,579
30 Dec - 06 Jan 2024
$3,483
18 May - 22 Jun 2024
$3,483
22 Jun - 24 Aug 2024
$4,253
24 Aug - 28 Sep 2024
$3,483
21 Dec - 28 Dec 2024
$3,483
---
House rules
Tourist tax: 1,00 € per person, per night, some exemptions apply
Dog up to 30kg: stay for free
Charged based on usage: Heating Villa
Arrival guide
Meet and greet
Arrival time is 16:00 - 19:00. Departure time is before 10:00.
Approach road: Unpaved, even
Parking: Private, onsite parking - 5 uncovered spaces
---

Let us help you with your enquiry
Please complete the form below and our Villa Specialists will be in touch to help with your request.
---
To Tuscany Enquiries

1-929-445-5929 Toll Free
Layout (120 sqm)
Ground floor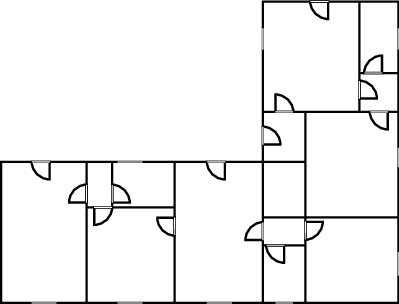 ---
Villa location
How far are the airports? Distances and driving time
Florence Airport: 127km - 1h 41m
Aeroporto Perugia: 154km - 1h 54m
Aeroporto Pisa: 181km - 1h 50m
How far are the nearest towns? Distances and driving time
Castel del Piano: 31km - 0h 32m
Montalcino: 32km - 0h 34m
Sassofortino: 33km - 0h 40m
The nearest grocery shop, bank, pharmacy and supermarket can be found in Paganico 6km away. Paganico also offers a wide range of bars and restaurants to choose from. Taverna di Campagna Monteantico comes highly recomended by the owners of the villa. A much wider range of shops can be found in Grosseto 34km away.
---
Guest reviews: Il Passo Degli Ulivi


To Tuscany team comments for this review:
Vielen Dank, dass Sie sich die Zeit genommen haben uns Ihr Feedback mitzuteilen. Es freut uns, dass Sie einen schönen Urlaub in der Toskana verbrach haben. Wir haben, Ihre Anmerkung zu den Grundzutaten an unser Team vor Ort weitergeleitet, so dass wir unseren Service noch weiter verbessern können.
---
September 2023
| | | | | | | |
| --- | --- | --- | --- | --- | --- | --- |
| Mo | Tu | We | Th | Fr | Sa | Su |
| | | | | 1 | 2 | 3 |
| 4 | 5 | 6 | 7 | 8 | 9 | 10 |
| 11 | 12 | 13 | 14 | 15 | 16 | 17 |
| 18 | 19 | 20 | 21 | 22 | 23 | 24 |
| 25 | 26 | 27 | 28 | 29 | 30 | |
October 2023
| | | | | | | |
| --- | --- | --- | --- | --- | --- | --- |
| Mo | Tu | We | Th | Fr | Sa | Su |
| | | | | | | 1 |
| 2 | 3 | 4 | 5 | 6 | 7 | 8 |
| 9 | 10 | 11 | 12 | 13 | 14 | 15 |
| 16 | 17 | 18 | 19 | 20 | 21 | 22 |
| 23 | 24 | 25 | 26 | 27 | 28 | 29 |
| 30 | 31 | | | | | |
November 2023
| | | | | | | |
| --- | --- | --- | --- | --- | --- | --- |
| Mo | Tu | We | Th | Fr | Sa | Su |
| | | 1 | 2 | 3 | 4 | 5 |
| 6 | 7 | 8 | 9 | 10 | 11 | 12 |
| 13 | 14 | 15 | 16 | 17 | 18 | 19 |
| 20 | 21 | 22 | 23 | 24 | 25 | 26 |
| 27 | 28 | 29 | 30 | | | |
December 2023
| | | | | | | |
| --- | --- | --- | --- | --- | --- | --- |
| Mo | Tu | We | Th | Fr | Sa | Su |
| | | | | 1 | 2 | 3 |
| 4 | 5 | 6 | 7 | 8 | 9 | 10 |
| 11 | 12 | 13 | 14 | 15 | 16 | 17 |
| 18 | 19 | 20 | 21 | 22 | 23 | 24 |
| 25 | 26 | 27 | 28 | 29 | 30 | 31 |
January 2024
| | | | | | | |
| --- | --- | --- | --- | --- | --- | --- |
| Mo | Tu | We | Th | Fr | Sa | Su |
| 1 | 2 | 3 | 4 | 5 | 6 | 7 |
| 8 | 9 | 10 | 11 | 12 | 13 | 14 |
| 15 | 16 | 17 | 18 | 19 | 20 | 21 |
| 22 | 23 | 24 | 25 | 26 | 27 | 28 |
| 29 | 30 | 31 | | | | |
February 2024
| | | | | | | |
| --- | --- | --- | --- | --- | --- | --- |
| Mo | Tu | We | Th | Fr | Sa | Su |
| | | | 1 | 2 | 3 | 4 |
| 5 | 6 | 7 | 8 | 9 | 10 | 11 |
| 12 | 13 | 14 | 15 | 16 | 17 | 18 |
| 19 | 20 | 21 | 22 | 23 | 24 | 25 |
| 26 | 27 | 28 | 29 | | | |
March 2024
| | | | | | | |
| --- | --- | --- | --- | --- | --- | --- |
| Mo | Tu | We | Th | Fr | Sa | Su |
| | | | | 1 | 2 | 3 |
| 4 | 5 | 6 | 7 | 8 | 9 | 10 |
| 11 | 12 | 13 | 14 | 15 | 16 | 17 |
| 18 | 19 | 20 | 21 | 22 | 23 | 24 |
| 25 | 26 | 27 | 28 | 29 | 30 | 31 |
April 2024
| | | | | | | |
| --- | --- | --- | --- | --- | --- | --- |
| Mo | Tu | We | Th | Fr | Sa | Su |
| 1 | 2 | 3 | 4 | 5 | 6 | 7 |
| 8 | 9 | 10 | 11 | 12 | 13 | 14 |
| 15 | 16 | 17 | 18 | 19 | 20 | 21 |
| 22 | 23 | 24 | 25 | 26 | 27 | 28 |
| 29 | 30 | | | | | |
May 2024
| | | | | | | |
| --- | --- | --- | --- | --- | --- | --- |
| Mo | Tu | We | Th | Fr | Sa | Su |
| | | 1 | 2 | 3 | 4 | 5 |
| 6 | 7 | 8 | 9 | 10 | 11 | 12 |
| 13 | 14 | 15 | 16 | 17 | 18 | 19 |
| 20 | 21 | 22 | 23 | 24 | 25 | 26 |
| 27 | 28 | 29 | 30 | 31 | | |
June 2024
| | | | | | | |
| --- | --- | --- | --- | --- | --- | --- |
| Mo | Tu | We | Th | Fr | Sa | Su |
| | | | | | 1 | 2 |
| 3 | 4 | 5 | 6 | 7 | 8 | 9 |
| 10 | 11 | 12 | 13 | 14 | 15 | 16 |
| 17 | 18 | 19 | 20 | 21 | 22 | 23 |
| 24 | 25 | 26 | 27 | 28 | 29 | 30 |
July 2024
| | | | | | | |
| --- | --- | --- | --- | --- | --- | --- |
| Mo | Tu | We | Th | Fr | Sa | Su |
| 1 | 2 | 3 | 4 | 5 | 6 | 7 |
| 8 | 9 | 10 | 11 | 12 | 13 | 14 |
| 15 | 16 | 17 | 18 | 19 | 20 | 21 |
| 22 | 23 | 24 | 25 | 26 | 27 | 28 |
| 29 | 30 | 31 | | | | |
August 2024
| | | | | | | |
| --- | --- | --- | --- | --- | --- | --- |
| Mo | Tu | We | Th | Fr | Sa | Su |
| | | | 1 | 2 | 3 | 4 |
| 5 | 6 | 7 | 8 | 9 | 10 | 11 |
| 12 | 13 | 14 | 15 | 16 | 17 | 18 |
| 19 | 20 | 21 | 22 | 23 | 24 | 25 |
| 26 | 27 | 28 | 29 | 30 | 31 | |
September 2024
| | | | | | | |
| --- | --- | --- | --- | --- | --- | --- |
| Mo | Tu | We | Th | Fr | Sa | Su |
| | | | | | | 1 |
| 2 | 3 | 4 | 5 | 6 | 7 | 8 |
| 9 | 10 | 11 | 12 | 13 | 14 | 15 |
| 16 | 17 | 18 | 19 | 20 | 21 | 22 |
| 23 | 24 | 25 | 26 | 27 | 28 | 29 |
| 30 | | | | | | |
October 2024
| | | | | | | |
| --- | --- | --- | --- | --- | --- | --- |
| Mo | Tu | We | Th | Fr | Sa | Su |
| | 1 | 2 | 3 | 4 | 5 | 6 |
| 7 | 8 | 9 | 10 | 11 | 12 | 13 |
| 14 | 15 | 16 | 17 | 18 | 19 | 20 |
| 21 | 22 | 23 | 24 | 25 | 26 | 27 |
| 28 | 29 | 30 | 31 | | | |
November 2024
| | | | | | | |
| --- | --- | --- | --- | --- | --- | --- |
| Mo | Tu | We | Th | Fr | Sa | Su |
| | | | | 1 | 2 | 3 |
| 4 | 5 | 6 | 7 | 8 | 9 | 10 |
| 11 | 12 | 13 | 14 | 15 | 16 | 17 |
| 18 | 19 | 20 | 21 | 22 | 23 | 24 |
| 25 | 26 | 27 | 28 | 29 | 30 | |
December 2024
| | | | | | | |
| --- | --- | --- | --- | --- | --- | --- |
| Mo | Tu | We | Th | Fr | Sa | Su |
| | | | | | | 1 |
| 2 | 3 | 4 | 5 | 6 | 7 | 8 |
| 9 | 10 | 11 | 12 | 13 | 14 | 15 |
| 16 | 17 | 18 | 19 | 20 | 21 | 22 |
| 23 | 24 | 25 | 26 | 27 | 28 | 29 |
| 30 | 31 | | | | | |
^