UK FreeCall

0808 252 9492


US Toll Free 888-768-4401
Overseas +44 2031 312 590
Location address: Lecchi in Chianti - Siena
---
2013 Prices per villa
from 1040 to 1600 Euro
2 bathrooms
Shared Pool

GALLERY
|
view on google maps
Live Quote
Enter travel details for an immediate quote.
Guaranteed lowest online price.
---
Arrival date

weeks

Select currency

---
Villa
Description
Site, Pool & nearest towns Info
Price availability
& book now
Client
Reviews & Tips
Frequent Questions
Location address: Lecchi in Chianti - Siena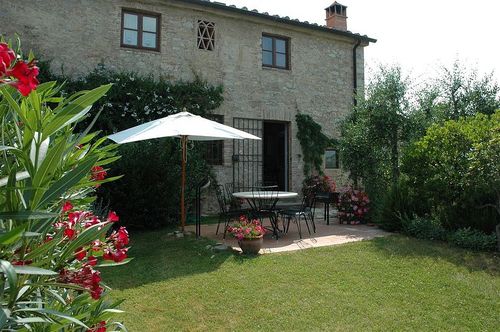 Constructed of traditional Tuscan stone, La Scala is situated to the front of Montebuoni's main building. It has its own private garden and is the only property in the hamlet with three bedrooms.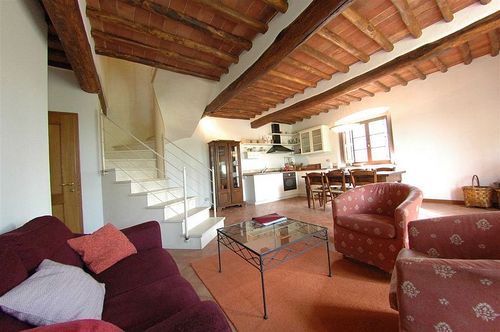 The entrance opens directly into a large oak beamed, open plan living space, with terracotta tiled floors throughout. It has a comfortably furnished lounge area with sofa, chairs and a wood burning stove. To one side is a fully fitted kitchen with electric oven and gas hob, large fridge with freezer section, microwave oven and dining area with table and chairs.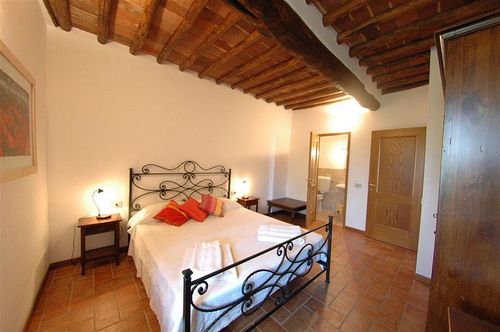 Doors lead off to the groundfloor bedroom with a handmade cast iron double bed and ensuite shower room. A designer cast iron staircase leads up to the first floor where the two further bedrooms one with twin beds and second bathroom are located. Both bedrooms have views over the beautiful surrounding countryside.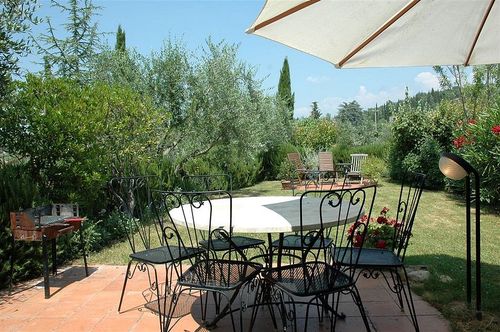 Outside is a spacious private garden with mature shrubs and flowers from the Tuscany region. The furnished terrace is perfect for meal times outdoors or relaxing with a glass of wine in the evening.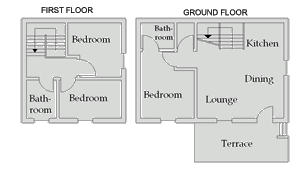 This is Montebuoni's only 3-bedroom apartment.
---
Traveller reviews for
Montebuoni
---
Anonymous

SAINT GERMAIN EN LAYE, France
09.08.2012
"L'environnement, le paysage autour, l'espace dans la maison. "


---
Location address: Lecchi in Chianti - Siena
Montebuoni with pool and tennis
Discover the enchanting Tuscany in central Italy. On a ridge overlooking the beautiful Tuscan countryside with its olive groves and vineyards, lies the undiscovered Montebuoni, a group of private villas and apartments surrounded by olive groves and beautifully manicured gardens and courtyards.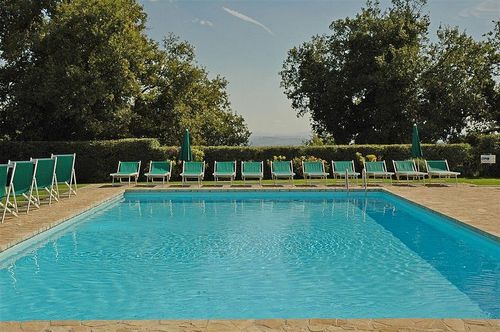 The large swimming pool is to one side of the hamlet, surrounded by mature shrubs and trees, with views of the rolling hillside in the distance. This is a wonderful place to relax and enjoy the peace and tranquillity of this unspoilt heaven. The swimming pool is 15 metres x 7.5 metres and is accessed by ladder. There is also a small children's swimming pool, which has a constant depth of one metre. Both pools are open from Easter until November.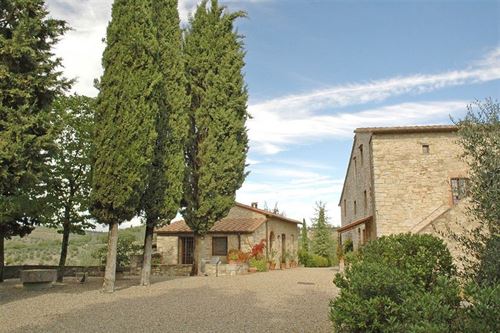 Montebuoni was once a large estate producing wine and olive oil. It is these original buildings which have been restored and modernised to a very high standard, whilst still maintaining many of the original features, which make Montebuoni such a great place to stay. All the properties are fully furnished and well equipped, most have their own private terraces or balconies and some have their own garden.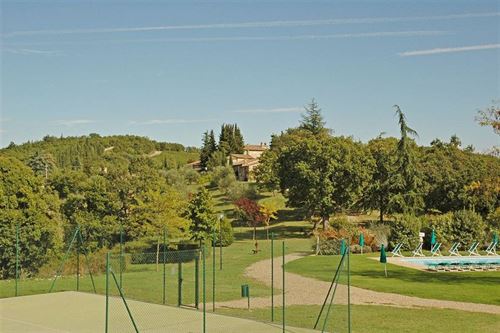 Montebuoni has its own full size astro-turf tennis court located in the grounds near the pool area, and there are rackets and balls available. There is a small typical Chianti village a short walk from the hamlet, with a grocery store which stocks all the basics, plus local wines, oils, hams and cheeses. Visit the next door vineyard Castello di Ama one of the Chianti regions finest wine producers for a wine tasting session. Learn how to cook traditional Tuscan dishes at 'Toscana Mia' cookery school, who will organise long or short courses to suit your needs – even the children can get involved!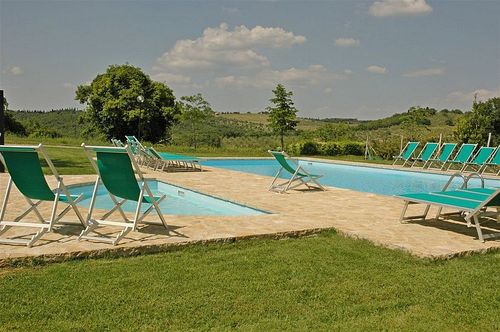 For those who wish to explore the areas major cities and museums the hamlet is ideally located for day excursions to Florence, Siena, Arezzo and Pisa as well as discovering the smaller unknown Tuscan villages. Check out the events calendar on our home page to see if there are any festivals or events taking place that you can enjoy during your stay.

Pool Info
---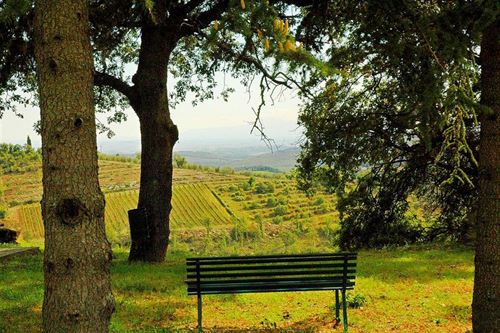 Enter the enchanting splendour of Tuscany. Deep in the heart of Italy, the beauty and charm of the legendary Chianti region awaits you at Montebuoni. Perched on a ridge above rolling hillsides of vineyards and olive groves, Montebuoni is one of Chianti's best-kept secrets. Panoramic views and tranquil elegance. The perfect retreat.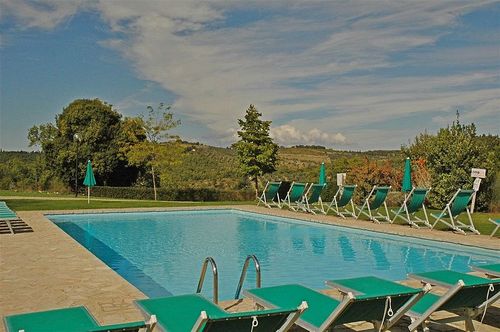 Fully decorated cottages nestled among oak, pine and cypress trees open onto private patios and gardens. At one time an olive and wine-producing estate, Montebuoni's original handcrafted stone cottages have been fully-restored and still maintain their authentic style.
Swimming pool 15 mtrs x 7.5 mtrs & Children's swimming pool 1 mtr deep - pools open April to October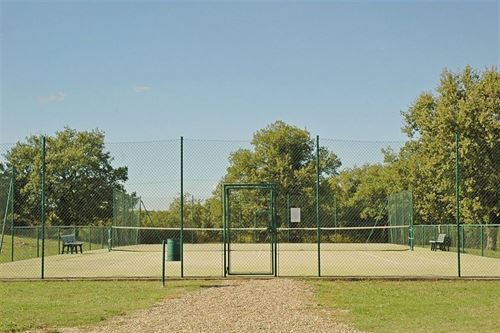 Montebuoni is composed of cottages and apartments of various sizes to suit your individual needs. A full-size, astro-turf tennis court, two swimming pools and clubhouse blend the convenience of a private club with a country setting. Plenty of space to walk, with tranquil spots to sit and reflect let you get away from it all.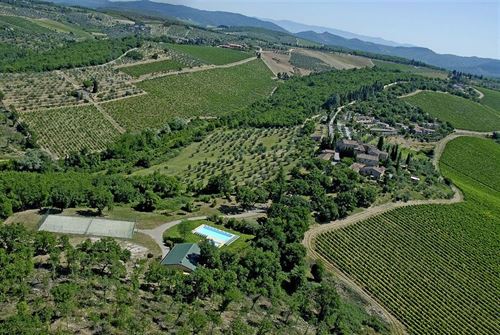 Centrally located, Montebuoni offers privacy yet easy access to Tuscany's many historic towns. The beauty and romance of
Florence
, brimming with cultural and artistic attractions
Siena
, and San Gimignano rich with medieval history, are within an easy hour's drive. Even closer to home are Chianti's five regional towns -- the home of Gallo Nero Chianti Classico wines -- ideal for delightful day excursions.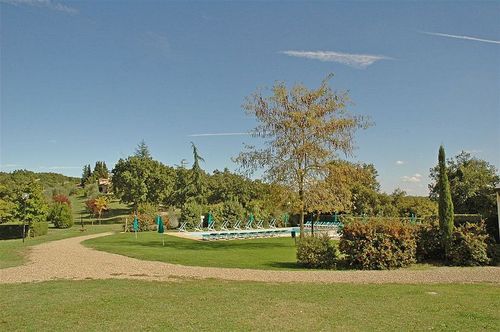 Quiet country roads are ideal for bike rides and long walks in the warm Italian sunshine. After a day of relaxation, sight seeing or touring, the welcoming hamlet of Montebuoni always promises long and vibrant sunsets.

Nearest town
---
Montebuoni is located 4km from the small village Lecchi in Chianti. Within walking distance is also the village San Sano. The Chianti town, Radda in Chianti is 15minutes drive away.
---
Traveller reviews for
Montebuoni
---
Anonymous

SAINT GERMAIN EN LAYE, France
09.08.2012
"L'environnement, le paysage autour, l'espace dans la maison. "


---
Location address: Lecchi in Chianti - Siena
click on a week TO BOOK

7 Night Villa Price for - in Euro 6 people - NOT per head

Important booking info
Important booking info
---
Price: per accommodation per week
Arrival/Departure day: Saturday
Terms and conditions: please read the booking contract
The Security Deposit is 200 Euro or equivalent in your own currency, this will be held by the owner for the duration of your stay. Any damages plus heating/air conditioning, where applicable, costs will be taken from this with the remainder returned at the end of your holiday.
Payment method for security deposit: Credit Card

Weekly linen and bathroom towels: included - service provided by local supplier
Central heating: by consumption
Mandatory final clean: included - service provided by local supplier
Baby cot: 1 available on request, no extra cost
High chair: 1 available on request, no extra cost



2014

availability

To Tuscany's up to date availability data-base is checked at the moment of your request.

December

28. - 04.

January

04. - 11.

11. - 18.

18. - 25.

25. - 01.

February

01. - 08.

08. - 15.

15. - 22.

22. - 01.

March

01. - 08.

08. - 15.

15. - 22.

22. - 29.

29. - 05.

April

05. - 12.

12. - 19.

19. - 26.

26. - 03.

May

03. - 10.

10. - 17.

17. - 24.

24. - 31.

31. - 07.

June

07. - 14.

14. - 21.

21. - 28.

28. - 05.

July

05. - 12.

12. - 19.

19. - 26.

26. - 02.

August

02. - 09.

09. - 16.

16. - 23.

23. - 30.

30. - 06.

September

06. - 13.

13. - 20.

20. - 27.

27. - 04.

October

04. - 11.

11. - 18.

18. - 25.

25. - 01.

November

01. - 08.

08. - 15.

15. - 22.

22. - 29.

29. - 06.

December

06. - 13.

13. - 20.

20. - 27.

27. - 03.

Please choose the number of weeks


How to read the To Tuscany availability calendar.
| | | |
| --- | --- | --- |
| | 27. - 03. | Available - click on a week TO BOOK |
| | 27. - 03. | Booked - the week is subject to a previous reservation - click on this week to search for another similar property |
| | 27. - 03. | Option - the week is subject to an option and may become available again - click on this week to search for another similar property |
| | 27. - 03. | Available: Special offer. The price shown is the discounted price |
Click on a date to book


Important booking info
---
Price: per accommodation per week
Arrival/Departure day: Saturday
Terms and conditions: please read the booking contract
The Security Deposit is 200 Euro or equivalent in your own currency, this will be held by the owner for the duration of your stay. Any damages plus heating/air conditioning, where applicable, costs will be taken from this with the remainder returned at the end of your holiday.
Payment method for security deposit: Credit Card

Weekly linen and bathroom towels: included - service provided by local supplier
Central heating: by consumption
Mandatory final clean: included - service provided by local supplier
Baby cot: 1 available on request, no extra cost
High chair: 1 available on request, no extra cost
Location address: Lecchi in Chianti - Siena
The guest reviews published below represent the personal opinions of To Tuscany customers who completed a questionnaire after their stay at the villa or apartment. These opinions do not necessarily represent the view of To Tuscany. For help with translation we recommend
http://translate.google.com/

Family with older children

SAINT GERMAIN EN LAYE, France
Review date:
Stay: July 2012

L'environnement, le paysage autour, l'espace dans la maison.

L'equiement Electro ménager non adapté (lave vaisselle). Le jardin trop dans le passage. De ne pas avoir été prévenu du mariage qui nous a empeché de dormir toute une nuit!

Restaurants à Rada
Ann-Charlotte

Chene-Bougeries, Switzerland
Review date:
Stay: September 2009
La Scala
What were the highlights of your holiday? Montebuoni and the surrundings including the visits to Siena, San Gimignano, Volterra etc.
what was your overall impression of the accommodation? No surprises - exactly as shown on your site. Well furnished and plenty of kitchen appliances which we appreciated as we did a lot of our own cooking. Admired every day the beautiful lamp over the dining table. Nice pool and wellkept gardens.
Did you have any unpleasant surprises? Only one - one night the bed collasped in the ground floor bedroom!! Apparently this had happened before and a more solid solution will have to be found when fixing it.
Do you have any other comments? Would recommend Montebuoni and La Scala to anyone interested to visit the Chianti region.
Ann-Charlotte Wahren
Switzerland
September 2009
The faulty bed has been fixed
Michael

Hampton, United Kingdom
Review date:
Stay: March 2009
La Scala
What were the highlights of your holiday? Enjoying watching our young children running around the grounds of Montebuoni Visting Siena and Florence Driving around the beautiful countryside
what was your overall impression of the accommodation? Very good
Did you have any unpleasant surprises? No
Do you have any other comments? No
Michael Clark
United Kingdom
March 2009

Bella Vista
Quels ont été les point forts de vos vacances? UN ENDROIT MAGNIGFIQUE
Quelle est votre impression générale concernant l'hébergement? Très bonne.
Avez vous eu de mauvaises surprises? LA ROUTE DEFONCEE ET LE TEMPS POUR REJOINDRE RADDA IN CHIANTI
Avez vous d'autres commentaires? UNE BONNE IMPRESSION GLOBALE
France
Avril 2010
Hi Lisa!
I just wanted to say we spent the PERFECT Holiday in Tuscany, in our little Il Forno house at Montebuoni!!
It was the very first holiday with our little baby (8 months) and it was our best holiday ever!!
The house was very comfortable and felt like home!!
Also the service was very good: we had a little problem with the shower, and the very same day it got fixed!!
We cooked every evening and enjoyed eating on our terrace, accompanied by a bottle of nice Chianti wine, while our little girl was asleep inside...
She also slept very well near the pool, under a tree, while we were reading and swimming.
And Florence and Siena are so nearby!! We also liked Volterra and Volpaia.
Excellent place, we will definetely come back, and bring friends and family!!
Love,
Heidi (Accommodation: Il Forno)
Dear Lisa
Just to thank To Tuscany for another wonderful holiday at Montebuoni. We stayed last week in La Stalla, which was very nice and well equipped, and much larger that we thought it would be.The tennis court, pool and grounds are just lovely and all so well kept. We also had glorious sunshine all week!
Kind regards
Karen ( accommodation: La Stalla)
Hi Lisa,
Keith and I wanted to say a big thank you for your wonderful recommendation of Lavanda at Montebuoni. We loved the house, what a view, and the whole holiday was perfect. Being able to see the sunset every night and being able to walk to Lecci or San Sano was great. Thanks for your help and we will certainly be booking for next year. All the best Linda and Keith (accommodation: Lavanda)
Overall impression: It absolutely exceeded our expectations, alot more spacious than we were expecting and beaufifully decorated with all the facilities we needed.
Highlights: Spending warm evenings sipping wine on the terrace watching the sun set, and taking in the atmosphere and soaking up the sunshine by the lovely pool.
Unpleasant surprises: Not at all.
Heather (Accommodation: Panorama)
Overall impression: As per usual Due Leoni was perfect.
Highlights: Enjoying the Tuscan countryside, visiting our favourite restaurants and finding a new restaurant we had never visited before. Also nice to catch up with Sean again and sample his wonderful olive oil. Visiting Daniella Bencini for our own wine and oil tasting. Also enjoying the atmosphere sitting outside at Paulo's bar in Lecchi enjoying a glass of Tuscan red wine.
Unpleasant surprises: None.
Charlie & Jacqui ( Accommodation: Due Leoni)

Overall impression: Comfortable and easy to use, we felt at home. The next door neighbors
were a delight.
Highlights: The reason we came was to participate in the Eroica, the cycle event
in Gaiole. We'll be back next year as well and I plan on requesting the same accommodations.
Unpleasant surprises: None what so ever.
Mark (Accommodation: La Stalla)

Overall impression: It was beautiful! It was perfect for our honeymoon. The pictures on your website don't do it justice.
Highlights: We loved visiting many of the little towns in Tuscany - just walking around enjoying the atmosphere. We really liked visiting Anghiari, which is near Arezzo. It was recommended to us by friends. Probably the biggest hightlight was taking a cooking class at Toscana Mia with Simonetta. It was so much fun and just something a little different to do.
Unpleasant surprises: No
Kim (Due Leoni)
Thank you, the people and the place were the best! Oh, and the food and the countryside. I will enter a photo soon!
Jamie (Accommodation: Il Forno)

Overall impression: Very good, better even than photos on internet!
Highlights: Close to florence for day trip, fireflies in back garden
Unpleasant surprises: No
Aileen (Accommodation: Casa Vecchia)
We loved La Stalla. There was plenty of room for four of us and it was very well equipped the terrace was really nice with plenty of room.
The highlights of our holiday were the beautiful views and scenery.We also loved the small villages of Lecchi and San Seno. Another highlight was the wine tasting triporganised by Montebuoni, in spite of the quite difficult walk there! Another highlight was meeting our lovely Italian neighbors.
The only slightly unpleasant surprise (completely beyond your control!) was the weather.We did not expect to get so much rain!! I know it was unusual for the time of year. We still however really enjoyed our holiday. It was all perfect (apart from the rain!) Very many thanks to your excellent company. When we return to Tuscany we will definately use your company again.
Christine (Accommodation: La Stalla)
Overall impression: Excellent, the web site photos don't do it justice. The setting was magnificent, the decor and facilities within the villa were superb and we couldn't have wanted for better.
Highlights: Sitting on the rear terrace each evening with some nice local produce,
watching the sun set, admiring the Chianti scenery and enjoying a bottle (or two) of Chianti!. Belissimo. Also enjoying the Chianti restaurants for lunch especially in Lamole and Il Borgetta in Volpaia.
Unpleasant surprises: The only surprise was the dirt road into the property, a bit rough and very dusty, but no complaints as this took us further away from any roads.
James (Accommodation: Due Leoni)

Overall impression: Accomodation was great,Lavanda afforded great views possibly the best in montebouni.It was easy to see that the accomodation is "owned" by someone and isn't just some vacant investment property with an absentee landlord.This I think has to be one of the strong points that To Tuscany brings to the market.Although I'd have liked a couple of english speaking TV stations on the Sat Channels!
Highlights: Bowl of pasta,glass of Chianti & my book on the patio in Lavanda....Playing with the Kids in the pool!
Unpleasant surprises: the roads were a wee bit tight..I hired a 7 seater for comfort for the Kids,bigger than what I'd ordinarily drive & that coupled with the winding roads & driving on the 'other' side of the road had me under pressure.....first time hiring a car abroad.Got used to it as i was driving for the Airport on the homeward journey!
John (Accommodation: Lavanda)

Overall impression: Very pleased with our accommodation, the bed was comfirtable. We had no toaster in our apartment which might be handy.
Highlights: The location, it's so beautiful and relaxing. I love the Tuscan buildings. Unfortunately the weather was bad for our stay but there's nothing you can do about that!
Unpleasant surprises: The views from some of the other apartments, the setting really is beautiful and allows for a very relaxing stay.
Karen (Accommodation: Bell'Aria)

vSorry brief response...
• Service v.good with lots of info
• Accommodation - lovely, simple, but charming.
• Montebuoni - v. attractive, but BIG problem - v.v. cold pool, meaning that the kids were reluctant to spend long days by the pool. I think the problem lies in too enthusiastic filtering which means the water gets moved around so fast it never warms up. Also a problem for other people with small kids who feel cold - we noted.
• You might want to warn people with kids that Chianti is a bit dull. Great if you are an adult ready for fab views, driving and long lunches. Also a bit too tidy and full of Brits and Germans - have all the locals been priced out or just tidied away?
Good travel company, and I speak as the daughter of a travel agent and former producer on BBC's 'Holiday', but not the right destination for families, in my opinion.
Lou (Accommodation: La Contessina)

Dear Dympna,
In response to your question as to what we did or did not like about your service, I will respond by telling you that not only have we decided to return to Montebuoni for a month next summer, but we are bringing as many as 6 couples with us.
I have referred them all to your web site. I can't thank you enough for all of the suggestions offered through your web site and the info book in allowing us to put together our own itinerary. In spite of your good directions, we have decided to purchase a GPS which I'm certain will add hours to our trip. Unless you are able to speed read at the intersections, I would advise this purchase to anyone traveling in Italy.
The cooking class with Simone at Malborghetto was a delight. I haven't done anything like that before but am reluctant to share my pleasure for fear that when I return, there won't be room for me.
The computers at the office were helpful in letting us stay in touch with family and friends and I can't speak highly enough about the office staff, especially when they helped us out with cell phone service.
The only change I would recommend is that we played tennis every day on that wonderful court, but kept losing balls that would escape in the opening at the bottom of the fence. One other comment, everything on the property was lovely with the exception of the covered area by the pool and tennis court. Some minor painting would greatly improve the appearance of the lovely pool area.
All in all, it would be hard to improve on our trip and want to thank all involved to make Montebuoni such a special place.
Sincerely,
Marilyn
Il Forno

We loved Panorama, it's a great location and has plenty of room with a large bedroom and a large bathroom. Getting there the first time, was a bit of a challenge, but we made
it...
It was a beautiful and peaceful setting.
Although I had done research before traveling and knew of some local places in the area, the information provided was also helpful. in the area, which we really enjoyed ..
there is a cooking school that does 1 day to 1 week classes; very near at Podere Le Rose in Poggio San Polo, a few kilometers down the road. their web site:
http://www.welcometuscany.com
thanks
dorothy
Overall impression: It was well appointed and spacious. The kitchen in particular was outstanding. We made a few great meals there. There are only two minor issues I should mention. The tennis court needs a little work and the sole washing machine is innadequate for the number of people using it. Other than those things the surroundings are breathtaking and we got a chance to see and participate in some grape harvesting.
Highlights: The wonderful hill towns of the area and the great food and provisions. The weather was beautiful the whole two weeks except one day. Can't complain about that. We went to the wednesday wine and food tasting and it was very special. The wines and olive oil and the food prepared were excellent. We met some very nice people and stuck up friendships that, I am sure, will last a long time.
Unpleasant surprises: None
George (Accommodation: La Pergola)

Overall impression: marvellous - very spacious and comfortable - the furnishings were
nice and the fully equipped kitchen was terrific for preparing the fresh pasta for meals as well as the verandah under the pergola was just great to eat breakfast, lunch and tea
Highlights: the Tuscan area overall and the relative ease to travel to the nearby villages - driving on the 'wrong side of the road' was more fun than I expected
Unpleasant surprises: none that I recall
John (Accommodation: Pergola)

Overall impression: Very comfortable, and entirely in line with what the website information suggested. Staff at Montebuoni were all most helpful.
Highlights: Visits from Montebuoni to Siena, S.Gimignano, and Cortona - mixed up with lazier days nearer to the burgo. The winetasting expedition was (as guaranteed by one of our daughters, a previous visitor to the hilltop) a first-rate outing. We also had the advantage of some very pleasant early-October weather.
Unpleasant surprises: Fortunately not!
Michael (Accommodation: La Contessina)

Overall impression: Very good. Clean and had everything we possibly needed.
Highlights: The quiet afternoons sat reading in the garden and the trip to the vineyard was fantastic. We've certainly recommended it to all of our friends.
Unpleasant surprises: Nothing too bad, only that the lights in the bedroom were very dull making reading difficult and the ice cream we put in the freezer compartment melted every time we put the oven on!
Helena (Accommodation: L´Oliveta)

Overall impression: Well looked after and clean, lots of homely furniture, games, books, kitchen equipment, nice outside area, although not secluded it wasn't over looked and the bed was very comfortable!
Highlights: The wine testing evening, relaxing by the pool (once I got used to the
wasps), lots of restaurants nearby and being so close to Siena and Florence.
Unpleasant surprises: The accommodation. I didn't expect it to be so well furnished and homely.
Rebecca (Accommodation: Il Forno)

Overall impression: We loved La Vigna, and Montebuoni in general. We felt that we
couldn't have found anywhere that we would have liked more for our holiday. The peace and quiet was fantastic! La Vigna was particularly nice in that being tucked away, there is not a lot of 'passing traffic' on the gravel. We're pretty sociable people, but it was nice to be tucked away. The views are stunning. It is simply idyllic.
It was really nice to have a washing machine in the villa. I heard a few mutterings about the on-site one having a 2 hour cycle!
The only issue that we had was with the shower curtain - it was only long enough to stretch across one side, whereas it needed to fit around two sides. We tried to be very careful because we were worried about water damage, so always put towels down around the edge, and tried to contain as much water within the shower. We did mention it twice, and someone did come to look at it whilst we were out one day (footprints in the shower!), but it didn't get
fixed. Even if a double one was not available, another single on would have done the trick. [our comment: the owner has been made aware of it and it is being fixed]
Highlights: Getting away from it all, yet being well situated to explore the Chianti area - all the places we wanted to see such as Siena, San Gimignano and Castellina are easily accessible. We went to the Wednesday wine tasting which was great fun. Daniela was great, and we met some really nice people. We got together again for a drink by the pool on the Friday evening!
We loved Malborghetto - the food was excellent and they were very friendly and welcoming.
It was great to have the tennis court.
Unpleasant surprises: No
Rosemary (Australia) - Accommodation: La Vigna
Overall impression: Absolutely lovely! It was perfect for us :o)
Highlights: We really had such a wonderful break, it's hard to single out a 'favourite' highlight. When we arrived the scent of lavender and rosemary, coupled with the views blew us away and set us immediately into RELAX mode. We loved our visit to Casa Nuova di Ama. The walk through the vineyards was beautiful, the hospitality was superb and we loved the wines so much we went back to buy more. We enjoyed staying in eating excellent local produce and relaxing as much as we enjoyed going exploring the cities and towns around us (our favourites being San Gimgnano and Castellina - best icecream and pizza respectively!!!). I would recommend it to anyone looking for a peaceful getaway. Thank you for a wonderful holiday!
Unpleasant surprises: No
Manda (Accommodation: Panorama)
Overall impression: Absolutely heavenly. Because it is a privately owned home, the furnishings surpassed our expectations and the house was extremely comfortable and well equipped with a beautiful garden - perfect for sitting out for breakfast and dinner.
Highlights: Waking up in the morning and looking out of the bedroom window at the beautiful view of the Tuscan hills and vineyards. Having the swimming pool and tennis court within easy readh - but not too close to the house. Enjoying the wonderful local restaurants and exploring the surrounding countryside.
Unpleasant surprises: Queueing at Rome Airport to collect a pre-booked hire car for three and a half hours was the most unpleasant part of the whole trip!
At the end of a very long journey, after turning off the main road from Lecchi, turning right instead of left and having to negotiate an extremely difficult hill, then discovering we were in the wrong place, having arrived at the vineyard next door. The signpost to Montebuoni on the main road is clear but the next one is overgrown and not visible. [our response - the management of Montebuoni is going to fix this]
Although not unpleasant but certainly a surprise - the couple sleeping in the downstairs bedroom woke at 4.00 a.m. to the sound of what they thought was rain - but it turned out to be the sprinkler coming on! Because the garden always looked as though it had been watered, we had thought there must be a little man coming round with a hose before we were awake!!
Felicity (Accommodation: La Scala)
Thank you for your e-mail re out stay at La Stalla in Montebuoni.
We had a wonderful time. The accommodation was superb. The quality of the restoration and the standard of furnishing was beyond our expectations. Absolutely no down side and we will undoubtedly pay a return visit.
Regards.
Tom Paice (Accommodation: La Stalla)
The hamlet itself blends into the surrounding landscape beautifully, and the gardens were a delight. I particularly enjoyed watching the bees, butterflies and all manner of other insects feeding off the lavendar. Having stayed at La Contessina before, I knew what to expect and booked it again because it suited my needs perfectly. My two daughters, who hadn't been before, thought it was just perfect. If the owner is ever thinking of selling, please let me know!
George Darby (Accommodation: La Contessina)
The house (La Scala) is lovely and ideal for our needs - clean, spacious and with all modern comforts and a lovely private garden. Montebuoni is wonderfully quiet and peaceful - a real haven away from our usual noisy London existence! At the end of our journey it was heaven to arrive there. The facilities are great - the pool is lovely and the hamlet is safe for children. You can meet other guests but have privacy at the same time. The wine-tasting is a lovely experience and again children are welcome. Montebuoni is an ideal base from which to tour the Chianti region but there are plenty of good restaurants and local shops within a short drive if you don't feel like venturing far.
Dara Corless
The accommodation was tastefully furnished and the buildings as a whole had been very well converted. It was great to have our own garden, as well as a terrace. The gardens were lovely and the pool was well sited. We liked the views and appreciated the peace and quiet.
Alison Ledgerwood (il Giardino)
Excellent. Would go back today if i could.
Peace and quiet. Although there are many villas there you would never know
William Alexander (Due Leoni)

Hi Michaela, Due Leoni was perfect, nice and peaceful  and perfect for our
honeymoon, the views were breathtaking as were the sunsets. We had our
wedding in Brolio, so not far for us to travell and we loved the whole area,
Lecchi, Rada etc
We had a fantastic time
Cheers
Iain

Dear Michela,
Thanks for the email.
We were delighted by our stay. We found the accommodation first-class and
have nothing but compliments about the apartment. We would certainly return
- it was a very relaxing holiday. I cannot think of any negatives - so I'm
not going to try. So thanks again.
All the best, Colin Wilkinson
(Bella Vista)

We had seen L'Oliveta before and we liked it a lot.... Therefore our overall
impression was great and we were not disappointed.
We liked that it was a separate house and the terrace. Especially since we
had 2 boys with us, they could play outside and not bother other people
staying at Montebuoni.
The location is ideal. Right in the middle of Chianti, close to some lovely
small towns. The view from L'Oliveta is also special especially the sun
sets.
Kind regards,
Rob.
Pam, just a note to say how much we enjoyed our stay at Due Leoni, who could fail not to??!! please pass our thanks again to Sabina & Sean, very professional & friendly.
Till the next time.
Cheers from
Sara & Peter


Just to tell you that our stay in Montebuoni was wonderful, the appartment was nice and well equipped.
We enjoyed a lot our vacations.
Kind Regards
Cécile and Vincent Gély
Client - Barb Simasko
Nationality - US
We loved Montebuoni and the area. Everything
about our two weeks was perfect and our time there was the best part of
our month long trip. THANK YOU, THANK YOU, THANK YOU. We then took a train to Rome where we spent five days. The weather was
fabulous and Rome had its usual buzz but there were very few tourists.
We were able to do the tourist things wherever we wanted without lines
and crowds. We then picked up a car, taking two days to get to Montebuoni, exploring
around Belsena and Montalcino. As we headed north from Siena, we could
not believe the beauty of the land. After all the planning, looking at
web sites, travel books and maps, arriving in Radda and then Montebuoni
was like a dream. It was like we had imagine it, but more. Pictures do
not capture how it feels, smells, and looks when you are there. Our
accommodations were fabulous. Sean and Sabrina are delightful, although,
we did not see a great deal of them as they had family visiting. But, we
did get to see the beautiful babies. Having two weeks there gave us time to be and do. We had some city
excursions to Siena, San Gimignano, and Florence which were great
adventures, but, we loved being in the country. We had a great time at
the cooking school for two days and learned a lot about the culture.
Exploring the smaller towns was really a treat. We usually ate lunch
out, drank cappuccino and some very good wines. Neither of us much likes
driving at night, especially in unfamiliar places, so we would pick up
something easy to cook during our outings and be back to our terrace to
watch the sun set. We took asfew days to just hang out. We loved feeling
the season change each day. We could feel winter creep in as the mists
in the valleys increased just a tad bit each morning. Each sunset was
spectacularly unique as the sun moved lightly to the left each day. We
loved watching the grape harvest and old people in Radda and Lecchi.
There are just so many moments that were special. We loved being in
those moments. Don and I are very grateful to you for introducing us to
this very special place. We drove back to Geneva via the Lake District, spent a few more days in
Geneva and returned home. The trip was a perfect length of time. We
were ready to come home. We found that we missed our life...our dogs,
our friends, our family, our routines, water pressure, our house. I can
see that there is a real shift in energy between vacationing in a place
and living in a place. We were on vacation.
Location address: Lecchi in Chianti - Siena
FAQ - Frequently Asked Questions

At what time should we arrive and depart?
Arrival time 16.00 if you arrive after 19.00 please telephone
Departure time 10.00 am
Can you help with travel arrangements?
For help on travel arrangements by car, by plane or by train select Reach Tuscany from the home page.
Are the prices per person or per apartment?
The price displayed are per apartment.
Are linen and towels provided or do I need to bring my own?
Yes linen and towels are provided and included in the price displayed, bring your own pool towel.
Is the central heating included in the price?
No, the central heating is charged on consumption when required.
Is there a swimming pool?
Yes, there are two 15x7.5 meters and a small baby pool open from April to October
Is there a telephone, fax, email connection available?
There is no phone, we recommend you hire a mobile phone with you car, many car hire companies now offer this service. Computers with access to high speed Internet, available during office hours, charged as used. In addtion if you bring your own Internet device you have free access (one device only) to high speed Internet directly in your apartment where noted on the apartment description.
Is there a balcony or terrace belonging to the apartment?
Yes all have with exception of Bell'Aria, Panorama and Santa Lucia.
Are there local grocery stores?
Yes within 3 miles.
Where can we rent bicycles?
Please contact D.F. BIKE at http://www.dfbike.it/
tel and fax: +39-0577-271905
email: info@dfbike.it
Where are the nearest riding stables?
Please see the following link http://www.castelloditornano.it/maneggioingle.htm
How far are the airports?
Florence 1 hour, Pisa 2 hours, Bologna 2 hours, Rome 3 hours.
When do I get road directions?
Directions are provided with your final confirmation, after full payment is received.
Where do I find the directions?
The directions can be found as a link on your final confirmation email. They can also be accessed by logging into your booking details using your useremail and password.
If necessary, how do we contact To Tuscany once in Italy?
As all the villas are privately owned and managed we have no on-site representative however we can be contacted at any time during your stay in Italy. You can call Sean on +39 333 2495106.
Our guests rated
La Scala
Based on
1
client villa reviews
We post all reviews as they were submitted (both positive and negative)
---
Guest reviews are written by our customers after their stay at La Scala .
In House Details
---
The size of the apartment is 115 sqm
bedrooms 3
bathrooms 2
In House: Facilities
---
Private garden
Furnished terrace
Fire place (stove)
Microwave oven
Fully equipped kitchen
Dishwasher
No pets allowed
TV
DVD player (Euro)
Onsite: Facilities and Local Services
---
Swimming pool - 15 x 7.5 mtrs and 1.5mtrs deep - open April to October (weather permitting)
Washing Machine Onsite - self service (charged as used)
House Maid - available on request
Leisure walks, swimming, tennis, mountain bikes
Local Leisure - cooking school, horse riding, ballooning, yachting
Private Chef - available on request
Babysitter - book in advance
Wine Tastings - available on request
Horse riding - available at Castello di Tornano, on the way to Gaiole. Please see FAQ for further info.
Distances - Florence 40km, Siena 25km, San Gimignano 50km
Approach road - 1.5 km very good unpaved road
Self-service check-in - hassle free arrivals
Internet Onsite - computers with access to high speed Internet, available during office hours, charged as used.
Facebook - Montebuoni group now on facebook, open to all
Other services Trip Advisor comments
Tennis court - available to guests next to the pool
Onsite: More Rental Villas
---
read what clients and the press say about us
client comment
keith

Cypress, United States of America
23.05.2013

Group of friends
"The view was breathtaking. We liked the quietness of the location. It was centrally located for the things and places we wanted to see in Tuscany. We would highly ... "


client comment
JANET

BRIDGEND, United Kingdom
23.05.2013

Group of friends
"Very spacious and well equipped. "


press comment
Tim Jepson
Daily Telegraph
I like To Tuscany, partly because it has a tremendous range of villas, and partly because (unlike many companies) it has an excellent website that provides what you really want when choosing a villa.

press comment
Frank Gardner
BBC - Security Correspondent
Our accommodation, which cost less than £800 for the week, is in a converted stone farmhouse next to a 12th Century Franciscan chapel. There is a pergola shaded by vines round the back here we quickly settle into a rhythm of eating long pasta suppers while the shadows lengthen.

To Tuscany Community
Follow Us