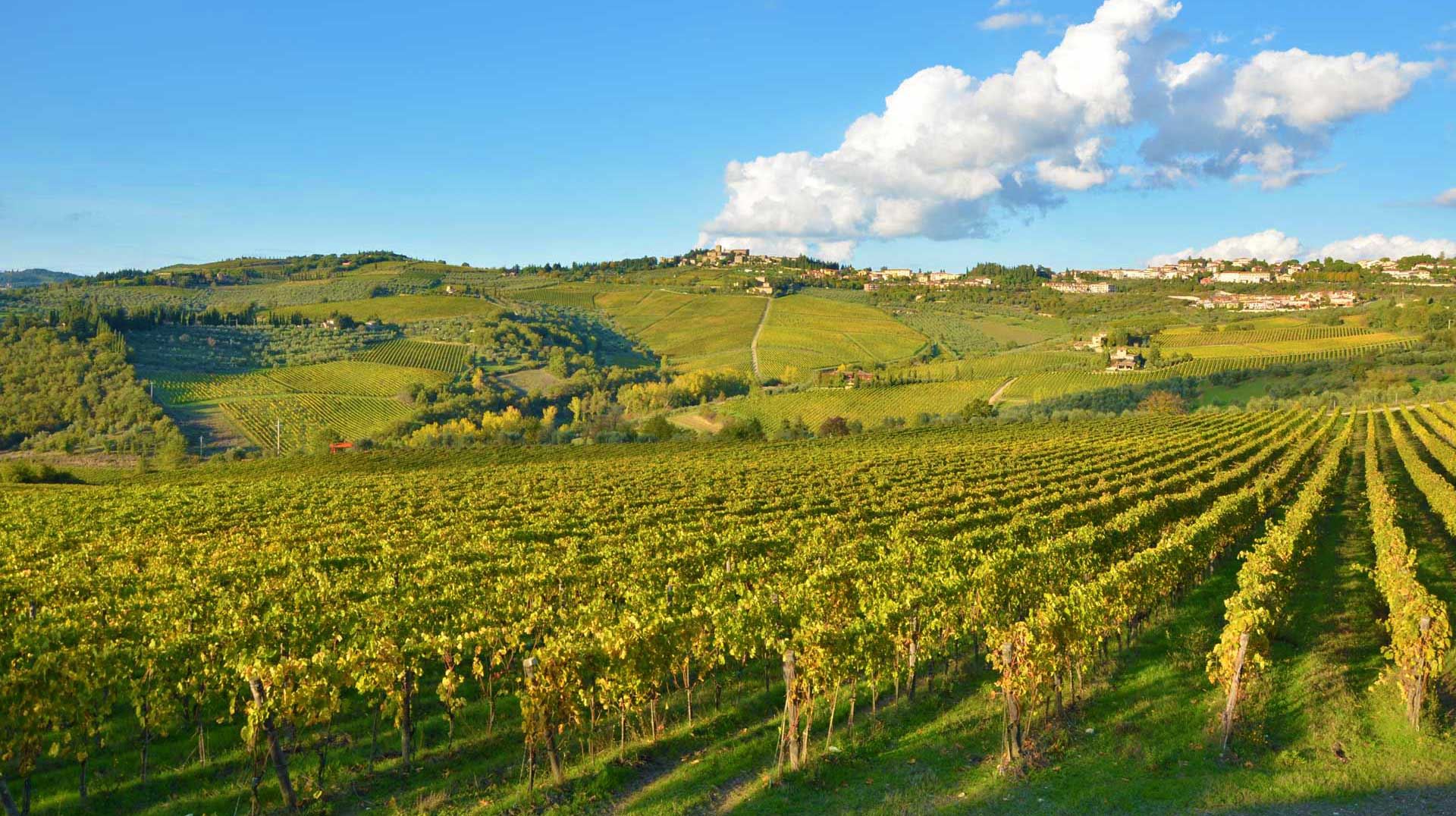 Panzano
The historic centre of hilltop Panzano unfolds along quaint alleys, bounded by a stretch of battered city walls. Medieval Panzano was a pawn between the feuding powers of Florence and Siena so constantly changed hands. Architecturally, this fortified outpost suffered during the conflict but vestiges of its medieval heart survive, though not its castle. A walk along the walls allows for scenic glimpses of the countryside. Restaurants lining the walls offer views of the Chianti hills and vineyards. Instead, the café-lined main square is the place for lapping up the small-town atmosphere and contemplating lunch. Modern-day Panzano is the preserve of Dario Cecchini, an eccentric celebrity butcher so a meaty feast forms part of the Panzano experience. But first turn your mind to loftier thoughts: the loveliest Romanesque church around. San Leonino, a romantic parish church, awaits on the next hilltop, a reminder that the Chianti can do churches, too.

Essential Panzano Information
Top Ten Things to Do
Enjoy a meaty feast in Panzano, which is a restaurant hotspot, before embarking on wine trails in the Chianti hills nearby. Visit a Renaissance villa and gardens linked to Leonard da Vinci or fly over the Chianti in a hot-air balloon. More simply, enjoy a great circular hiking trail between Greve and Panzano, along with scenic drives to medieval castles and estates. Panzano, set more or less halfway betweenSiena and Florencemakes a great base for exploring both cities, as well as San Gimignano

This is just a taster to the Chianti. See our specific guides to top Chianti outposts, all accessed through our Destinations listings, For starters, check out our guides to GrevePanzanoCastellinaRadda and Castelnuovo Beradenga. Our additional Chianti guides cover Castagnoli, Volpaia, San GusmeSan Donato in Poggio and Vagliagli.
Read more
Eating & Drinking
Panzano's stomachs belong to Dario Cecchini, a cleverly eccentric celebrity butcher. No visit to Panzano is complete without a visit to at least one of his restaurants (see our recommendations below). All are clustered round his famous butcher's.

The hills around Panzano are blanketed with vineyards; many of the wine estates are hundreds of years old. Although chestnut was the traditional wood of the region, Chianti is now usually kept in oak barrels for several months. The smaller barrels are known as barriques; the larger are botti. Our recommended wine estates are featured in each of the individual Chianti guides.

This is just a taster to the Chianti. See our restaurant recommendations below and also see our other guides to top Chianti towns and villages, all accessed through our Destinations listings.

Read more
Shopping, Parking & Getting Around
Shopping is fairly limited but still a pleasurable experience in Panzano, especially for Chianti foodstuffs and, of course, cured meats. The Sunday morning market sells everything from fruit and vegetables to cheese, roast chicken, shoes and clothes. For more choice head to neighbouring Greve.
Read more