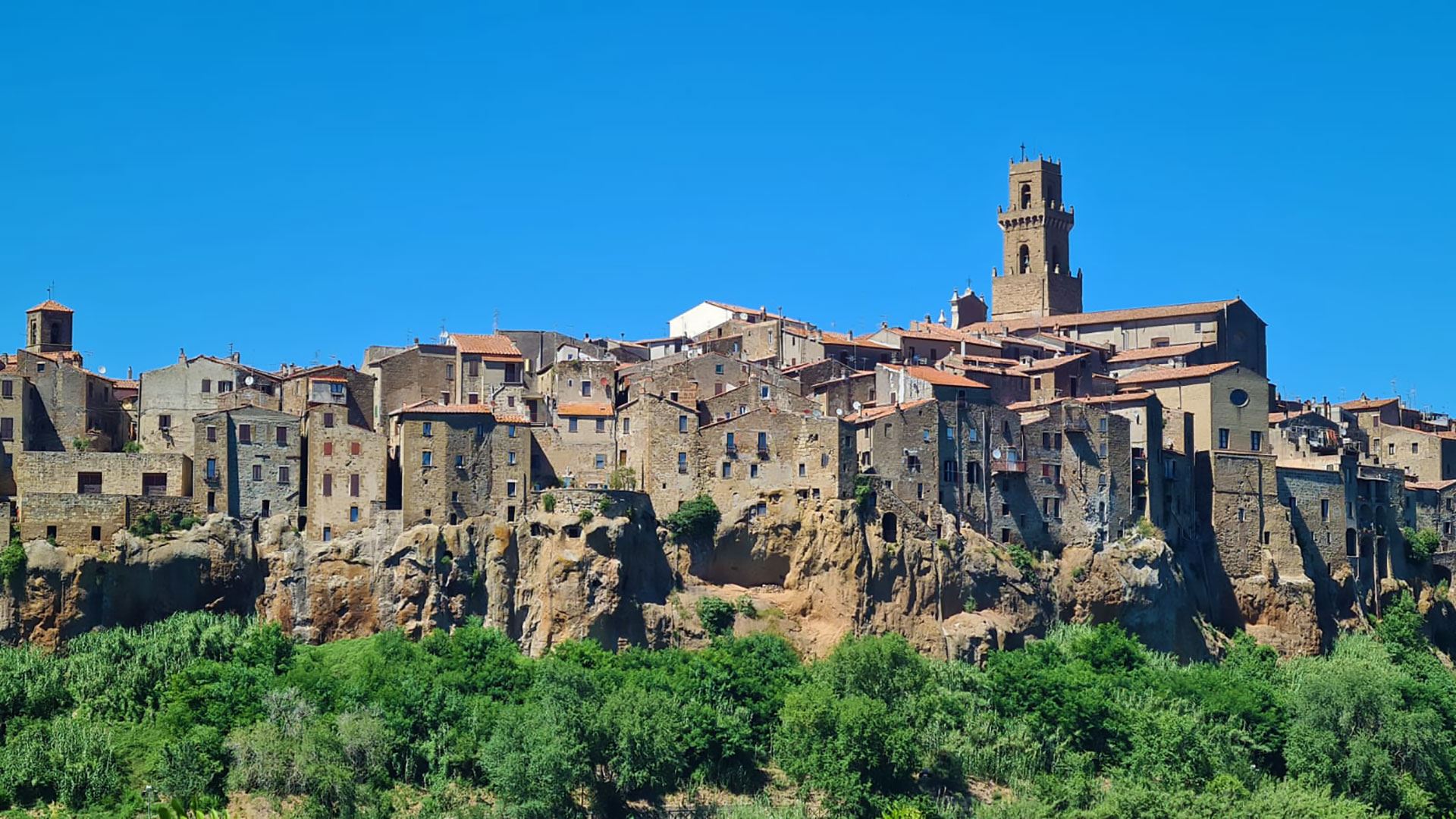 Orvieto
Umbria, the birthplace of St Benedict and Francis of Assisi, seems bathed in a mystical glow, and Orvieto plays into the mystique. Set midway between Florence and Rome, Orvieto is Umbrian perfection, with luminous frescoes and enigmatic churches only serving to underline its lofty otherness. Looming on a sheer ledge of lava-stone, Orvieto is a brooding Etruscan presence hewn out of dark volcanic rock. In medieval times, this citadel, perched on its impregnable rock, controlled the road between Florence and Rome. Although majestically sited on top of a volcanic tufa plateau, the hill is porous and in danger of bringing the city down as it crumbles. More positively, the fertile volcanic slopes are covered in the vineyards that produce Orvieto's famously crisp white wines. The town also scores high in the spirituality stakes, with its low-key churches counterpointed by the grandeur of the Duomo and loveliness of the undulating landscape.
Essential Orvieto Information
Top Ten Things To Do
Orvieto is all about the mysterious mood, both above and below ground. Savour the slow pace of life, from medieval meanderings to wine-tasting in this Slow Food city. Orvieto also acts as a springboard to several gorgeous towns in Umbria and Lazio, all seen on day trips. Beyond the city, our Top Tip in Umbria is mystical Todi, one of the most beguiling towns in Central Italy. Our other favourite day trips are both in Lazio: Viterbo, `the Papal city,' and Civita di Bagnoregio, Lazio's ghost town.
Read more
Eating & Drinking
Orvieto has always been farming country so visitors are spoilt for choice. Cultivating olive oil in Umbria dates back to Etruscan times, with produce around Orvieto, Assisi and Lake Trasimeno particularly prized for its intensity. Orvieto itself boasts gallina ubriaca (`drunken chicken' drenched in wine) as a popular local dish. The city is also close enough to Norcia, the epicentre of Umbrian charcuterie, for cold cuts and salami to feature as tasty antipasti.  Hearty soups are also popular in the city, especially chestnut and chickpea soup.

There is no escaping distinctive, meaty main courses. Locally-reared Umbrian meat is always on the menu, especially barbecued or roast meats, ranging from lamb to beef. As in Tuscany, Chianina cattle are a staple, with the meat prized for its succulent flavour. On the wilder side, expect wild boar, roast goose, pigeon, venison and wild boar. As in Tuscany, pork is often served as porchetta, spit-roasted and flavoured with garlic, wild fennel and local herbs. The Umbrians claim to have invented the dish, despite its popularity in Tuscany and Lazio. For dessert try the aniseed-flavoured ciambellone. a ring-shaped cake often considered an Italian version of a doughnut.

As the volcanic soil is very rich in minerals, grape vines thrive here, as they have since Etruscan times. Orvieto lends its name to the renowned Orvieto Classico, a straw-coloured white wine currently undergoing a revival. Bizarrely, Pope Gregory XVI ordered that his body be washed in Orvieto before burial. Contemporary Orvieto is made from a blend including Trebbiano and Grechetto.
Read more
Shopping, Parking & Getting Around
Orvieto's via Duomo and Corso Cavour are lined with elegant restaurants, boutiques and craft shops selling jewellery or Orvietan ceramics, including reproduction Etruscan ware or carved wooden sculptures. Ceramics-making is still a flourishing business in Orvieto, a tradition that dates back to Etruscan times. To sense its importance, it's enough to do the Underground Orvieto tour. The tour reveals both ancient ceramics found in wells and more modern pottery dating back to the 18th century. At that time, certain underground chambers housed furnaces used to bake the clay. As for the art of glassmaking in the area, this dates back to medieval times when master-glassmakers made the windows for the Cathedral in Orvieto. Finish a window-shopping stroll with an ice cream in Gelateria Pasqualetti on either Piazza Duomo 14 or Corso Cavour 56.
Read more