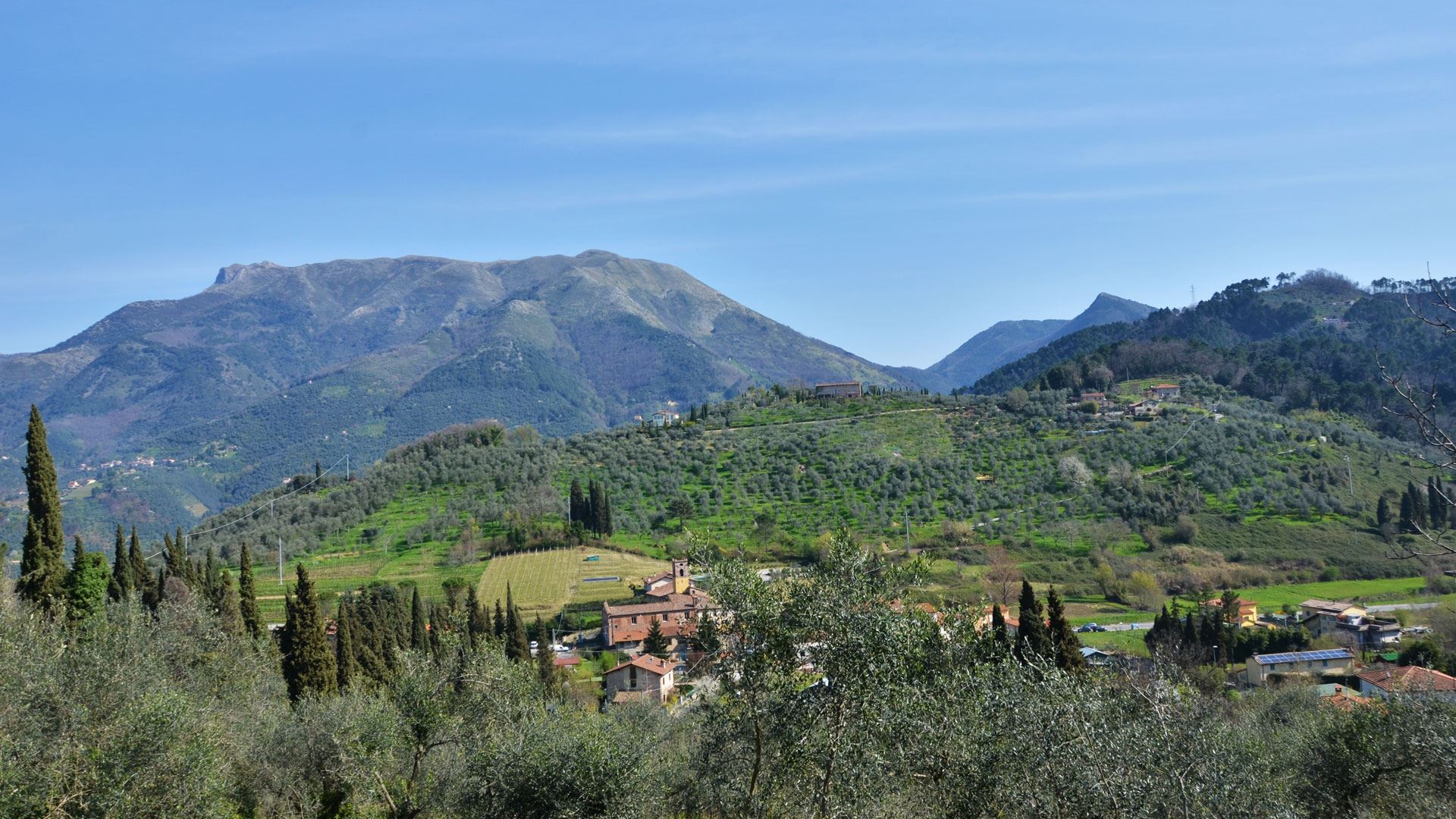 Camaiore
The Village of Camaiore is located in a valley surrounded by hills and the northern Appennins mountains. Camaiore has Roman origins as one of the largest encampments near to the city of Lucca and an important station along the Via Cassia. The origins of its name "Campus Maior" come from this.

In the Middle Ages, the town grew considerably thanks to the old Via Francigena. The city represented the Twenty–seventh stage during the journey of Sigerico Canterbury, and was called Campmaior by the Archbishop of Canterbury.

Now Camaiore is filled with many artistic treasures which include the Collegiate Church, Saint Peter's which is a Benedectine Abbey and in the village of Pieve of Camaiore there is a church which is an excellent example of a Romanic church and dates back to about 817 d.C.

The territory of Camaiore is beautiful and known for its landscape and its small medieval villages like Monteggiori, Casoli, Gombitelli e Montebello. From their hillside positions there is a fantastic view over the sea and surrounding hills, while time seems to have stopped centuries ago.
Essential Camaiore Information
Things to do
Lido di Camaiore spreads out for more than four km along a coast of fine sand. Since the beginning of the last Century, Lido di Camaiore has been one of the most renowned seaside resorts in Italy. Gabriele D'Annunzio was the first to prefer this place to crown his love with Eleonora Duse. The real boom came after the second World War, when Lido became one of the favorite destinations for mass national and international tourism.
Read more
Shopping
Tutto Pasta
The best homemade pasta in town. Fresh made pasta filled with fresh ingredients. The shop sells pasta in different shapes and sizes, some types available are gnocchi, ravioloni, cannelloni, tortelloni. Some types are coloured with natural ingredients like egg, pumpkin or fresh spinach. 
Address: Piazza Xxix Maggio, 8
Butcher
Macelleria Lillino
This butcher shop offers the best meats and coldcuts in the town.
Address: via San Vincenzo 34
Bonucelli Salumi
You can find the full range of artisan cured meats typical Tuscan products like fresh pork and beef and other local products, such as oils, flour, pasta, cheeses and specialties such as Tordelli Camaioresi, lasagna, Scarpaccia, quiches, all combined with a selection of wines.
Address: Via Vittorio Emanuele 9
Web: http://www.bonuccellisalumi.com/
Pastry shop/café
Bar Pasticceria Del Dotto
This is the most famous bar and pasticceria in Camaiore. Here you can taste the traditional cakes of Camaiore area.
Address: via Vittorio Emanuele, 139
Wine store Enoteca Nebraska
On May 16, 1980 at the foot of Montemagno two wine lovers: Giuseppe Pighini aka Nebraska and Giovanni Bonucelli aka Barbierino founded the Enoteca Nebraska. Hoping to live up to their original standards, the Enoteca continues to offer the best wines, sparkling wines and the most famous Italian labels worldwide accompanied by snacks based on local produce and artisan specialties according to the ancient traditions of cuisine including Camaiore "scarpaccia" and "pepper cake."
Address: loc. Nocchi , 55041 Camaiore
Supermarket
ESSELUNGA
This is a huge, well stocked supermarket. There is plenty of uncovered parking. Inside there is a bar/café and space to play for children.
Opening times: Monday-Friday: 8-21.00, Saturday: 7.30-20.30, Sunday: 9-20.00
Address: Viale Kennedy John - 55041 Camaiore

Post office
Open: Monday-Friday: 8.15-19, Saturday: 8.15-13
Address: Piazza Armando Diaz 7 - 55041 Camaiore
Tourist office
Consorzio Promozione Turistica città di Camaiore
Open on Monday to Saturday from 10.00 to 12.45 and from 15.30 to 18.30
Closed on Sunday and public holidays
Address: Viale Colombo 127/129, Lido di Camaiore
Web: www.versiliainfo.com
Doctor
Dr Ivana BARTELLONI
Tel: +39 0584 983166
Address: 123/B, Via Delle Muretta - 55041 Camaiore
Hospital with emergency room
OSPEDALE UNICO "VERSILIA" STABILIMENTO DI CAMAIORE,
Address: Via Aurelia  - Lido Di Camaiore
Pharmacy
Conti di Dinelli
Opening times: Monday-Saturday: 8.30-13 and 15.30-19.30
Address: Via Vittorio Emanuele 125 - Camaiore
Banks
There are three banks in Camaiore, plus several ATM machines around the town. They are generally open in the mornings from about 8.20 until 13.20 and then again for a short time in the afternoon, most from 14.30 for an hour.
Petrol
There are three petrol stations in Camaiore, an API, IP and Shell. All have self service facilities for after hours filling. It is best to have cash as not all accept credit cards.
Read more
Camaiore restaurants
This is a superb restaurant with an old fashion atmosphere, offering elegant seafood dishes. Very high quality food and friendly staff.
It is a little bit more expensive than some of the other restaurants in the area - but you get what you pay for!

Read more