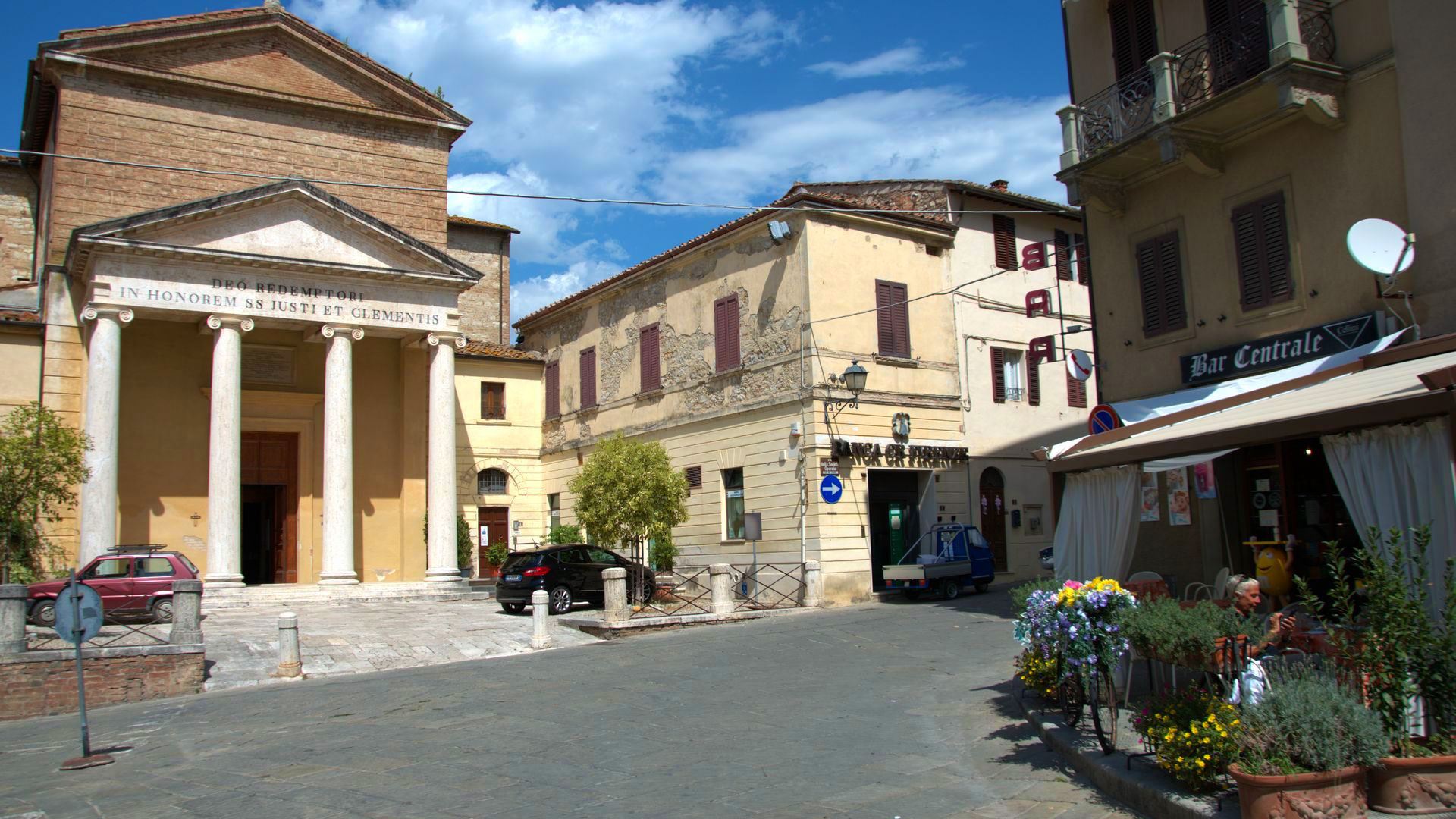 Castelnuovo Berardenga
Castelnuovo Berardenga sits on the southern border of the Chianti, somewhat overshadowed by Siena. For better or worse, its fortunes have always been tied to Siena. In 1555 this Sienese stronghold lost its encircling walls when Siena was defeated by the Florentine-led Medici Grand Duchy. Today, Castelnuovo is special for its peaceful atmosphere and sense of an authentic Tuscan style of living. The low-key charms include a couple of minor churches and a clocktower, remodelled from the original fortifications. Admire Vicolo dell'Arco, with its steep stone staircase and decorative arch. Such charms won't detain you for long but it's a soothing spot for contemplating the slow pace of life outside bigger Tuscan towns. In fact, Castelnuovo is a designated Città Slow for this reason. Beyond this former stronghold are a cluster of minor villas and wine estates. Essentially, treat Castelnuovo as a stepping stone to Siena and the southern Chianti.


Essential Castelnuovo Berardenga Information
Things to do
Castelnuovo Berardenga makes a mellow base for exploring Siena and the southern Chianti.  As well as driving to wine estates, you could visit others by bicycle. The Chiantigiana, the Chianti Way, is made for forays to charming Chianti hamlets and castles doubling as wine estates or centres of contemporary art. To wallow in a tempting thermal spa resort, visit neighbouring Rapolano Terme. Or get on an electric bike or Vespa and explore the countryside. As for cultural trips, consider outings to MontepulcianoSan GimignanoSiena and, though further afield, Florence, a two-hour drive.

This is just a taster to the Chianti. See our specific guides to top Chianti outposts, all accessed through our Destinations listings, For starters, check out our guides to GrevePanzanoCastellinaRadda and Castelnuovo Beradenga. Our additional Chianti guides cover Castagnoli, Volpaia, San GusmeSan Donato in Poggio and Vagliagli.
Read more
Eating & Drinking
Given its proximity to both Siena and to the wealthy Chianti winelands, Castelnuovo Berardenga is a culinary hotspot. This is especially true of the tiny hamlets just north. San Gusme and neighbouring Villa a Sesta and San Felice form a foodie hotspot, with gourmet cuisine the norm, but not always at gourmet prices. See our San Gusme guide for additional options.

It's a similar story for wine, with the finest wines from the grandest estates, such as Brolio, on offer. But this being democratic Tuscany, homely inns and inexpensive Chianti Classico wines also make an appearance. The trademark on bottles of Chianti Classico is the Black Rooster (or Black Cockerel), the historic symbol of the Chianti Military League, depicted by Giorgio Vasari on the ceiling of the Salone dei Cinquecento at Palazzo Vecchio in Florence. Our recommended wine estates are featured in each of the individual Chianti guides.

Do remember that you are close enough to Siena to pop in for lunch or dinner. This is just a taster to the Chianti. See our restaurant recommendations below and also see our other guides to top Chianti towns and villages, all accessed through our Destinations listings.

Read more
Shopping & Parking
Castello di Brolio, a famous Chiantishire castle, lies between Castelnuovo Beradenga and Gaiole. The Brolio wine-tasting experience and gift shop can form part of a great day out, as does the route there. This is classic Chianti countryside, with its mix of vineyards, olive groves, oak and chestnut woods. Records attest to the Ricasoli family having been in wine since 1141 so count on buying some fine vintages and possibly even some lovely wine glasses. Along with Chianti Classico, the estate also produces Super Tuscans, such as Casalferro. Even so, the market leader in the Super Tuscan stakes is Ornellaia and Masseto, produced by the rival Frescobaldi wine barons. While at Brolio, book a visit to the castle cellars, tour the estate, taste the wines, and see the family museum.


Read more