Italy welcomes families like no other destination, especially when it comes to filling tummies. From the rainbow choice of gelato to the simple culinary genius of pizza and pasta, all made with love, this is a child-pleasing place to spend the precious summer break. Travellers with bambini in tow usually enjoy VIP treatment; seen and not heard is about as far as you can get from the welcoming Italian attitude to kids.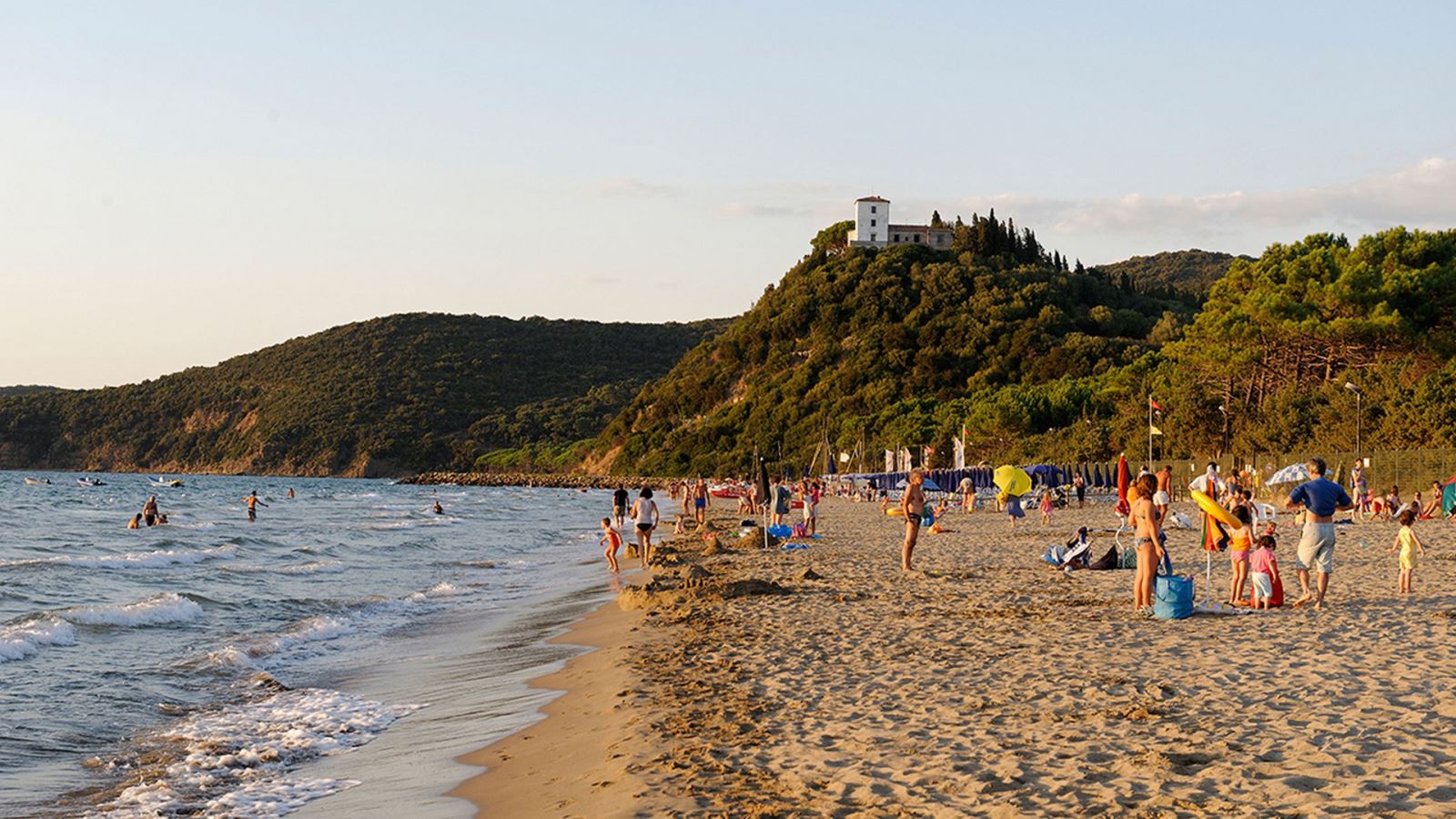 Spend a day on the sands at Punta Ala. Photo: imageBROKER/Alamy

The most successful summer holidays centre on the beach, and although Tuscany is famed for its rolling countryside, the local coast is a real beauty. There's plenty of it, too; some 230km, including protected nature reserves, bustling fishing towns, and some very glitzy resorts. Developed beaches come with umbrellas, sun loungers, cafes, showers and loos. These can be a real boon for families with young children, although you'll have to pay for the convenience – potentially pricey. But there are plenty of wilder spots where you can plonk your towel, picnic on panini, and let the kids run free.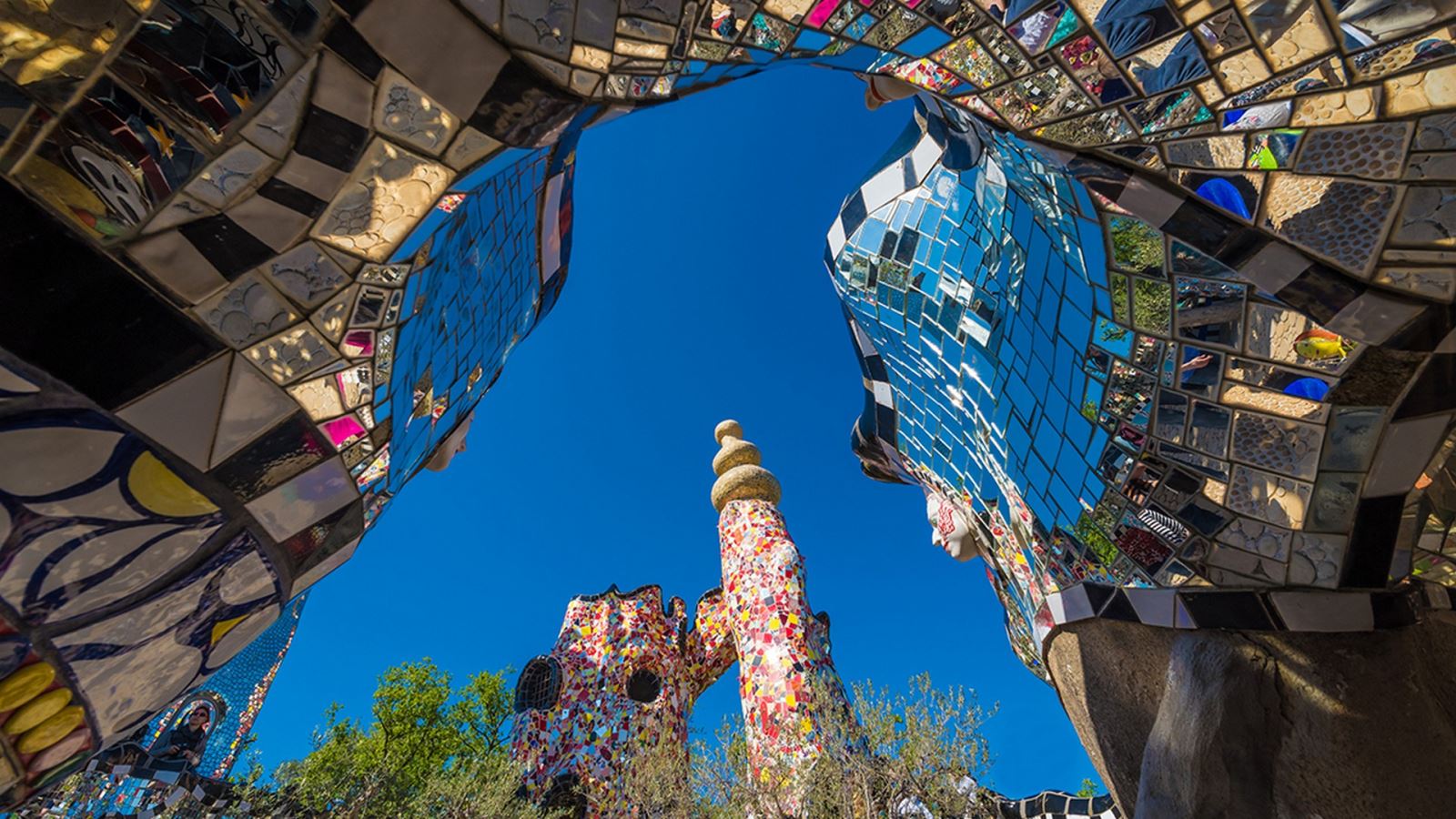 Don't miss the Gaudi-style sculptures of the Tarot Garden. Photo: Valerio Mei/Shutterstock

The Maremma, for example, comes with a protected nature reserve and has some of Tuscany's most pristine stretches of sand, including Chiarone, set at one end of Burano Lake in a protected oasis with clear, calm shallow waters that are perfect for children to play in. Nearby, Spiaggia di Punta Ala and the glorious white sands of Spiaggia delle Marze are backed by shady, pine-sheltered bays. (If you visit Chiarone, don't miss the gaudy Gaudi-style sculptures of the Tarot Garden, built by French sculptress Niki de Saint Phalle and her husband, Jean Tinguely.) Fun is guaranteed at water parks such as Acqua Village, which has two locations on the Tuscan coast, at Follonica, near Grosseto, and Cecina, near Livorno. Inland, in Tuscany's hills, you'll soon realise why international cycling teams train here – cycling here is not for the fainthearted. But little legs will do well on the flatter terrain of Val di Chiana, or the coastal route Sentiero della Bonifica follows a flat, 60km, car-free path between Arezzo and Chiusi. For bigger thrills, go rafting in the Appennino Tosco-Emiliano National Park, or take to the high ropes at Parco Avventura Il Gigante, just outside Florence.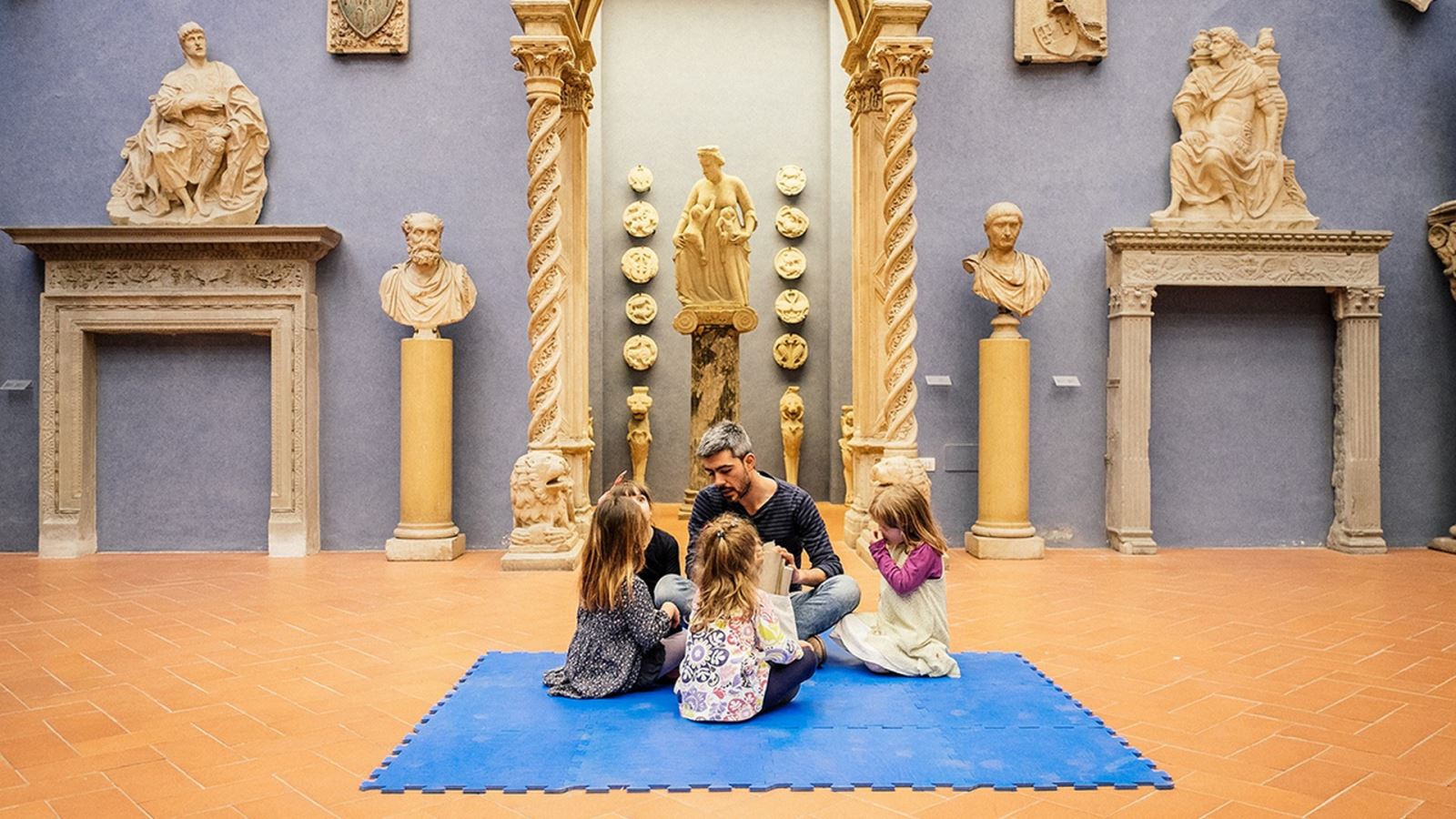 Check out the children's activities at Museo Stefano Bardini. Photo: MUSE

The Renaissance powerhouse of Florence can fatigue families trying to tick off all the treasures of the Uffizi Gallery. More easy-to-digest slices of culture are served elsewhere. There are lively tours with historical costumed characters at Palazzo Vecchio, you can climb the bell tower and step down into the crypts at the Museo del Duomo, get hands-on in art workshops at the modern art museum Museo Novecento, and do child-centred activities at Museo Stefano Bardini. Populated with priceless work by the likes of Brunelleschi, Botticelli and Andrea della Robbia, the recently renovated Museo degli Innocenti, formerly an orphanage, has been designed specifically with children in mind, with audio guides in English written by children's authors, interactive installations, and children's workshops.

Florence is a great place to learn about the Leonardo da Vinci's life and works. In the outlying town of Vinci, close to his place of birth, Museo Leonardiano Vinci displays some 300 madcap models and flying machines created by the prolific Renaissance polymath.

Young thoughts rarely stray far from the next meal. Turn mealtimes into an event at one of the sagre that take place at this time of year in towns and villages across the region. These food festivals celebrate specific dishes or prized produce; expect everything from July's seasonal fried zucchini flowers in Piancastagnaio, to mini moscardini octopus in Talamone, and Livorno's cacciucco fish soup. The cook-offs, street-food stalls and culinary markets are very enticing, and the food is often accompanied by great Tuscan wine – the complete package to transport back to your villa, for that perfect al-fresco family dinner.

Sarah Barrell is a travel journalist and author with a special interest in Italy. She is Associate Editor at National Geographic Traveller (UK), and writes regular travel stories for BBC Good Food, The Daily Telegraph, The Independent, and The Guardian and books for Lonely Planet.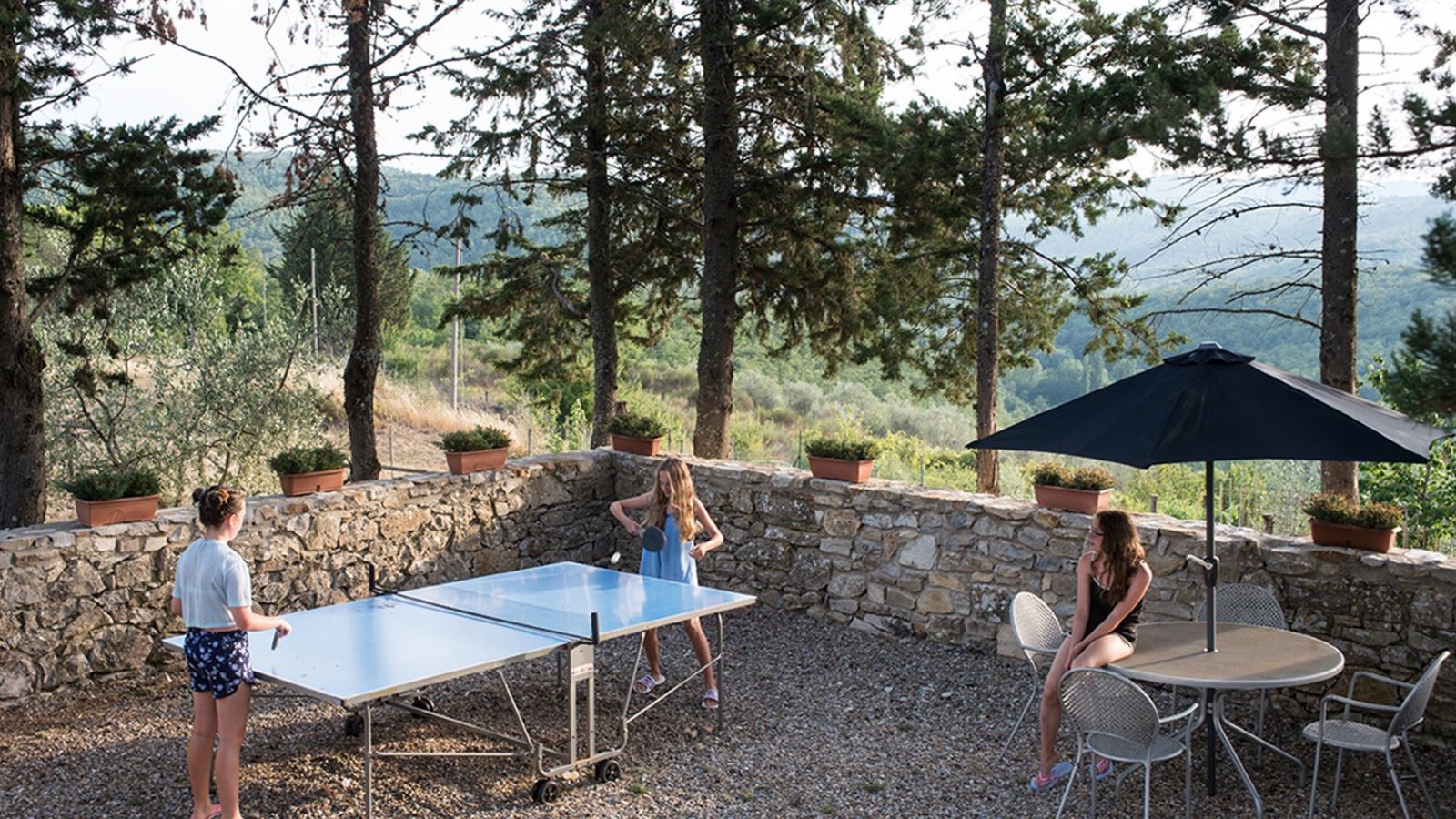 Image courtesy of Le Pratola

How to pick the perfect family villa
Pre-schoolers
At this age, the practical trumps the fanciful when choosing a villa. Location matters, yes, but more for the proximity to the nearest supermarket than the sunset views. Does the main bedroom accommodate a cot, or have an interconnecting/neighbouring child's bedroom? You might be able to pack your car seat, baby monitor and favourite cuddly, but start trying to cram in changing mats, bottle warmers, toys and the like, and you'll be paying a premium in luggage costs. Look at what's available on site.
On site essentials: Stair gates, cot, changing mat, bottle warmer, toddler cutlery and crockery, high chair, use of toys, gated swimming pool (pool toys/floats are a bonus).

Primary-age kids
How far is your villa from the beach? Does it have a pool? Water will be your friend when you're holidaying with small children. So will outdoor space. Is there a garden to run around in safely, or a nearby beach or town with a great playground? You'll want to keep excursions short and sweet, so while that remote villa might look idyllic, long car journeys between sights is not going to win any awards with your pint-size companions.
On site essentials: WiFi, TV with movie channels and/or DVD library, board games, gated swimming pool (pool toys/floats).

Tweens and teens
Interests, and patience, might diverge during a summer break with tweens and teens, so allow space for some semi-independent fun with a villa layout that doesn't put all the living space in one area. And keep yourself close to the action because having a lively beach or a bustling city within reach might just be the key to keeping teens on side.
On site essentials: WiFi, TV with movie channels and/or DVD library, CD player/smart phone plug in with speakers, board games, a den/games room or hang-out area.