As the steep gradient starts to bite, I raise out of the saddle to try to maintain my speed. But the back wheel of my bicycle spins and I lose traction, so I sit back down and try to power on. It's my first morning in Tuscany and I have forgotten the most basic rule of riding the Strade Bianchi, the gravel-topped white roads that criss-cross this legendary cycling region.

It's an understandable lapse in concentration as my eyes are constantly drawn to the vineyards cascading off the ridge I'm cycling along. This is Chianti country and I'm regretting last night's bottle as my legs sting with the effort. I drop down off the ridge, seeking smooth Tarmac and ride into Gaiole in Chianti.

I'm here to meet Sean, the owner of To Tuscany, the villa company I'm staying with. He's a keen cyclist and, accompanied by his friend, Brett, we're going for a spin on the rolling, local roads. Our target today is Castellina in Chianti, where I've been promised the best gelato in Tuscany.

We leave Gaiole in the crisp, spring air and soon enough start climbing at a steady pace. The smooth road twists and turns upward as we ride past undulating fields and bare-branched woods just a few weeks away from an explosion of seasonal colour. We crest the hill and our private race begins as Sean and Brett descend like demons, making the best of their fitness and local knowledge.

Folks know their cycling around here. The local heroes are a who's-who of professional road cycling – Bartali, Bettini, and Cipollini. There are several current professionals based in the area. Increasingly, though, it's L'Eroica, the vintage cycling event, that is gaining Tuscany international headlines, celebrating an era steel frames, woollen jerseys and the Strade Bianchi. Gaiole is its spiritual home – there's even a store here full of memorabilia and re-imagined vintage gear by De Marchi.




The road to Castellina is a sinuous 7km climb. Sean pushes on ahead, while Brett and I settle into our own steady rhythm. Through the gaps in the trees I glimpse more vineyards on the plain below, stretching north and westward until, thankfully, we finally reach Sean at the top for a full-on view and that gelato.

A carload of American tourists pulls over and we chat about the glorious scenery. Selfies taken, they are back in the car, no doubt with a schedule to keep to. I don't envy them: two wheels is quite simply the best way to connect with this beautiful landscape. And the ice-cream? Worth every metre of the climb.

To Tuscany has a fantastic range of villas near the Strade Bianchi.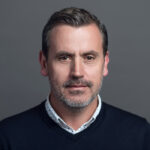 Campbell Reid, a keen road cyclist, visited Tuscany for a family holiday.