Ribollita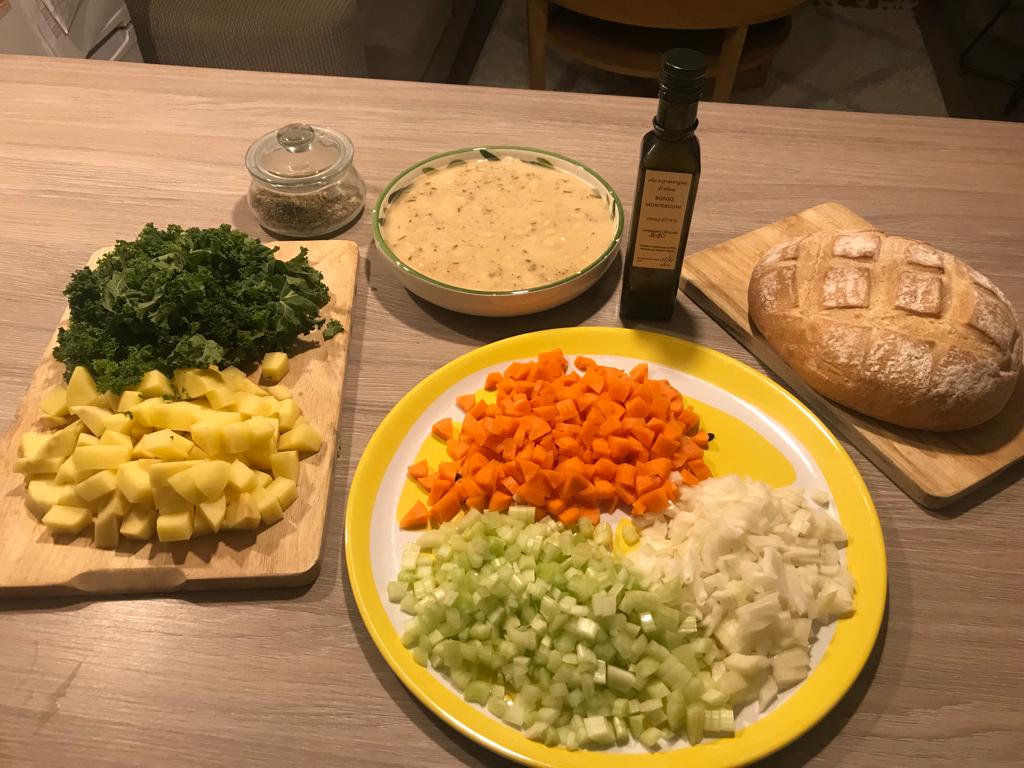 Ingredients:
Celery
Carrots
Onions
Potatoes
Black kale, 'cavolo nero'
Cannellini beans, cooked
Half a loaf of stale bread, torn into chunks
Tuscan olive oil
Water or vegetable broth

1. Chop the carrot, celery and onion (the three combined make up your soffritto base) into small dice, fry in a medium pot at low temperature for a while with plenty of good quality Tuscan olive oil.
2. Peel and dice your potatoes, then add to the soffritto base along with the chopped kale.
3. Puree half of your cannellini beans, then add the pureed and the whole beans to the pot.
4. Add enough water or vegetable broth until your veggies are covered.
5. Keep the pot at a low boil, adding water, salt and pepper for half an hour. Make sure that there is always enough liquid in the pot, so the vegetables don't stick to the bottom.
6. Add the bread chunks, keep on a low boil for another 20 minutes.
7. At this point, the soup is ready to eat. However, for it to be real Ribollita ('reboil' in Italian) you leave it to rest overnight and then reheat it the next day with a healthy drizzle of Tuscan olive oil.
8. Enjoy!

Tip 1: As you can see, there are no measurements for the ingredients. This is how the recipe was passed down to us from Tuscan friends and we think it encourages experimenting and having fun with your cooking. Try different ratios and make it completely your own!

Tip 2: Try to find a loaf that is similar to Tuscan bread – 'Pane Toscano'. Enjoy some of it fresh and let the rest go stale for this authentic Tuscan delight.