This delectable parfait is a light, vanillary treat for special occasions. It makes for the perfect dessert when you're looking to impress your guests. Topped with little vegan meringues, the combination of textures is a delight for the senses.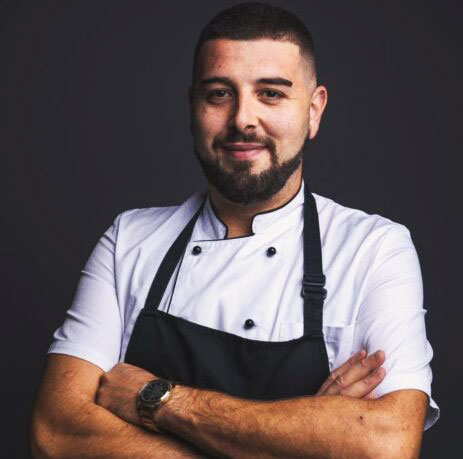 About the chef
This delightful dessert was provided by Alessio Berrioni, one of the chefs we work with to provide unique experiences at our villas. Alessio moved to England at the tender age of 17, after receiving his hotel management diploma in Assisi. Years of hard work led to working alongside the likes of Alaine Ducasse and Gordon Ramsay in Michelin-starred restaurants. Returning to Italy in 2019, he established himself as a private chef offering spectacular fine dining experiences. To him, cooking is a blank canvas waiting to be filled with the help of a pinch of inspiration and a good dose of creativity.

Serves: 8 people
Cooking time: 2 hours

Ingredients

For the parfait:
500 ml almond milk
180 ml rice milk
2 g agar agar
80 g oat flour
80 g potato starch
150 g icing sugar
50 ml still water

For the vegan meringues:
150 ml aquafaba (the liquid from a tin of chickpeas)
160 g icing sugar
5 g salt

For the decorations:
100 ml aquafaba (the liquid from a tin of chickpeas)
100 g icing sugar
50 g strong bread flour

Method:
1. Preheat oven to 110° C / 90° C fan / ¼ gas.
2. In a saucepan, bring the almond milk and rice milk to a boil.
3. In a separate bowl, combine the oat flour, potato starch, icing sugar and agar agar and stir in the water. Then, add this mixture to the saucepan with the boiling milk.
4. Pour everything into a mould of your choice. Place in the fridge for a minimum of four hours.
5. For the meringues, whisk the aquafaba with the icing sugar and salt until stiff. Add the mixture to a piping bag and pipe uniform meringues onto a tray lined with baking paper. Bake for approximately 90 minutes.
6. For the decoration, whisk the three ingredients together, pipe them into a spiral shape onto a silicone baking mat or buttered tray. Bake at 170° C for 10 minutes.
7. Allow everything to cool down and assemble according to the image.

Tip: Instead of purchasing oat flour, which generally retails for a high price, try blending oats until fine. Ensure your blender is completely dry, to avoid clumps.