Wine Blogger Competition 2012
Th To Tuscany Wine Blogger Competition 2012 - #TTWBC
Enter our wine blogger competition 2012 to win the finest Italian wine

Win 6 bottles Castello di Ama's Chianti Classico Riserva 2008
delivered to your door


To celebrate the 2012 grape harvest in Tuscany, we are launching our 1st Bloggers competition about Tuscan wines.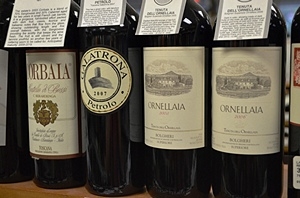 THE 2012 WINNER
Many congratulations to Anatoli Levine , who is the winner of To Tuscany Wine blog 2012 competition.
The entry was considered to have a simple approach to a very complex issue. We hope Anatoli will enjoy the Castello di Ama wine which is now on its way.
Click here to read Anatoli's blog
.
How to enter:
1.
Write a blog about Tuscan wines
2.
Post the piece on your blog containing the following phrase:
"
villas in Tuscany
" (You'll need to include this link
http://www.to-tuscany.com
as a hyper-link within the words 'villas in Tuscany' as we have done above. We'll be using this link to track entries!) Finish the piece with a one sentence, 'Top Tip for choosing a wine from Tuscany'.
3.
Email
competition@to-tuscany.com
and
include:
- A link to your blog post with your entry
- Your contact details: (full name, address and phone number)
Top Prize:
The winner shall receive delivery of 6 bottles of wine from our favourite Chianti wine producer, Castello Di Ama, this prize has a value of 300 Euro.
Prize Draw:
Each entrant will also be entered in a random prize draw with the chance to win the book Gambero Rosso Italian wines, the world's most complete guide to quality Italian wines 2013 edition, released February 2013. There will be 10 guides up for grabs so each entrant has a chance to win a prize!
Judging
The emailed entries will be uploaded to this page where the public can vote for their favourite 'Top Tip for choosing a Tuscan wine' entry. The 3 entries with the most votes on Monday 5th NOW 12th November 2012 will go into the final round which will be judged by Silvano Falcioni, a wine sommelier from the Chianti region. (click here to read more about Silvano h
ttp://bit.ly/Oa5F2K
)
We will also link to the full blog piece.
The final entries will be marked on 3 categories:
- Tuscan authenticity
- Creativity and innovation
- Usefulness
The competition is open to anyone with a blog, over the age of 18 and closes at midnight on 4th NOW 11th November 2012 . Winners of the competition and the prize draws will be notified by 9th NOW 16th November 2012. Late, incomplete or non-linking entries will not be accepted
The full
terms and conditions
can be read here. For any other enquiries, please contact
competition@to-tuscany.com