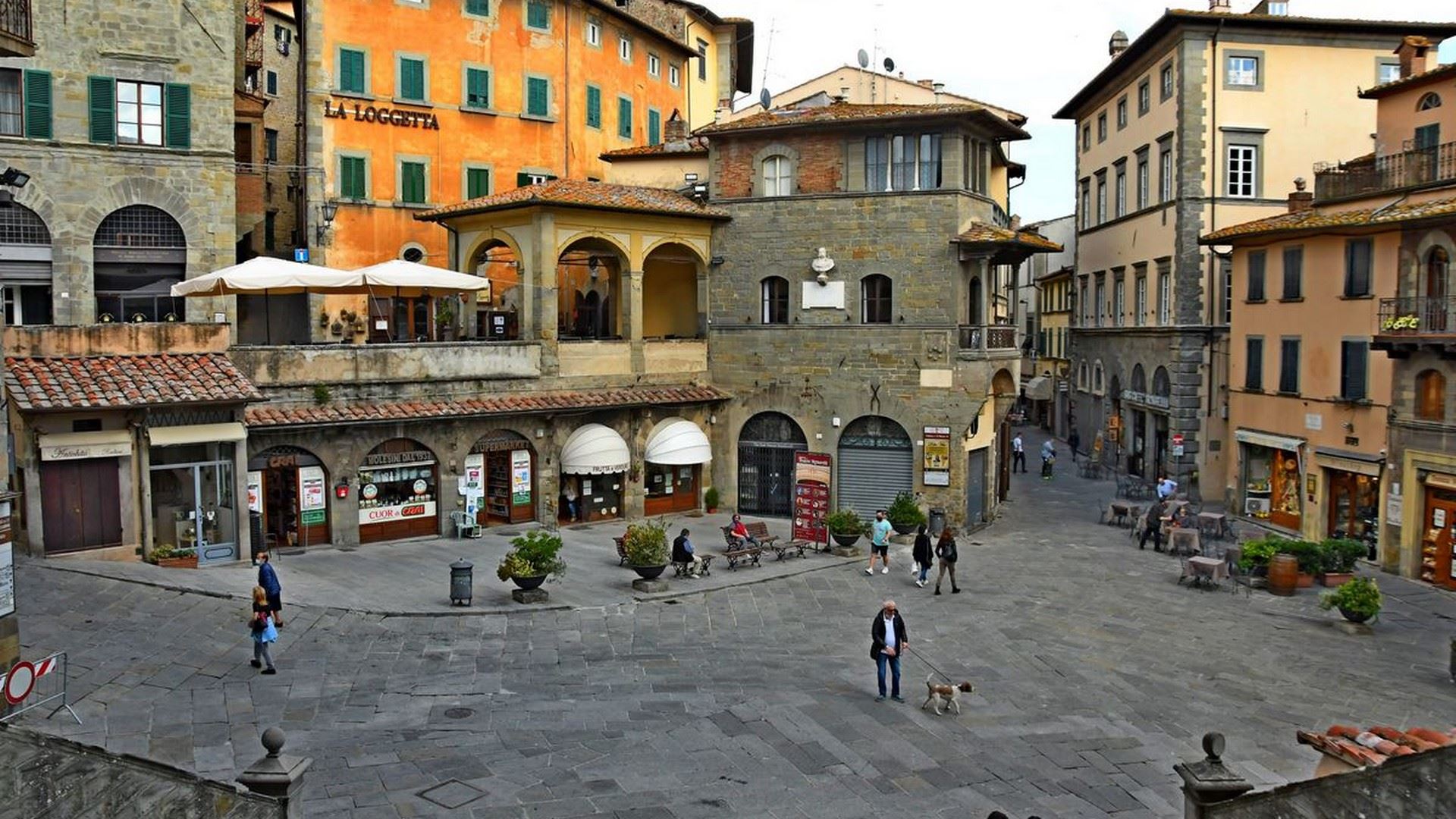 Cortona
Cortona's appeal lies in its lofty setting, splendid views and medieval mood. Set close to the Umbrian border, 30 km south of Arezzo, Cortona is one of the most delightful hill towns in Tuscany. It was founded by the Etruscans, colonised by the Romans, and, after its sale to the Florentines in 1409, thrived under the Grand Duchy of Tuscany. Cortona is perched majestically on a ridge of Monte Sant'Egidio, dominating the Val di Chiana. The approach road winds through terraced olive groves and vineyards, past villas, farms and monasteries.

Cortona is a tourism hotspot so its over-popularity is a given. The city's slow burn was accelerated after the town found fame in Under the Tuscan Sun, a book which led to a film and a summer festival. Even so, once beyond the main squares, the crowds thin out. Luckily, there are enough quaint inns to restore any grumpy spirits.
Essential Cortona Information
Top Ten Things To Do - Cortona
With few must-see sights, Cortona is about wandering at your own pace and lapping up the views and medieval mood. Much depends how far you want to climb as the crowds disappear once you head upwards along incredibly steep streets. More mellow pleasures include indulging in an ice-cream and a passeggiata around the main squares. Popular day trips can take you north to Arezzo or south to Lake Trasimeno.
Read more
Eating & Drinking
Local cuisine from Cortona is a hearty variant on classic Tuscan cuisine, with Val di Chiana beef definitely on the menu. For any beef-loving Tuscan, bistecca alla fiorentina – a huge, tender Val di Chiana T-bone steak, grilled over an open fire and seasoned with nothing more than crushed peppercorns, salt, and a hint of garlic and olive oil, served very rare – is the ultimate steak. The Val di Chiana, the most extensive valley in the Apennine range, is the fertile farmland mainly used for cattle-rearing. Here graze herds of one of Italy's most prized breeds of beef cattle – the Chianina, which is native to Tuscany. The cream-coloured Chianina cow grows quickly to a large size, so that it is butchered when the steer is a grown calf. The meat is firm and tasty, with a distinctive flavour.

Also on the menu are chicken liver crostini, panzanella peasant salad, fennel flan, stuffed courgettes (zucchini), tagliatelle with ceps (porcini mushrooms) or stubby pici pasta in a meaty ragu sauce. For mains, expect wild boar stew, roasted rabbit, jugged hare or boar, along with that famous steak. The local cooking is not for wimps. That said, Cortona's elevation in the popularity stakes means that sophisticated fine dining options can also embrace fusion cooking or creative contemporary Tuscan cuisine. Discover some good Tuscan recipes on the city website:
Read more
Shopping, Parking & Getting Around
Much like the tourism hotspots of San Gimignano and Pienza, tourist tat exists but is still leaves plenty of space for authentic crafts, from art to jewellery, crafts and Tuscan foodstuffs.
Read more