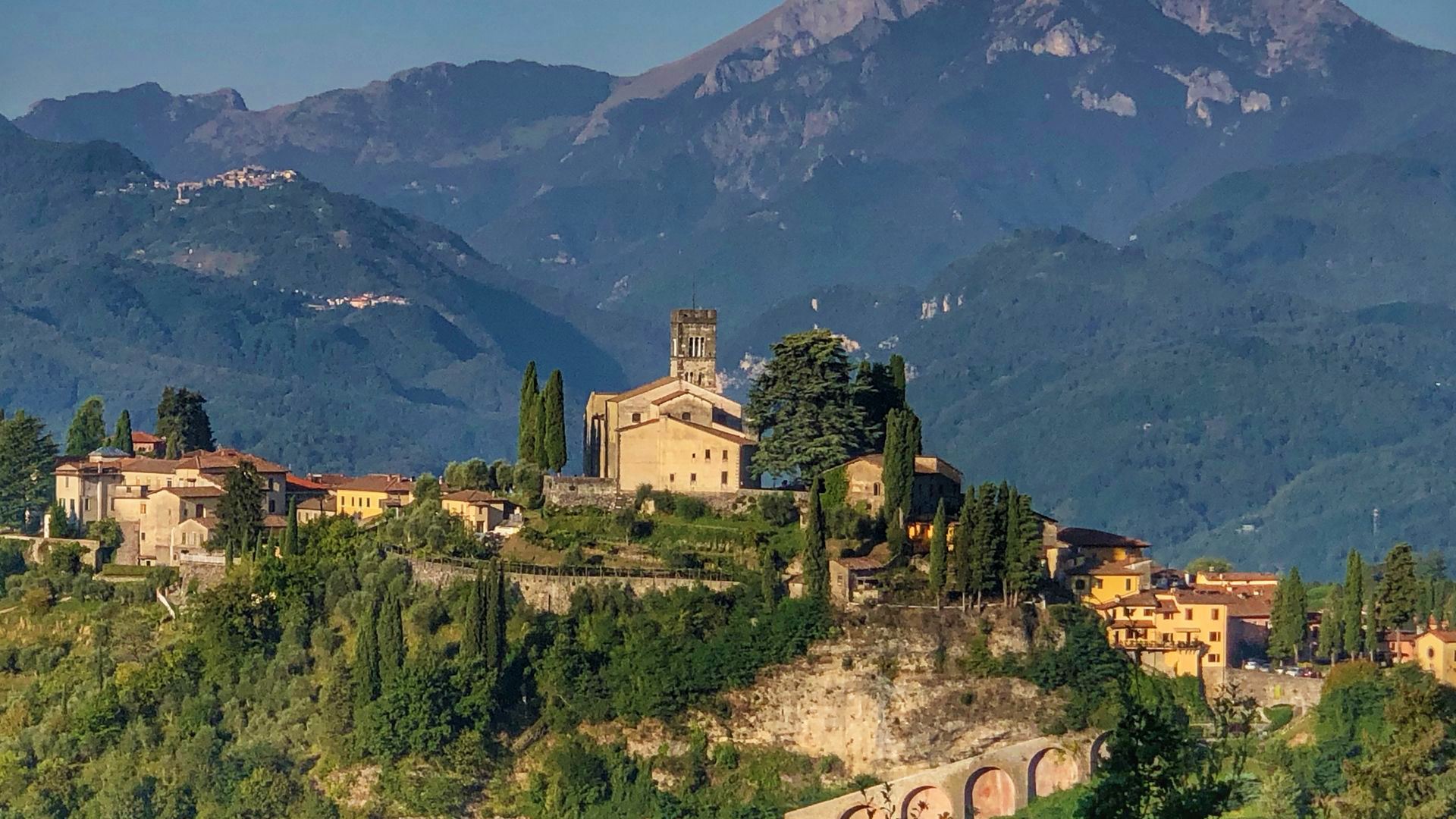 Castelnuovo di Garfagnana
Castelnuovo di Garfagnana is a bustling town with road and rail links to Lucca, Pisa, Florence and the Versilia coast by Viareggio. The national parks of the Apuan Alps and Appenines are an easy drive away and open up a whole host of walks, nature and sports for your enjoyment.

The history of Castelnuovo can be traced back to as early as 740AD but within a century, the village had become an important town with defensive walls and castles. Its location enabled it to establish itself as a transit point for traders and visitors travelling to the northern areas of Italy. Over the centuries, the defensive walls and castles were enlarged and improved. In 1924, Castelnuovo became part of the Province of Lucca.

Even today, the defensive walls of Castelnuovo di Garfagnana play an important role in everyday life in Castelnuovo di Garfagnana. The walls contain the oldest parts of the town along with winding roads and small artisan shops. The more modern offices, residences, bars, restaurants and train station are outside of the walls.

Many local residents commute to work in Lucca, Pisa or Florence whilst a growing number are able to make a comfortable living from tourism or from the sale of artisan gifts and paintings.
Essential Castelnuovo di Garfagnana Information
Things to do
Built by Duke Alfonso II at the end of the 16th Century, it was designed to offer the residents of the nearby town of Castelnuovo di Garfagnana a safe refuge should the town come under attack or siege.
Whilst much of the fortress has fallen into ruin, a pathway has been developed around the fortress hill so you can walk the route that the defensive walls once took. The walk is approximately 1 hour on a reasonably flat surface and offers outstanding views of Castelnuovo di Garfagnana and the Serchio Valley.
Read more
Shopping
Supermarkets for Castelnuovo di Garfagnana:
SUPERMERCATO SMA
Salbec Di Baiocchi S.R.L.
5, PIAZZALE DEL GENIO
55032 Castelnuovo Di Garfagnana (LU)

Centromarket De Cesari S.R.L.
16, VIA FARINI
55032 Castelnuovo Di Garfagnana (LU) 
Market Day
Market Day within the ancient walls of Castelnuovo di Garfagnana is every Thursday. The origins of the Thursday market can be traced back to the 15th Century under the rule of the Este family who passed a law stating that no arrests were allowed to be made on a Thursday in case they interfered with the running of the market. In centuries past, there was even an Army recruitment market stall to ensure the battalions were at their full strength.
Chemists
Main chemists can be found in Via Vittorio Emanuele and Via Giuseppe Garibaldi.
Banks
There are various banks in Castelnuovo di Garfagnana with cash dispensers that accept credit cards.
Tourist Information Office
A local tourist information office can be found in Via Cavalieri di Vittorio Veneto.
Tel: +39 0583 641007.
During the summer months it is open weekdays from 9.30am – 1pm and 3.30pm – 7pm and at weekends from 10am – 1pm and 3.30pm - 6.30pm.
During the winter months it's open weekdays from 10am – 1pm and 3.30pm - 6.30pm and at weekends from 10am – 12.30pm.
Read more
Eating & Drinking
Heartwarming soups, good meat, excellent homemade cakes and bread in this family run restaurant. Good prices too.

Read more