Shopping
SHOPPING

Grocery shop
Alimentari-Gastronomia Il Leccio
This is a well stocked although small grocery shop located on the main road of Corazzano. Every morning there is fresh bread and there are fresh vegetables and cold-meats available daily. There is also a selection of pre-made meals for take away.
Address: Via Zara - Corazzano

Note that for a larger supermarket and butcher it's necessary to go to San Miniato

Bar/café-Tabaconist
P. Leccio- Bar-Tabacchi
Local bar where you can have a quick coffee, or a cappuccino and pastry for breakfast in the morning. They also have a tobacconist and newsagent section, for a newspaper or cigarettes.
Address: Via Zara 271, Corazzano

Bank
Banca di Credito Cooperativo di Cambiano
This bank has ATM facilities. Banking hours are normally Monday to Friday between 9.00 and 17.00
Address: VIA ZARA 173, Corazzano

Church
S. Giovanni Battista
Address: Via della Pieve, CORAZZANO (PI)
Tel: +39 0571 409407
Mass times: 9.00 and 19.00, however do double check the church notice board for confirmation of the times

Petrol station
There is no petrol station in Corazzano. The nearest is in San Miniato, where there are two, one of which (the Q8) has self-service facilities and is located in Via Tosco in San Miniato.

Pharmacy
There is no pharmacy, it's necessary to go to San Miniato.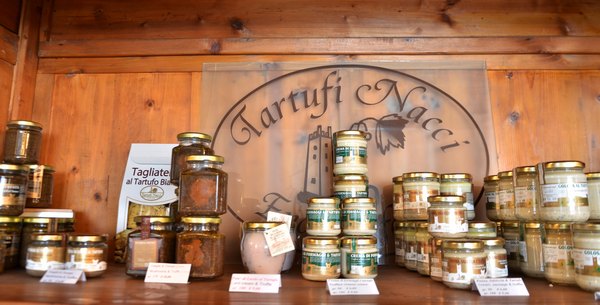 Tartuffi Nacci
At the shop is direct sale of fresh truffles, wine, olive oil, sausages and salami with truffle, and other gastronomic specialties from Tuscany.
The family run company provides demonstration of research and excavation of truffles with trained truffle hounds. They have passed their knowledge of truffle hunting in the local truffle rich countryside, down through the generations. The family continues to pass on the secrets of training truffle dogs, location of areas that produce often the prized white truffle and techniques of truffle hunting.
Address: Via Zara, 110 - Loc. Corazzano