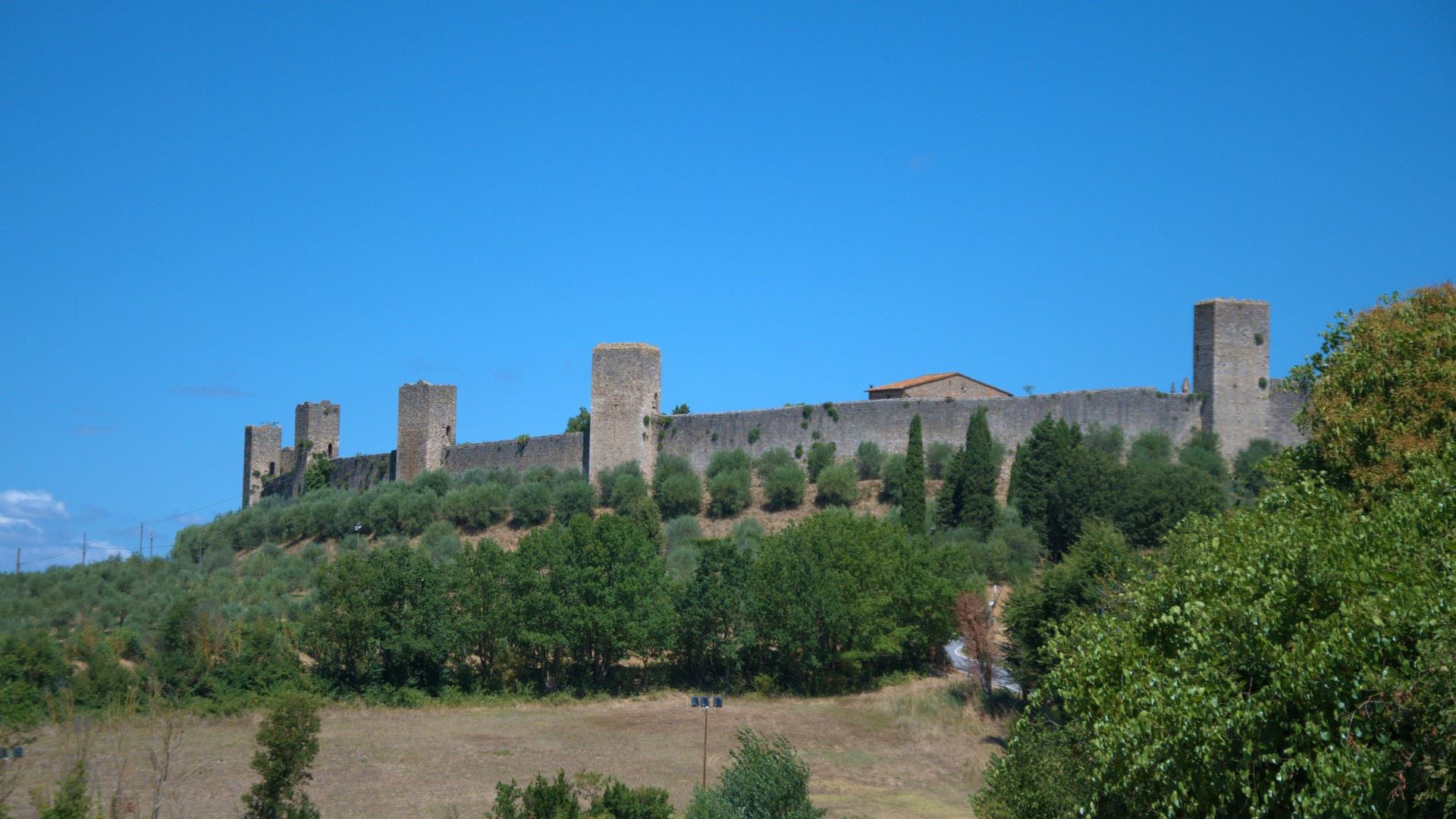 Monteriggioni
Spectacular Monteriggioni, north of Siena, is a medieval stronghold, encircled by well-preserved stone walls and fourteen towers. Like Montepulciano, this small hilltop town is emblematic of the Tuscan landscape. Often dubbed `the gateway to the Middle Ages,' the walled outpost of Monteriggioni is the quintessential medieval town, bristling with fortifications. The hilltop town was built by the Sienese in the thirteenth century to protect their front line from their eternal rivals, the Florentines. Monteriggioni also grew wealthy as a strategic stop along the Via Francigena pilgrimage route. In terms of size and modern-day status, Monteriggioni feels more like a forgotten backwater. It is only when the popular summer medieval festival comes to town that Monteriggioni recalls its past importance, complete with feasting, falconry, jousting and battle re-enactments. Beyond the theatricality of the setting, there are few significant sights but a visit is worthwhile for the magical mood and monumentality alone.

Essential Monteriggioni Information
Top Ten Things to do
Monteriggioni lies in the heart of Tuscany, convenient for a day trip to medieval Sienaor evenFlorence Monteriggioni can also be a stepping-stone to the countryside, especially to the Chianti, including gentle meandering through wine country around Castellina in Chianti and Radda in Chianti If enthused by Monteriggioni's medieval towers, visit celebrated San Gimignano or Etruscan Volterrafor more medieval townscapes and towers. For shopping for the finest crystal, visit medieval Colle di Val d'Elsa. Other activities include walking or cycling to neighbouring Montagnola or exploring a stretch of the Via Francigena pilgrimage route.

Read more
Eating & Drinking
Monteriggioni is made for hearty eating, helped by its closeness to both the Chianti and San Gimignano. As a result, the area abounds in homely inns, even if only a few are within the walls, and the rest dotted around neighbouring hamlets. For fine dining or greater sophistication, be prepared to drive just north to Colle di Val d'Elsa. The Monteriggioni borgo is best seen first thing in the morning, when you can enjoy a coffee on the main square before the coach parties arrive. The local cooking is a familiar interpretation of classic Tuscan cooking, with borrowings from nearby Siena and the Chianti. Look out for ribollita, a thick bean soup, or pasta dishes including such stalwarts as pappardelle di lepre (pasta ribbons in hare sauce) or the same pasta with wild boar (cinghiale). As for wine, the Chianti Colli Senesi is the biggest Chianti zone, embracing this area, San Gimignano, Colle di Val d'Elsa and Siena. This fresh young red wine goes well with cured meats, such as cinta senese, as well as with bruschetta, soups, mushroom sauces, game, grilled and roast meats, plus most cheeses and cured meats.

Read more
Shopping & Parking
Monteriggioni focuses on arts and crafts which, although touristy, are mostly genuinely hand-made so worth investigating. Tucked into medieval lanes are tiny boutiques and workshops where you can watch craftsmen at work, including operating hand-looms. Highlights include hand-crafted knitwear, linen that can be personalised to your taste, jewellery made from semi-precious stones, and hand-painted pottery, with scenes inspired by local landscapes.

Monteriggioni welcomes a farmers' market, il Mercatale di Monteriggioni, on the first Saturday of the month. In local wine and food shops buy Chianti Colli Senesi wine, along with typical pastries, biscuits and cakes (see Eating & Drinking for more. Also come for the popular summer medieval festival in July for a medieval-themed market, complete with feasting and folklore. Check the dates and programme with Monteriggioni tourist office (Piazza Roma 23, 53035 Monteriggioni. T: 0577 304834 & www.monteriggioniturismo.it plus www.monteriggionimedievale.com). Beyond Monteriggioni, Siena offers the widest range of shopping options but neighbouring Colle di Val d'Elsa works wonderfully for an array of world-class crystal and glassware.

Read more