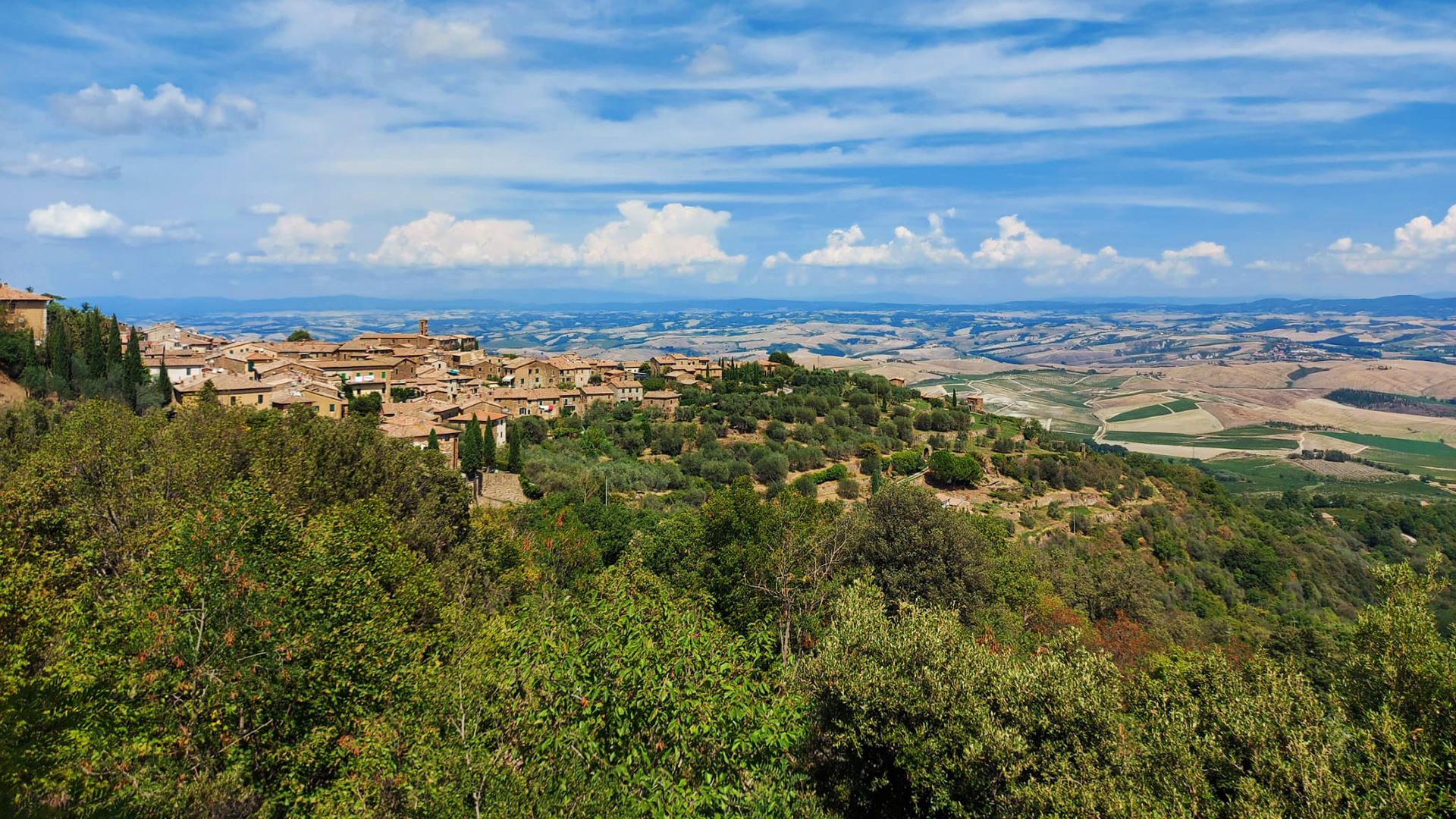 Montalcino
To outsiders, it's the prestigious Brunello de Montalcino wine that defines this tiny Tuscan outpost.
From a distance Montalcino looks like a medieval Sienese painting, so little has changed since its heyday. The town is bathed in a russet glow at sunset but changes with the seasons. In spring, the surrounding countryside area is lime green, but yellow rape seed, poppies, sunflowers and grapes soon add different hues. To many, Montalcino is the most Sienese town in the province and the locals are treated with particular respect. Its history is a microcosm of all Sienese history. The town has been known as "the last rock of communal freedom" since its time as the Sienese capital in exile between 1555 and 1559. After the fall of Siena, exiles gathered around the Sienese flag. As a reward, Montalcinesi standard bearers have the pride of place in the procession preceding the Palio in Siena.

Essential Montalcino Information
Top Ten Things To Do
Montalcino offers a neoclassical Cathedral, a Gothic loggia, a Romanesque church and myriad alleys - but in the end it's the medieval mood, the fortress and wine that lodge in the memory.
Read more
Shopping, Parking & Getting Around
Given that we're in the home country of one of Italy's most famous wines, it would be criminal not to shop for Brunello di Montalcino in several of our favourite vineyards. The choice reflects the complete experience - a combination of the wine, the sense of place and true hospitality.

Read more
Eating & Drinking
This is an intensely foodie area, with Tuscan cuisine and local vintages taken very seriously, from Brunello di Montalcino to Rosso di Montalcino. Hearty peasant dishes are popular, such as pappa al Pomodoro, a bread, tomato and garlic soup, and crostini misti. Homemade pici pasta is often served with cacio e pepe (sheep's milk cheese and pepper) or sugo di anatra (duck sauce). Rich dishes made with wild boar or rabbit are also prized. Wine lists tend to be heavily Tuscan-based but most are excellent, even basic wines, as Tuscans wouldn't expect anything less. Also see Eating and Dining in Montepulciano, Pienza, Val d'Orcia and their satelite villages. 
Read more