Weddings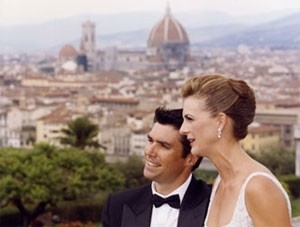 A wedding is a special time for everyone involved and weddings in Tuscany can be the fulfilment of a dream for many couples. In Tuscany you can choose from Castles, romantic hideaways and tiny chapels as the venue for the wedding, and the reception can be organised back at the accommodation or in a local venue of your choice, there are so many options to consider. There are even properties where you can stay, get married and have the reception all in the one place.
To help you with organising and planning for your own Tuscan wedding, we would strongly recommend that you hire a
wedding planner
to help you with all the legal requirements, translations and suggestions for venues.
When choosing the best accommodation for yourselves and your guests there are two types of property to consider:
Firstly there are private villas where the entire wedding party stays together in the one place, and secondly, there are hamlets where your guests can each have their own private apartment or villa but the wedding party is still all in the one location. To Tuscany have several hamlet type properties that are ideal for larger wedding parties, as well as beautiful villas for more intimate weddings.
We can give you advice on chauffeurs, musicians, chefs and caterers too in our
local Tuscany guide
, but also don't forget to read our
top 10 tips
for getting married in Tuscany.
Here are some properties we suggest, feel free to browse,
contact us
for more information.
Option 1: Hamlet Montebuoni - sleeping up to 60 people
This is the most popular of our hamlets for wedding parties as it is typically Tuscan in its build and has beautiful grounds and views across the neighbouring vineyards. There are 17 properties at the hamlet, ranging from one-bedroom apartments for 2 people to three-bedroom apartments sleeping up to 6 people. The grounds are extensive and include a small children's play area, a tennis court and children's and normal swimming pools. There are also nearby alternative accommodations should you need room for additional guests.
Click here: Hamlet Montebuoni
Option 2: Hamlet Montefienali – sleeping up to 50 people
Located in the cooler Tuscan hills, this 13th Century hamlet enjoys splendid isolation, peace and quiet and fantastic views of the surrounding area. At the hamlet there is a chapel which can be used for the wedding service. There are 17 properties sleeping from 2-6 people. Please note that there is a private villa with private pool which is located within the grounds of the hamlet Montefienali.
Villa Albizi
can sleep a further 14 wedding guests or if you do not need it as part of your booking you must understand that there may be other guests at the location at the time of your wedding.
Click here: Hamlet Montefienali
Option 3: Vignale - sleeping up to 31 people
Vignale is a smaller and more exclusive hamlet surrounded by vineyards and woodland. There are only 6 apartments at the hamlet, all are of a high quality, and these sleep between 4 and 8 people. For a smaller wedding party Vignale is a wonderful setting where a reception can be arranged on the terrace. The hamlet Pretaccione is located within 5 minutes drive of Vignale and can be used for extra guests when necessary.
Click here: Vignale
Option 4: Pretaccione - sleeping up to 29 people
Pretaccione is a beautiful hamlet in the heart of the Chianti countryside overlooking vineyards and woodland. At this hamlet we offer an arrival day of Thursday - Thursday - this can sometimes fit in better with your wedding plans as you can arrange for the ceremony to take place at the weekend should you wish. Another bonus for a Thursday arrival is that the flights to Italy are also usually cheaper than arriving on a Saturday. Pretaccione is located on land belonging to the local winery who are able to cater for events such as weddings very easily - it is a short walk up the track to the winery. There are lovely gardens at the property and there is also a tennis court and swimming pool. There are 6 apartments in total sleeping from 2-8 people. The hamlet Vignale is just 5 minutes drive from this hamlet but please remember there are different arrival days at the two hamlets.
Clcik here: Pretaccione
Option 5: Villa Ferraia – sleeping up to 27 people
For a truly luxurious wedding venue, look no further than Villa Ferraia. This beautiful air-conditioned property dates back to the 13th Century and is full of character throughout. Each of the 15 bedrooms has either an en-suite bathroom or a bathroom allocated to it and the chapel has been converted into a cottage for two – ideal for the newly married couple. There is a large solar-heated swimming pool with showers and changing rooms, a sauna and three hydromassage pools. A few steps from the main villa are a cinema room and library. The extensive external areas of the villa include: landscaped gardens; hiking and forest trails; a stone campfire circle where you can gather together under the Tuscan stars; two fishing lakes stocked with trout; a working farm area of the property with stables where intermediate or experienced riders can take the horses out from; various livestock including a collection of rare Cinta Senese pigs and Chanina cattle; an extensive vegetable growing area where guests can pick items for meals; and there is even a private observatory and helipad. The price of the property includes a daily maid service and also a private chef who will cook breakfasts and dinners for guests – you can choose the menus and you pay for the food and drink only.
Click here: Villa Ferraia
Option 6: Bellaluce - sleeping up to 19 people
This one time Benedictine monastery was completely renovated in 2002. The makeover has been done in a very sympathetic manner keeping many of the original features. There is a lovely 13th century chapel attached to the left side of the house, which has frescoes dating from the 16th century inside. The chapel is still consecrated and would be a wonderful place to get married for anyone wanting a more intimate venue for their wedding. The property has a cottage and three apartments on two floors within the main house. The largest of the apartments sleeps up to nine persons and the other two apartments are each for four persons. The private detached cottage is for two people and lies opposite the main house. The cottage would be ideal for the wedding couple to use. The cottage is wheelchair accessible. The villa has its own private swimming pool and is surrounded by farmland with spectacular seemingly endless uninterrupted views across the countryside. A restaurant is within walking distance of the villa.
Click here: Bellaluce
Tuscan Wedding Top 10 Tips
Follow these Top Ten Tips and make your dream come true…
Do you think getting married abroad is an impossible task to achieve? Do you want to break away from a traditional wedding, but don't know where to start? We've put together some information and
top tips you MUST read
before planning your big day, because a romantic
wedding in Tuscany
might be easier than you think...
The Location - A quick overview
Located in the heart of Italy, the region of Tuscany is best known for its
artistic legacy and mountainous, hilly countryside
offering up the finest of Italian produce and wine. Widely recognized as the birthplace of the Renaissance, Tuscany has some
stunning architecture
, tucked away in historical towns and nestled in among
sun-kissed landscapes
, criss-crossed with Italian
vineyards
. Its romantic capital Florence is brimming with artistic and medieval history, while the West is home to a beautiful coastal region stretching from Pisa with its famous leaning tower in the North to Grosseto in the South. A mild climate with plenty of sunshine and a myriad of charming towns, villages and sights mean Tuscany truly is a
picture-perfect wedding location
.
Firstly there are private villas where the entire wedding party stays together in the one place, and secondly, there are hamlets where your guests can each have their own private apartment or villa but the wedding party is still all in the one location. To Tuscany have several hamlet type properties that are ideal for larger wedding parties, as well as beautiful villas for more intimate weddings.
The Cost - Cheaper than you think!
Did you know it can cost the same to book a venue, honeymoon and accommodation for your guests abroad as it can just to book a venue in Ireland or the UK? An article published on 31/07/07 in the Irish Mirror includes a price comparison between an Irish wedding and a Tuscan wedding. The figures speak for themselves:
Irish Wedding
Tuscan Wedding
Hotel (inc. meal)
€12,500
Villas for 30 guests (1 week in June)
€6,280
Tuscan Buffet Banquet
€1,200
Wedding Dress
€2,000
Wedding Dress
€2,000
Bridesmaid Dresses
€500
Bridesmaid Dresses
€500
Groom Party Suits
€650
Groom Party Suits
€1,500
Photographer
€1,500
Photographer
€600
Video
€1,000
Video
€1,200
Band
€2,000
Band
€800
DJ
€500
Singer (instead of DJ)
€500
Church Music
€400
Church Music
€500
Ceremony
€250
Ceremony
€250
Cars
€500
Cars
€240
Flowers
€1,200
Flowers
Provided Free from the church
Honeymoon
€5,000
Honeymoon
In cost of weeks accommodation
TOTAL:
€28,000
TOTAL:
€14,670
Cost comparison between an Irish wedding and a Tuscan wedding from the Irish Mirror - 31/07/07
Tip One: Choosing a location
Think first of what type of ceremony you would like as it might help determine your Tuscan wedding location. Are you dreaming of a
beach wedding
, or do you see yourself tying the knot in a
romantic chapel
in the centre of a historic town? The possibilities are endless!
Another thing to consider is the proximity to an airport. The closer you are to a main airport, the easier it will be for your guests to travel to and from the wedding. Likewise, certain airports might be easier to reach from a specific location in the UK than others, which can be good to know if the bulk of your guests are travelling from the same area. The two airports in Tuscany are
Florence (FLR) and Pisa (PSA)
, although many of our villas are very near Bologna (BLQ) as well. Perugia (PEG) and Rome (FCO) also provide good links to the area.
And finally, although the Tuscan climate is overall mild and dry, there is slightly more chance of rain in the hilly areas.
Tip Two: When to get married
To catch the best weather conditions in Tuscany, the
spring or summer
are your best options, but
autumn
is a less busy time. Here are some things to consider:
The summers in Tuscany are usually dry, very sunny and very hot, with the highest temperatures on the coast and in the valleys.
The summer months (July & August) are also the busiest, meaning prices are higher.
The hilly areas have a more continental climate where rain is more likely.
Autumn (October and November) might be rainier, but still has dry days and is less busy and less hot. The Tuscan landscape is also extremely colourful during this time.
Winter in Tuscany can have sunny, mild days, but the nights can get very cold.
Tip Three: Book a villa

Whether you're paying for your guest's accommodation or not, the most cost-effective and efficient way to accommodate all your wedding guests is in a private villa or hamlet. In a private villa, all your guests will stay together in one place and in a hamlet, groups of guests or separate families will each have their own villa, set within the same grounds. Here are some of the advantages of booking a villa:
All your guests are in the same place, making travel easier to organise.
A villa or hamlet provides more spacious and private accommodation than hotel rooms.
Self-cateringfacilities mean your guests can take care of their own meals before and after the wedding.
Some villas or hamlets also have facilities to hold the wedding ceremony and wedding celebration, a great way to keep everything more intimate and keep costs down.
To Tuscany have a huge list of beautiful villas and hamlets to cater for wedding parties of all sizes and that can accommodate a wide range of needs. For US couples, the great news is that we have just lowered our US prices by a huge 20% due to the exchange rates!
Click here
for some great options for wedding accommodation. Or to choose a location first,
click here
for a great overview of Tuscan towns and villages.
Tip Four: Pre-wedding trips to Tuscany
Planning a wedding in Tuscany is fun because you'll have an excuse for at least one trip to Italy's finest region to iron out the details and legal requirements for marrying in Italy. Why not get a taste of Tuscan villa living and book one of the smaller options To Tuscany have to offer for your stay? If you make your trip during the low season, we'll even offer you a few nights accommodation free of charge!
Once you're here, you'll be looking at different locations and the best way to get around is by
hiring a car
. It is usually more cost-effective to book your car hire from home and it's also worth checking if your airline is offering any car-hire deals. The best deal To Tuscany has found is
Auto Europe
, who offer a good service at the lowest prices.
Planning ahead
is essential to make the most out of your pre-wedding planning trip, which brings us on to our next tip…
Tip Five: Hire a Wedding Planner
At To Tuscany, we strongly recommend you make use of a wedding planner to help you with all the important details, such as finding a venue, catering, flowers, entertainment, the wedding cake, or even local traditions to really enhance your big day. Here's why:
A wedding planner can do all the legwork for you and send you images and information via email so that your trips to Tuscany can be short and to the point, just to finalise decisions.
A wedding planner can help with language barriers and will have more local knowledge to make sure you are paying the right price for services.
There are legal requirements when marrying abroad and a wedding planner can help you with these too, so you don't experience any unnecessary hold-ups! Our next tip gives you some preliminary advice.
If you're not sure where to start,
click here
for some local wedding planners we can recommend.
Tip Six: Legal requirements for getting married in Italy
There are some legal requirements for getting married in Italy, although the process is fairly simple and in most cases can happen with short notice. Here are some rough guidelines to the paperwork required to get married in Italy. For full guidelines you should always contact an Italian Consular Officer in your country or the City Registrar (Ufficiale di Stato Civile) of the city where the marriage will occur.
Any foreigner wishing to marry in Italy will first need the following documents in place:
A passport (always check how long beyond your length of stay your passport needs to be valid for , e.g. 6 months)
Full birth certificate
If previously divorced/widowed, your divorce decree or death certificate
Documents may need to be translated into Italian and authenticated by an Italian Consular Officer.
You can then obtain any other important documents you will need to get married in Italy:
Nulla Osta: This certificate grants permission for you to marry in Italy and must be obtained from your country's appropriate regional Consulate or Embassy in Italy. This is usually the only other document needed from UK or Irish citizens.
US citizens will need two extra documents:
Atto Notorio (Sworn Affidavit): This affidavit needs to be done prior to the wedding in an Italian Consulate in the US.
Apostille: This is a form of authentication issued to original documents (birth and, if applicable, divorce) for use in foreign countries.
There are costs involved with this process and you must always check how long the paperwork is valid for as it will expire after a given amount of time (usually three months). Different rules apply for each nationality, so always check with an Italian Consular Officer in your country.
Tip Seven: Travelling to and from Tuscany
The fastest and easiest way to reach Tuscany is by
flying
. It is by far the most popular option, especially as there are now a number of
no-frills airlines
offering good value flights from the UK and Ireland. It also means you know exactly when your guests will be arriving and it's an easy way to book for large groups. Flying into
Pisa or Florence
is the most convenient way of reaching your villa in Tuscany, but other airports to consider with good links to the area are Rome, Perugia and Bologna.
For more information on travelling to and from Tuscany, check our
Reach Tuscany guide here
.
Tip Eight: Give Guests plenty of notice
This is particularly important for weddings abroad, as it is likely that your guests will have to book some time off work, as well as making the necessary travel arrangements. Send out
'save the date'
cards, emails, or even texts before your official invitations to make sure everyone can make it. It is a good idea to do this
as soon as you have confirmed your wedding date.
Also make sure you remind your guests to
check their passports
will still be valid at the time of travel, so they have plenty of time to renew them. (In some cases your passport will also need to be valid for a certain amount of time beyond your stay, e.g. 6 months).
Tip Nine: Overseas wedding insurance
It is advisable start thinking about
overseas wedding insurance
as soon as you start finalising some decisions and putting down deposits. This will cover you for things like
cancellations or damage to the wedding attire
. Most overseas wedding insurance policies DON'T include
travel insurance
, so make sure you get that separately as well. After all, weddings are a large investment and you'll want to have peace of mind and not take any risks. It's worth using the internet to
compare prices
and to find the best deals for your requirements, as deals are always changing!
Tip Ten: Brides and grooms, choose suitable wedding attire
If you're planning a wedding in the glorious Tuscan sunshine, you'll want to make sure you're not too hot on the day and choose your wedding attire accordingly. When shopping for your outfits, ask to see
destination wedding dresses and groom outfits
which are designed to keep you comfortable in warmer climates.
Another point to consider is getting your wedding outfits to and from Tuscany safely. Make sure you
pack them carefully
and allow for the extra luggage.
Hang them up
the moment you arrive - preferably in a steamy bathroom.