Tuscan wines are world-famous and renowned for being among some of the very best. But why are the wines so good here and which grapes are they made from? What types should you try and when? Questions, questions. Join us for a quick canter through the vineyards and all will be explained.
How long have they been making wine in Tuscany?
We've got the Etruscans to thank for planting the vines here, sometime in the 8th century BC. These fruits have thrived down the centuries, nurtured by Romans, medieval monks, the local aristocracy, and today's winemakers.
So which grapes are behind these famous wines?
Tuscany is renowned for its reds and sangiovese is the best-known local grape, but others play a significant role in creating Tuscany's delicious tipple and there are redoubtable whites, too. Local red varieties include canaiolo, colorino, malvasia nera and mammolo, while whites are made from trebbiano, malvasia, vermentino and vernaccia. Plus cabernet franc, merlot and sauvignon blanc are welcome interlopers from further afield. The balance of the different grapes used to make a wine is responsible for the distinct flavours you'll taste from vineyard to vineyard.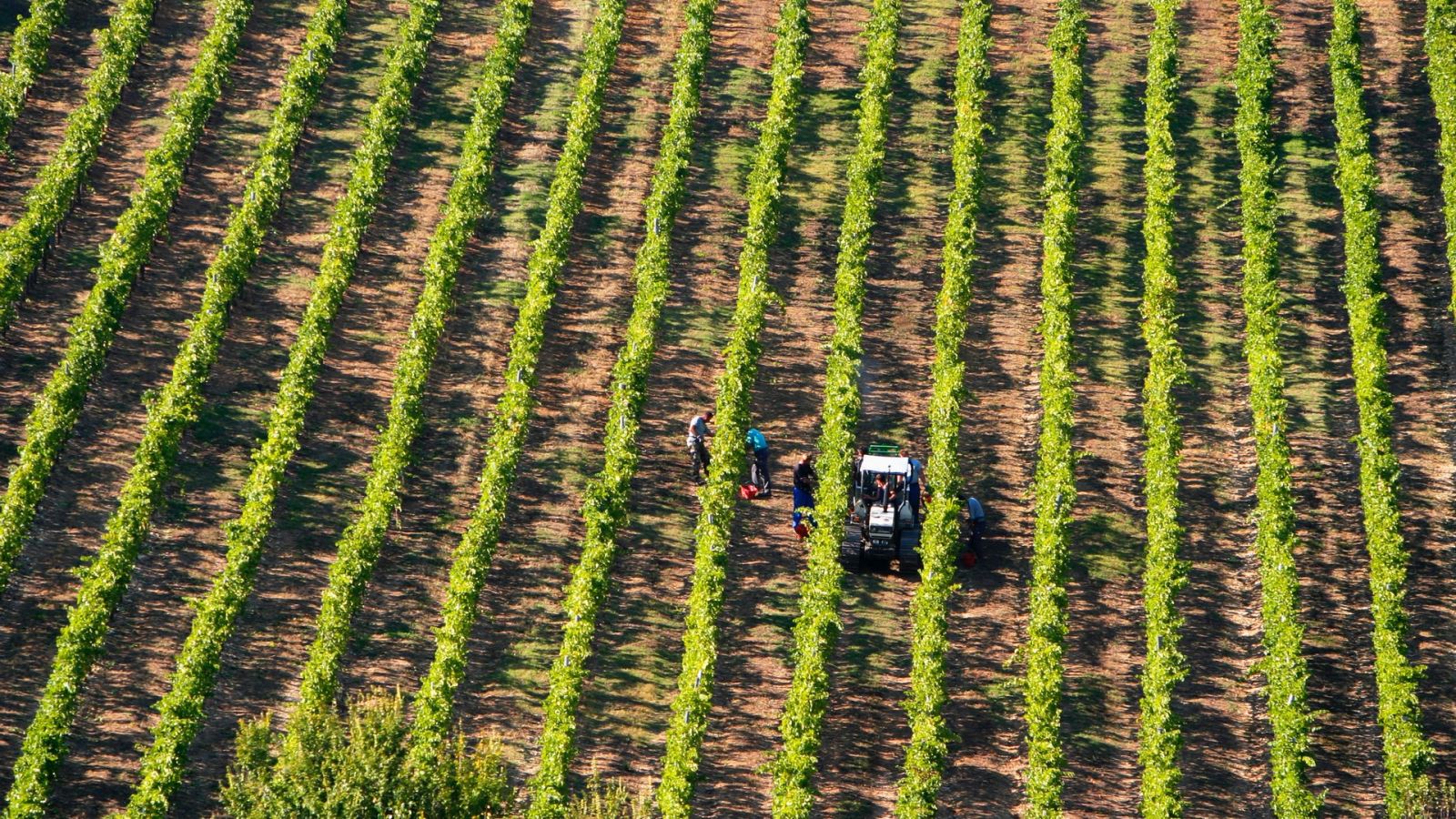 Tuscany's grape harvest stretches from August to October. Photo: John Crum/Alamy
When can I visit to see the grape harvest in action?
The different varieties, microclimates of the vineyards, and, of course, terroir make it hard to pin a date on when to pick the grapes. This is hill country, so you'll see many vineyards high on the slopes making the most of the sun. Early-ripening grapes, such as chardonnay, might be harvested in Tuscany in late August, while sangiovese is traditionally gathered in early- to mid-October.
What are the names I should look out for and where will I find local producers?
Chianti, Brunello di Montalcino, Vin Santo are among Tuscany's headliners. The heart of Chianti wine production is between Florence and Siena, around Castellina, Gaiole, Radda and Greve, with the very best known as Chianti Classico. Brunello is produced near Montalcino, south of Siena, and Vin Santo is made across the region. Vernaccia di San Gimignano and Vino Nobile di Montepulciano are other big names to seek out. A new generation of super-Tuscans emerged in the 20th century, which has since joined the Tuscan firmament. One of the originals is Bolgheri, from the town of the same name near Livorno, and now a DOC in its own right. Check out smaller DOCs, too, such as Colline Lucchesi near Lucca and Parrina from Grosseto.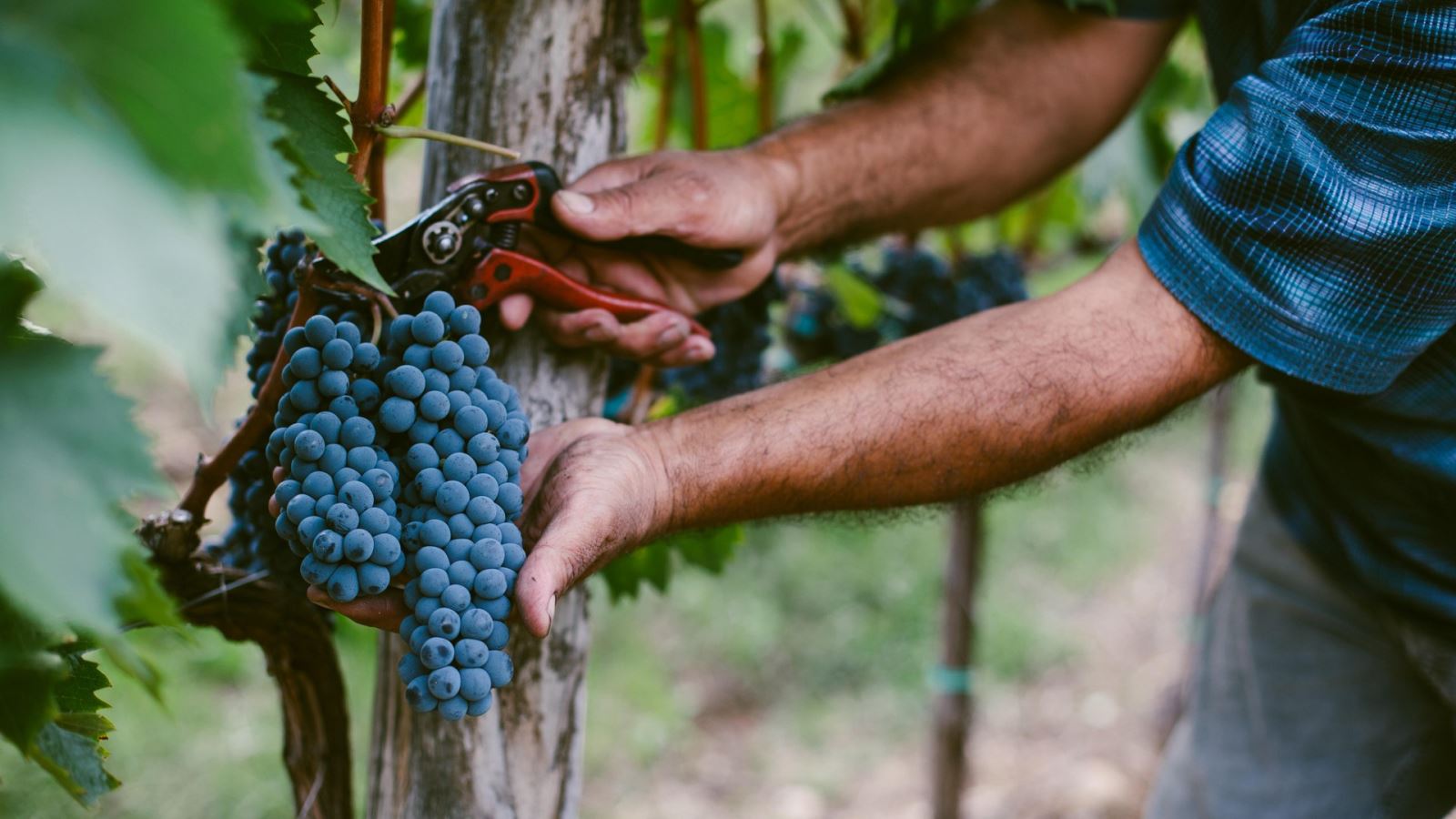 Grapes are cut from the vines by hand. Photo: Cultura Creative (RF)/Alamy
What if I don't know my DOC from my DOCG?
It's simple. DOC means Denominazione di Origine Controllata and for DOCG add e Garantita on the end. DOCG is superior. These initials tell you that the wine has been made subject to specific regulations, such as where the grapes were grown, the level of alcohol, and how long the wines must age. If you see the initials IGT, Indicazione Geografica Tipica, that means the wine isn't subject to these regulations but is still worth quaffing.

Most important, when is best to drink what?
Pop a Vernaccia di San Gimignano after a year, a Vino Nobile di Montepulciano and a wine from Bolgheri after two. Chiantis can be enjoyed within five, though some can be laid down for 15 years. You won't be able to sip Brunello for at least four years and some say you'd do best to wait for a decade or more. Vin Santo, best known as a dessert wine, although there are bone-dry versions available, too, is usually aged for a minimum of three years.
And how best to drink it?
What doesn't Chianti go with – pizza, pasta, a hearty stew… the choice is yours. A glass of Brunello will wash down a Fiorentina steak. If pasta Bolognese is on the menu, you can't go wrong with a fruity Vino Nobile di Montepulciano, and a light, crisp Vernaccia di San Gimignano is just made for fish. Biscotti and a sweet vin santo are made in heaven – just don't forget to dip the biscuit into the wine. To Tuscany has a fantastic range of villas for wine lovers, such as Villa Riecine, set above the winery on a vineyard in Chianti villas.