We asked To Tuscany's golf expert, Grant Leggate, General Manager of Chestfield Golf Club and former Assistant Secretary at Royal St George's Golf Club, to pick his favourite golf courses in the region.
Royal Golf La Bagnaia
Just south of Siena, Royal Golf La Bagnaia was designed by the architect Robert Trent Jones Jr, who transformed 130 hectares of land into a masterpiece of course design. He has injected American style into the raw Tuscan landscape, capturing the passion, flair and artistry of the region. Golfers must plot their way around this course, between and over the well-positioned sand traps, which provide its main protection. There are few trees, but this is not a criticism because if the wind blows they will provide a further layer of armour, as will the water hazards on no fewer than 13 of the holes. The stylish clubhouse is well run by an impressive team who show real pride and enthusiasm.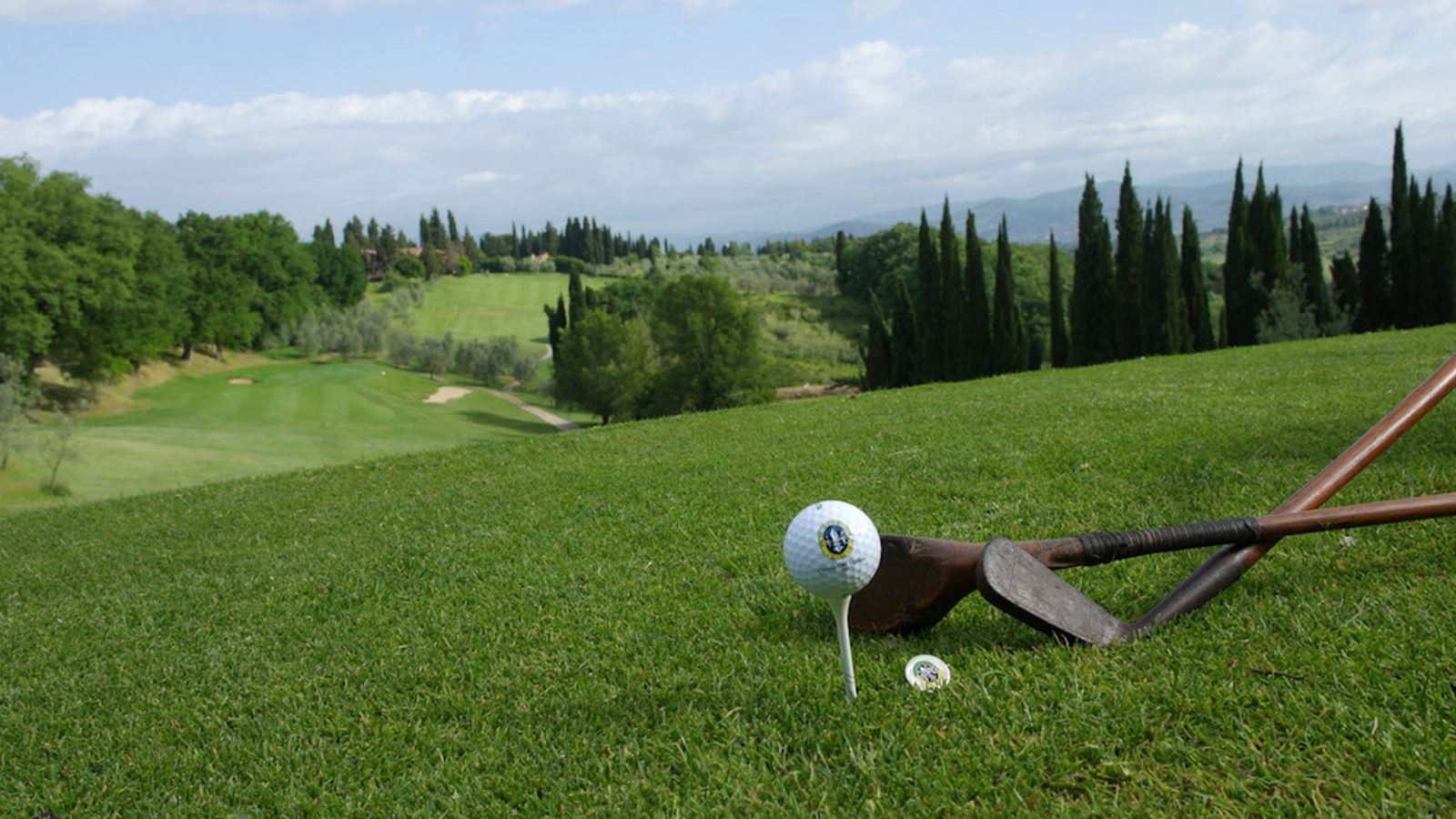 Golf Ugolino, above, is the oldest course in Tuscany
Golf Ugolino
The oldest course in Tuscany, Golf Ugolino was created in 1934. It offers stunning views around every corner and plenty of challenges, too, with narrow fairways, tricky greens and some holes blending into the landscape. Skill and accuracy are vital, but this is still a fun course for all abilities, especially on the front nine, where the 295-metre, par-4 3rd hole demands a good drive to the left on the difficult approach to the green. Even if you're fit enough to enjoy the walk, hiring a buggy is recommended to reduce the time between green and tee and to admire the views as you go. The clubhouse staff are an absolute joy – helpful, attentive and informative.
Golf Punta Ala
Golf Punta Ala has an 18-hole, par-72 course, training field, pro shop, cart hire, trolleys and a bar and restaurant. But the most remarkable aspect of this golf course is its setting on the shores of the Med, overlooking the island of Elba, where Napoleon was imprisoned in the early 1800s – this is arguably the most beautiful course in Tuscany. So, no need to feel bad about enjoying a round of golf on these links because the rest of the family will be making the most of their time having fun on the beach. The course has tight tree-lined fairways, making position play important, and it's advisable to hire a trolley because this hilly course could prove challenging to walk around.
Golf Montecatini Terme
Another natural beauty of a golf course can be found deep in the Tuscan countryside, south-west of Florence. The testing 18-hole course at Golf Montecatini Terme is hilly yet has fairways that are quite wide and not too long. Lakes, streams, trees and ditches combine to provide natural contours to this quite exposed landscape where the wind provides another obstacle. The greens are fast and undulating – an added problem to several blind drives – but if you want your skills to be tested this is a tough examination paper. The par-3 18th hole, played over a 150-metre-wide lake, is both stunning and daunting. There's a neat and compact clubhouse with adequate facilities and the atmosphere of a family-run business with friendly staff. Club selection is critical.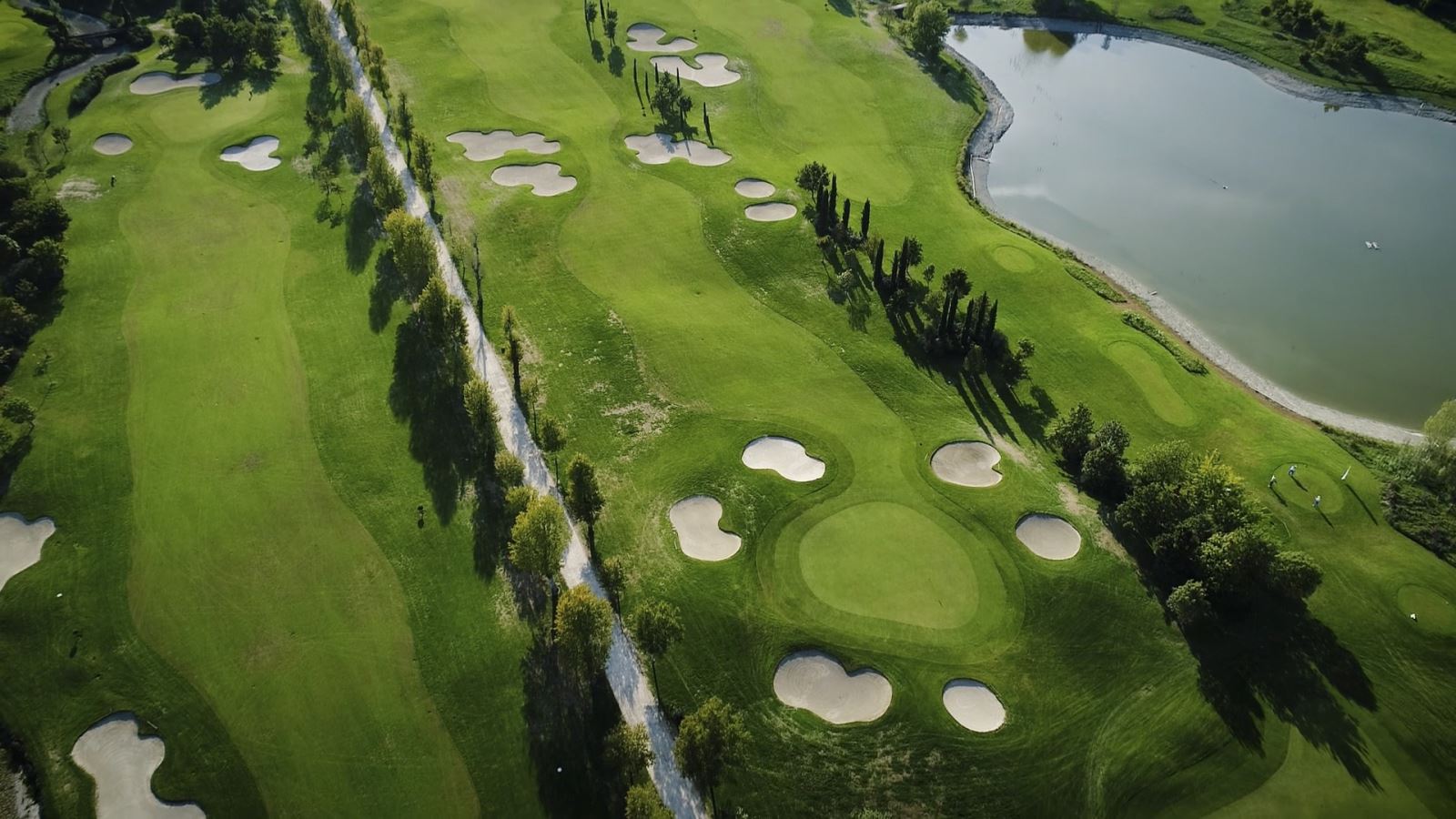 Large greens and wide fairways await at Le Pavoniere
Le Pavoniere Golf & Country Club
This 18-hole, par-72 course near Florence was designed by Arnold Palmer's company. Hence, Le Pavoniere Golf & Country Club has a typically American feel, with large greens, vast bunkers and wide fairways. What it perhaps lacks in aesthetics, it makes up for in playability – the relatively flat course has several water hazards that need sensible course management. Most of the holes are tree-lined but well-spaced and it rewards bigger hitters, particularly when playing into a head wind, with greens that are quick but fair. As well as the 18th, the best holes are the 6th and the 5th – a par-3 where confidence is needed off the tee. There's plenty of risk and reward golf at Le Pavoniere, providing a good test for all levels of golfer. The clubhouse is set in a 19th-century villa, which has been carefully restored to provide a light, bright and cool place to relax after a game.
Poggio dei Medici Golf and Resort
This 18-hole, par-73 course near Florence is the perfect course; from its lush and immaculate fairways to its well-paced greens and hilly surroundings. The literal translation of the course's name is "Hill of the Medici" and high on 16th hole, with nothing but the sound of birds and Florentine church bells, you can't help but feel that if The Almighty played golf, he'd choose here to pay his green fees. Poggio dei Medici Golf & Resort also provides a good test of skill with some difficult holes. The 18th is as wonderful a finishing hole you can get in golf, but the 15th hole is my favourite. At 332 metres, it's both challenging and stimulating, with a split green that allows the hole to be set up in two very different ways – not the most difficult but demanding a well-placed drive and an accurate approach. Indeed, all holes are great to play and they might take a little longer than anticipated to complete, such is the need to allow time to soak up the views and atmosphere. With its fantastic 16th-century clubhouse, this remains one of my favourite clubs in the world.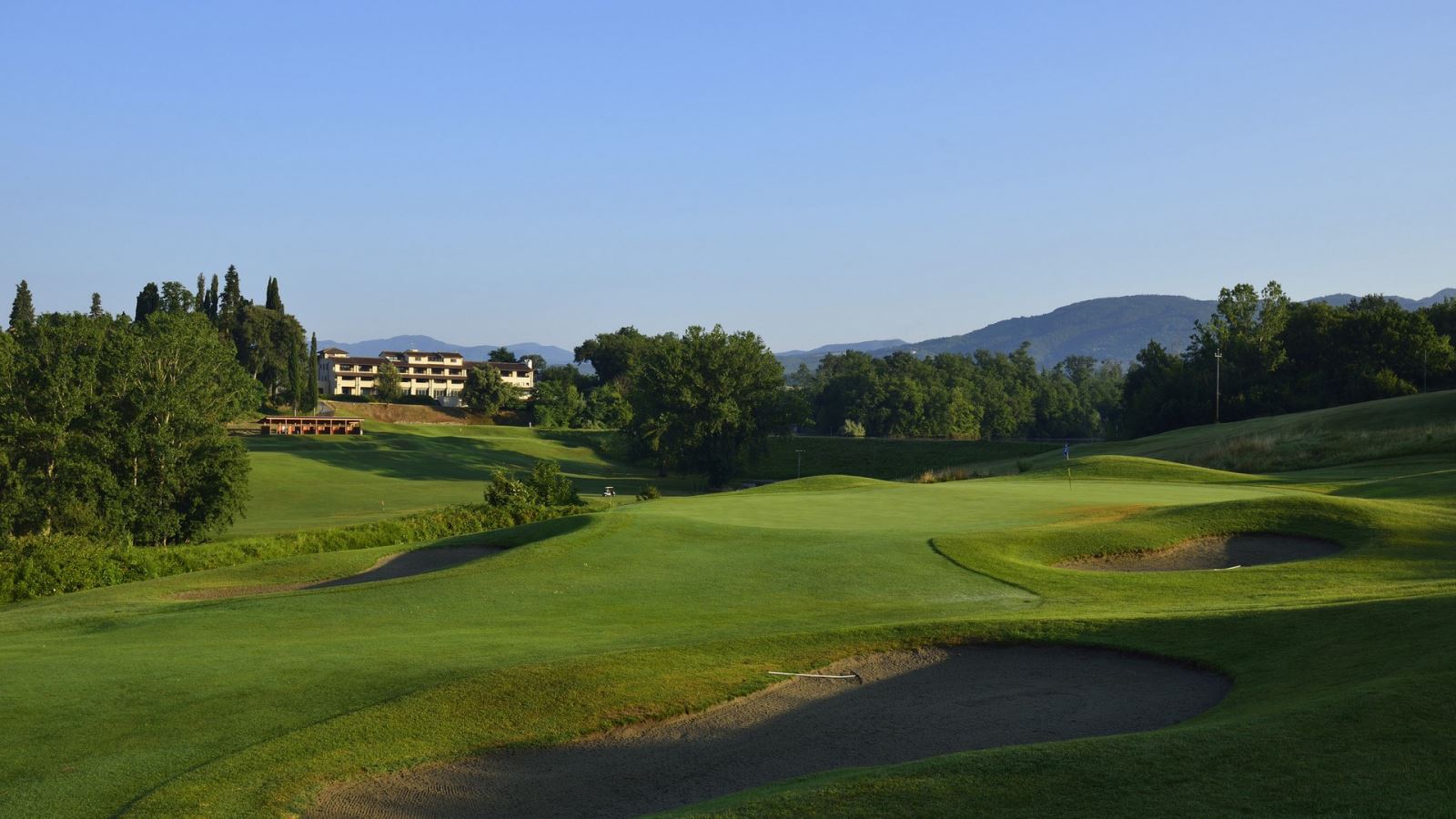 Poggio dei Medici provides a good test of skill. Photo: Andrea Getuli
Cosmopolitan Golf and Country Club
Water is a major feature of the course at Cosmopolitan Golf and Country Club, near Pisa, where there are lots of risk and reward decisions to be made. Its undulations respect the original shape of the land, with four sets of tees on each hole enabling the staff to set up various options and provide a fair test for all abilities. Each of the 18 holes is well-defined with good-sized greens and fairways that are generally level. The greens are slow but true and not too much lip on the numerous bunkers makes escape undemanding. The 5th is the stand-out hole, requiring shots to be played over water twice before you reach the green. However, the defining shot of the round is the approach to the 9th green, again over water, making club selection crucial. This is a pretty course with good facilities, well-maintained and very playable, but it will be a tricky test when the wind gets up. Other clubs worth seeking out include Casentino Golf Club near Arezzo, Circolo Golf L'Abbadia near Colle Val d'Elsa, Antognolla Golf Club near Perugia, and Golf Club Valdichiana near Siena.