Cannelloni are a type of fresh egg pasta filled with ricotta, spinach, parmesan and nutmeg, covered with béchamel sauce and parmesan cheese, then oven-baked until golden brown.

Cannelloni are traditionally eaten on the eve of December 24, when, according to the Catholic tradition that has remained in families over the decades, no meat is eaten, but only vegetables and fish. However, since this dish is so delicious, many families cook it for Christmas lunch on December 25!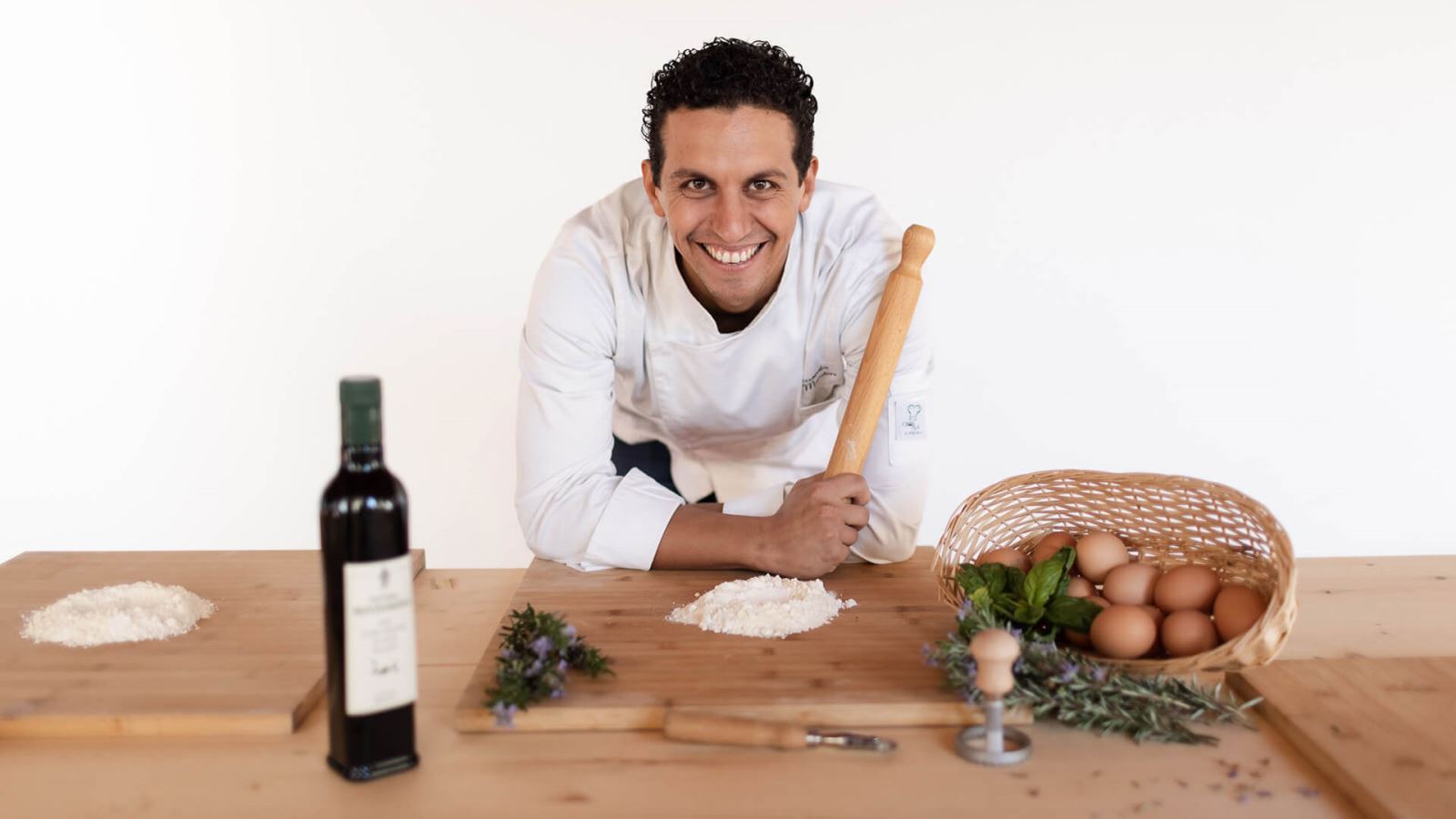 About the chef:
This recipe was kindly provided by Alessandro Muratore, one of the chefs we work with to provide unique experiences at our villas. Alessandro has a real passion for Tuscan cooking and is motivated by the power of food to evoke a wide array of emotions. After travelling to explore other countries' cuisines, he has returned to Tuscany with a wealth of perspective and a continued appreciation for the flavours of his native land.
If you would like to book Alessandro for your next villa holiday, contact our villa specialists today.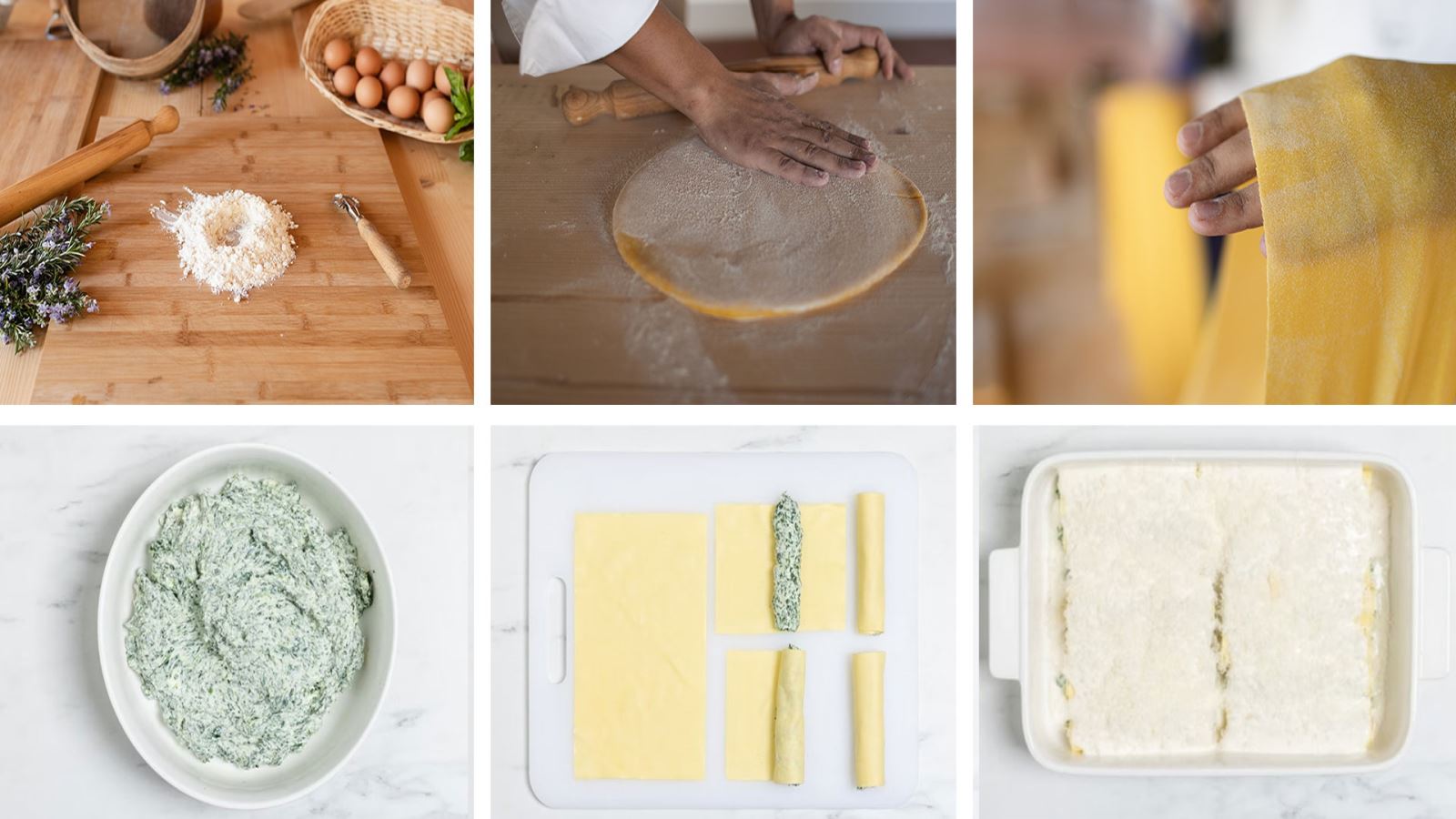 Serves: 6
Cooking time: 2.5 hours

Ingredients:
For the fresh pasta
250 g plain flour, type 00
250 g semolina flour
5 whole eggs
1 egg yolk
Pinch of salt
Extra virgin olive oil
For the filling
500 g fresh ricotta
200 g fresh spinach
150 g grated parmesan + more to top the cannelloni
1 whole egg
Salt & pepper
1 tsp grated nutmeg
For the béchamel sauce
100 g butter
100 g plain flour, type 00
2 litres fresh milk
1 tsp grated nutmeg

Method:
Begin by making the fresh pasta dough. For best results with fresh pasta, always try to work on an untreated wooden surface.
Mix both flours together, make a well in the centre and break the eggs into it. Add a pinch of salt and one spoon of oil into the eggs. Mix everything slowly with a fork and knead the dough until it forms a smooth ball.
Wrap in cling film and allow to rest in the fridge for one hour.

For the filling, drain the ricotta into a colander.
Meanwhile, cook the spinach in salted boiling water, drain and allow to cool.
Once cool, squeeze well and chop with a knife.
Add the following to a bowl: drained ricotta, spinach, parmesan, grated nutmeg, the egg, salt, pepper. Quickly mix into a dough.

After letting the pasta dough rest, roll it out by hand and with a rolling pin (or with a pasta maker until the last step), to make the dough as thin as possible.
Cut 15 cm long and 10 cm wide rectangles, add enough filling to cover about 1/5th of the rectangle's surface, then roll up the dough and seal the cannelloni with a little water.

To make the béchamel sauce, heat up the milk in a pot and melt the butter in a separate saucepan. When it is melted, stir in the flour and cook together for a few moments, then add the hot milk slowly, stirring constantly with a whisk to avoid lumps. Bring to the boil until it thickens. Season with salt and add a little nutmeg to taste.

Pour the béchamel sauce into a rectangular oven dish to create a 2 cm thick layer on the bottom of the dish. Place the cannelloni next to each other on top of the sauce.
Cover the cannelloni with the remaining béchamel sauce and add grated parmesan on top.
Bake in the oven at 180 degrees Celsius for 30-40 minutes until they are au gratin.