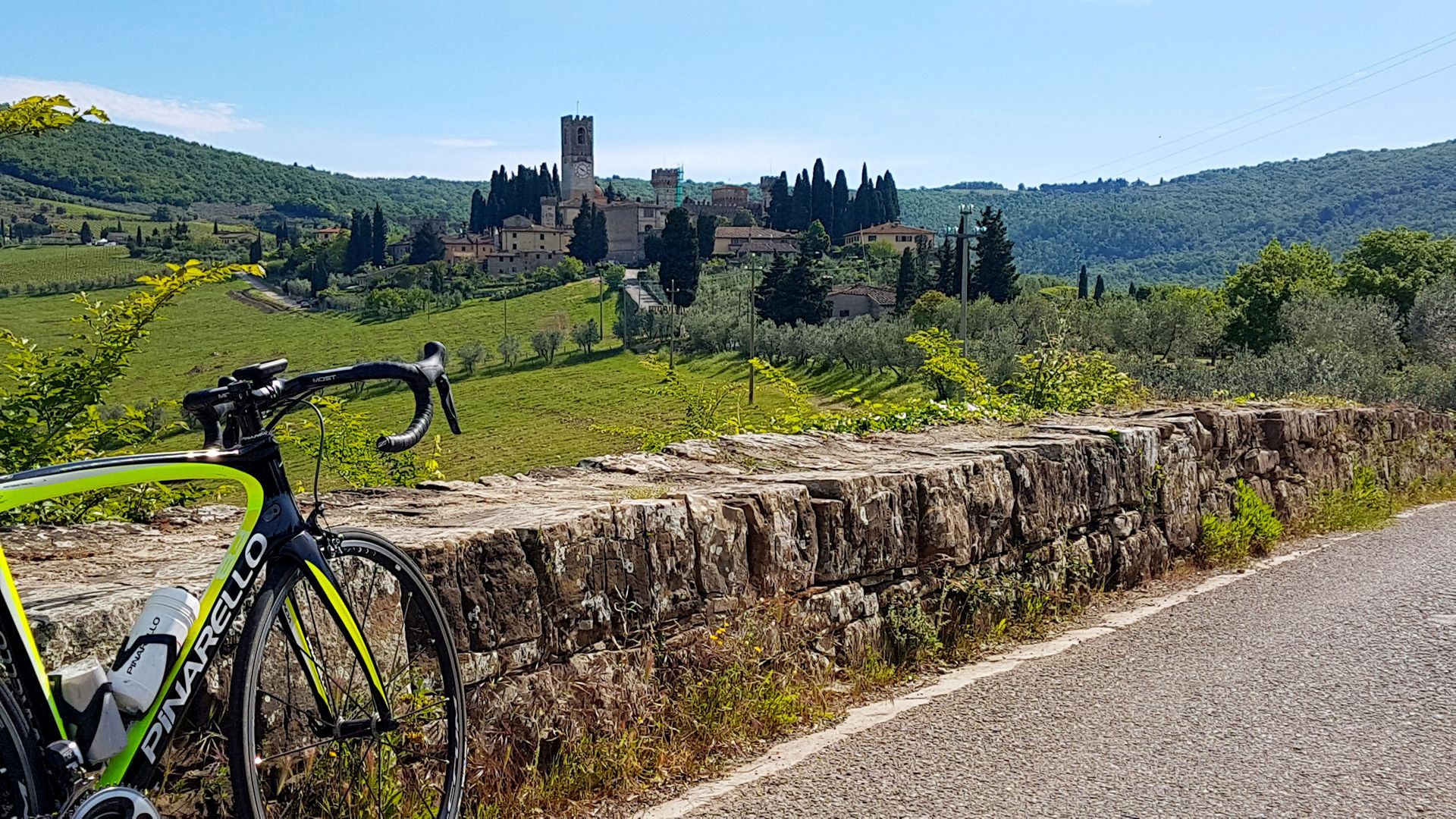 Greve in Chianti
Greve represents the northern gateway to the Chianti, the first stop from Florence. The SS222, known as the Chiantigiana, or Chianti Way, winds its picturesque way from Florence to Siena, through this peaceful region, offering archetypal scenes of cypress trees, olive groves and vineyards. At first sight, Greve may be a disappointment: it seems a slightly characterless, modern-looking town. Luckily, its main square is a redeeming feature, as are its restaurants, food and wine shops. The impressively arcaded Piazza Matteotti is surmounted by wrought-iron balconies of cascading geraniums. The shops under the arcades are crammed with an assortment of Tuscan treats, crafts and wines. The square is framed by a neo-Renaissance Town Hall. Above all, as Chianti's commercial hub, Greve does the business, with its weekly market, September wine fair and a tempting wine route beginning outside town. Greve is a stepping-stone to Renaissance villas, castles, abbeys and wine estates.
Essential Greve in Chianti Information
Top Ten Things to Do
Greve, the commercial centre of Florentine Chianti, is a place for browsing for wine and foodstuffs. While there is little of cultural interest in town, the surrounding countryside makes for delightful pottering. From Greve, enjoy gentle hikes, along with scenic drives to neighbouring castles and medieval wine estates. Greve also makes a great base for cultural day trips to Siena and Florence, along with Chianti-based wine-tasting and foodie forays in the vineyards.

This is just a taster to the Chianti. See our specific guides to top Chianti outposts, all accessed through our Destinations listings, For starters, check out our guides to GrevePanzanoCastellinaRadda and Castelnuovo Beradenga. Our additional Chianti guides cover Castagnoli, Volpaia, San GusmeSan Donato in Poggio and Vagliagli.
Read more
Eating & Drinking
The September wine fairs bring the professional wine-tasting crowd to Greve. The surrounding hills are blanketed with vineyards, many of which date back to the time of the medieval monks. Chianti Classico is big business in Greve and has been for centuries. In 1716 Cosimo III, Grand Duke of Tuscany, officially delimited the production zone of Chianti wine. Chianti Classico is made from Sangiovese grapes, or a Sangiovese blend, and aged for 14 months in French oak barrels followed by at least seven months in the bottle, or two years for a Riserva. Our recommended wine estates are featured in each of the individual Chianti guides.

Although this is Florentine Chianti, Sienese-style dishes (or produce such as cinta senese cold cuts) appear on the menu too. As elsewhere in Tuscany, the cooking is never elaborate or excessive; there are no fussy finishing touches, complex reductions of sauces or subtly blended flavours. But there is a basic earthiness about the dishes which has made them popular the world over.

This is just a taster to the Chianti. See our restaurant recommendations below and also see our other guides to top Chianti towns and villages, all accessed through our Destinations listings.


Read more
Shopping, Parking & Getting Around
Shopping is a pleasurable experience in Greve, especially for Chianti foodstuffs. The Saturday market in Greve is lined with stalls selling everything from fresh fruit and vegetables to cheese, olives, cured meats, flowers, fashion, hand-woven baskets and objects carved out of olive wood. The best foodie emporium is Antica Macelleria Falorni, adjoining Il Bistro Falorni (`the butcher's bistrot'). As for wine-tasting, the most beguiling spot is L'Enoteca Falorni. Yes, the same family butchers really do have their finger in every meat pie.


Read more