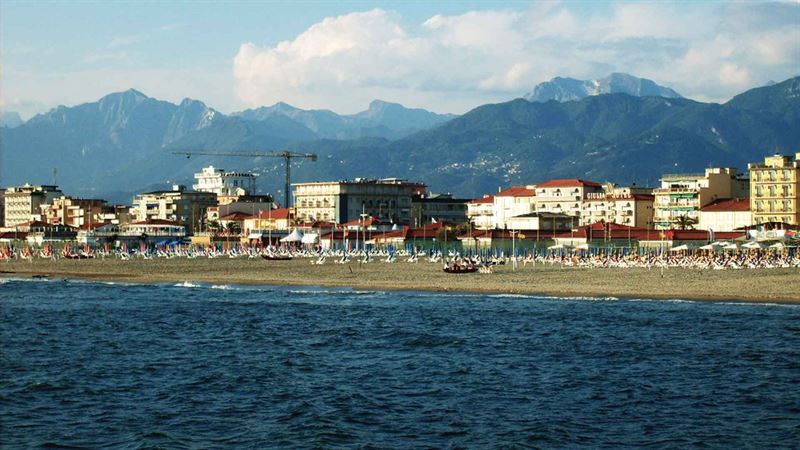 Forte dei Marmi
To Italians, Forte dei Marmi is a mythical name, the `Queen of the Italian Riviera,' even if it means little to most foreigners. This upmarket summer resort on the Versilian coast is considered the epitome of chic. Forte dei Marmi is the Tuscan resort for socialising and being seen, only outdone by the bijou Punta Ala resorts further south, around Monte Argentario. Unlike much of the northern coast, Forte dei Marmi has retained some of its elegance and is far less blighted by beachfront development. Forte dei Marmi grew up around a fort built in 1788 by Leopold I of Tuscany, the remains of which survive in the main square. At heart, this is still a low-rise resort, with the highest things being the pine trees in private villa gardens. Forte is still a fun place for living a mellow version of the high life, with chic beach-life in abundance.
Essential Forte dei Marmi Information
Top Ten Things to Do
Forte dei Marmi is all about the summer resort and being seen in the right places. If you want more than beach-life and gentle cycling, then head north, towards Massa. If feeling in need of adventure, explore Carrara and the marble quarries in the Apuan Alps. This is elemental Tuscany, a stark contrast to cosseted Forte dei Marmi. If in need of cultural stimulation, head away from the coast to the closest art cities. Foremost among these are Pisa to the south, or LuccaPistoia or Florence to the east. If you want a taste of country living, with villas and rural views, then do the Lucca villa tour we describe below.
Read more
Eating & Drinking
See our beach club suggestions in the Forte dei Marmi Beachlife option above or consider the short drive to Viareggio, just south, to sip reviving drinks in the historic Gran Caffe Margherita on the seafront. In Forte dei Marmi seafood predominates, as on the Versilia coast in general. The resort also has a number of stylish, creative and gourmet restaurants, mostly with good presentation but inflated prices.
Read more
Shopping & Parking
Reflecting market tastes, the resort mainly deals with pricey designer brands, ranging from beachwear to upmarket international fashion and accessories. The boutiques around Piazza Marconi somehow manage to retain something of a small-town atmosphere, even if they do sell some of the most expensive items money can buy. Armani, Prada and Roberto Cavalli all have boutiques in town. For fun, browse Forte dei Marmi's Wednesday market on Piazza Marconi for everything from stylish bed-linen and swimwear, or top designer fashion to fakes. In summer there's an additional Sunday market, held on the same square. If peckish while shopping, grab crunchy snacks of foccaccia or `pizza a taglio' (pizza by the slice) from Da Valé, a popular bakery (Piazza Garibaldi 4, Forte dei Marmi, T: +39 0584 89361). On the excursion to visit the marble quarries around Carrara, look out for small souvenirs made of marble.
Read more