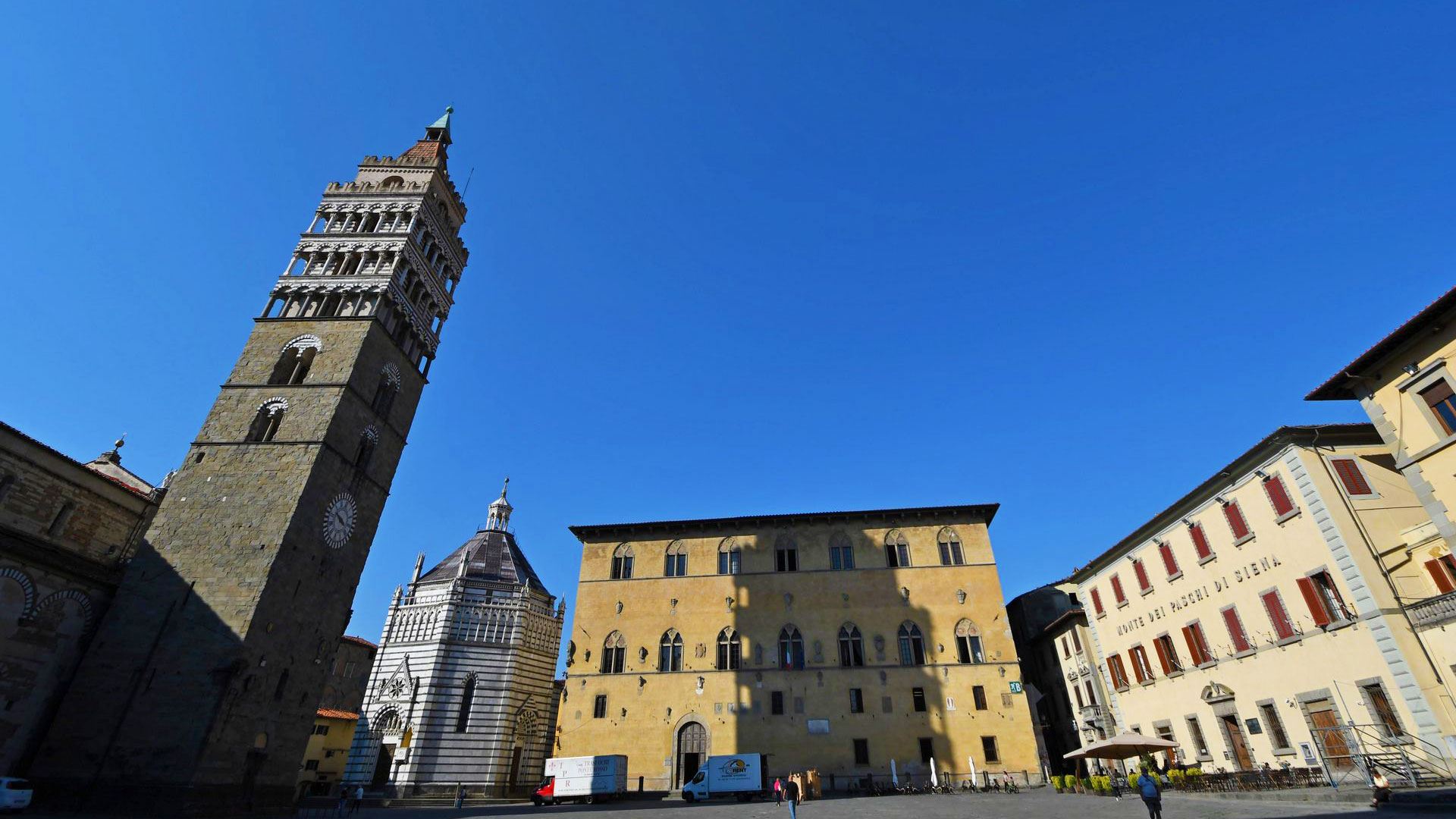 Pistoia
Pretty Pistoia is often dubbed `Florence in miniature' for its vivid cultural life, quiet confidence and its concentration of art and architecture. It is this living culture that sets Pistoia apart from other cities of a similar size. Even so, Pistoia is a much-underrated Tuscan city, despite the boost given by its year in the spotlight as Italy's Capital of Culture in 2017. The town's historic heart is delightful and contains one of the loveliest main squares in Tuscany. In un-touristy Pistoia expect to have the Romanesque churches and modern art museums to yourself, even if the popular inns are often overflowing. When dusk falls, the lamp-lit shadowy streets of Pistoia still have an authentic medieval atmosphere. Franciscan monks stride along in their brown habits and rope belts, and the stone slabs outside the shops are laid out with goods for sale, just as they were in the Middle Ages.
Essential Pistoia Information
Top Ten Things to do
Pistoia is all about culture, from churches to museums. But the city also likes mixing it up, with medieval art giving way to modern. If suffering from cultural overload, head to a cosy inn or hop on a Vespa. You could also visit Lucca, to the west, or Florence, to the east, on a day trip. If feeling in need of revitalising hot waters, then the elegant spa town of Montecatini makes an easy trip west.
Read more
Shopping & Parking
In underrated Pistoia you can sometimes find shops as glamorous as those in Florence or Lucca. The main shopping area (embracing via Cavour, via Cino, via Ateo Vannucci and via Orafi) is an inviting place for browsing for clothes, shoes, leather and jewellery. 

The main square, the Piazza del Duomo, becomes a bustling market on Saturday and Wednesday. In addition, the daily fruit-and-vegetable market is next-door on car-free Piazza della Sala, set out around an old well. This market has been serving pistoiesi customers since the 11th century, with produce piled high on benches beneath shady canopies. At night the square is home to a number of lively bars. The street names leading off the square illustrate the trades and foodstuffs that sheltered under these canopies. Look out for Fabbri (blacksmiths) and `Caccio' (cheese) and let your nose lead you to tempting bakeries and pastry shops.
Read more
Eating & Drinking
From hot summer nights to cool winter weekends, Pistoia's pedestrianised squares fill up with local crowds. The pedestrianised area around the main square is full of dining options, especially on via del Lastrone. Street food is also on offer here, including farinata con cavolo, chickpea pancake with cabbage, and frittata con rigatino, omelette with salt-cured bacon. As evening falls, Piazza della Sala, Piazzetta dell'Ortaggio and the surrounding streets turn into the city's drawing room as the locals meet for aperitivi (cocktails) at cosy wine bars, such as Ristocaffetteria Voronoisee below
Pistoia is a foodie hotspot and upholds some of the best Slow Food traditions in Tuscany. The most typical dish is maccheroni sull'anatra, pasta in a rich duck sauce. The wild boar roaming the Tuscan hills found favour with the Etruscan menus, and still feature on local menus. Pistoia is also practised at seasonal vegetable dishes and so-called `cucina povera,' peasant cuisine. Pappa col pomodoro is one such dish, made with bread and tomatoes, and served colder in summer than in winter.

The city is particularly good at pastries, cakes and chocolate. Chocolates can come in novel flavours, such as nutmeg (noce moscato) or chili pepper (peperoncino). Sugared almonds are popular, as are scole, semi-sweet Lenten Easter cakes. Tasty castagnaccio is a crunchy chestnut cake made with chestnut flour, walnuts and pine nuts. Pistoia also produces the pretty corona di San Bartolomeo for the feast of St Bartholomew on 24 August, when mothers lead their children to church wearing this cake `necklace' to receive a blessing from the saint.
Read more