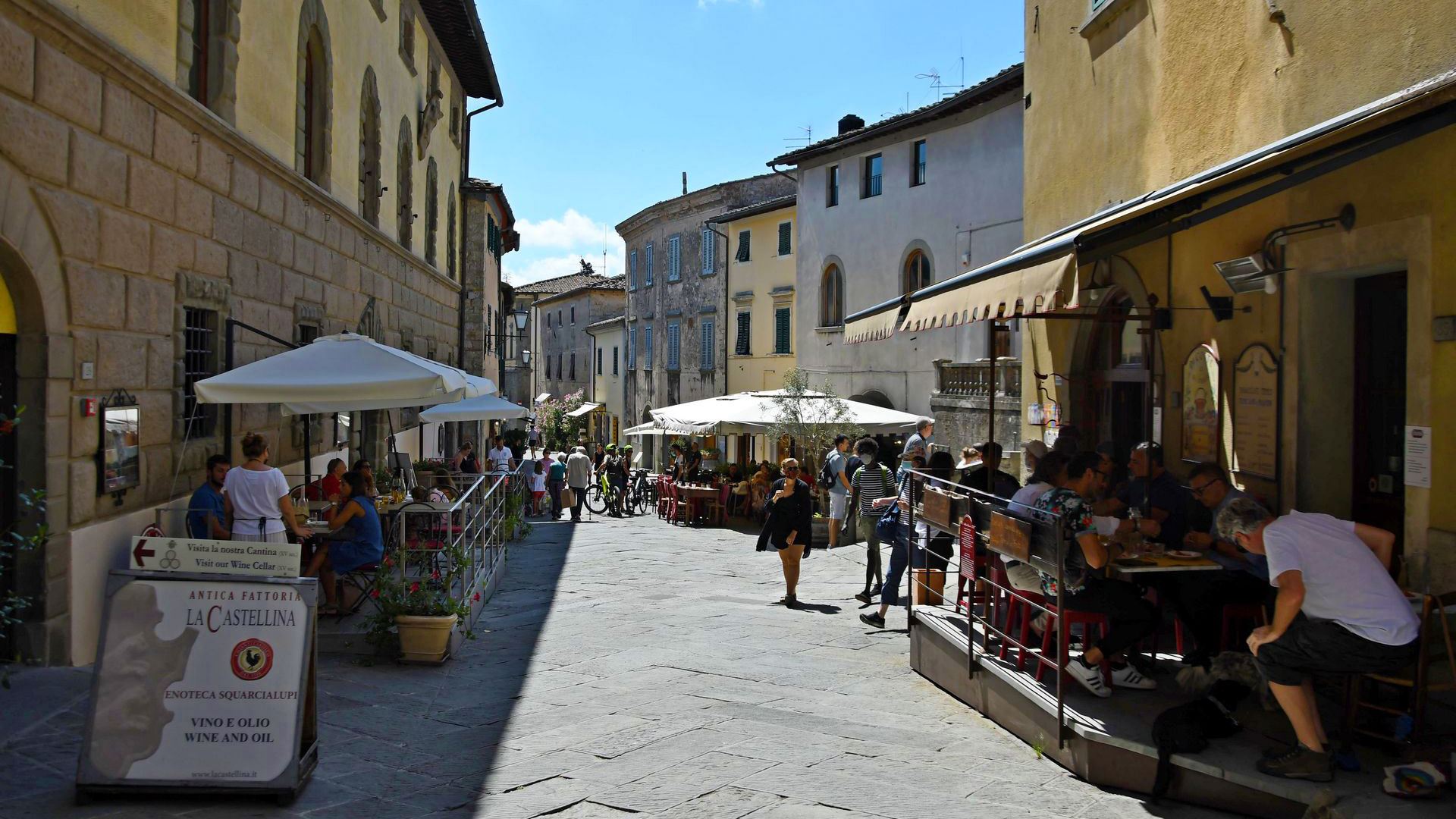 Castellina in Chianti
Castellina is one of the most charming hilltop villages in the Chianti. Set on the scenic Chiantigiana, it surveys symmetrical vineyards and wooded groves, a landscape dotted with low stone houses and ancient wine estates. Castellina's name reveals its medieval function as a Florentine outpost. In the late 13th century it was the first site of the Chianti League, a group of three Florentine feudal castles, each responsible for a third of the territory. This strategic stronghold fell to a Sienese-Aragonese siege in 1478 but after Siena in turn fell in 1555, Castellina became a picturesque backwater. Tucked into its fortifications, Castellina looks much as it did in the 15th century. La Rocca, the mighty fortress, is now the town hall and home to a small archaeological museum, with tempting wine shops nearby. The circuit of walls encloses a warren of atmospheric backstreets with half-glimpsed views of the Chianti hills.
Essential Castellina in Chianti Information
Top Ten Things To Do
Even if Castellina itself is a key attraction on the Chiantigiana, the Chianti Way also leads to forays to neighbouring Chianti wine hamlets, as well as to San GimignanoSiena and Florence. Castellina makes a great base for activities as varied as cycling and museum-visiting, wine-tasting and ice cream-slurping. Sample a cookery course or visit a sculpture park: Castellina has it covered.

This is just a taster to the Chianti. See our specific guides to top Chianti outposts, all accessed through our Destinations listings, For starters, check out our guides to GrevePanzanoCastellinaRadda and Castelnuovo Beradenga. Our additional Chianti guides cover Castagnoli, Volpaia, San GusmeSan Donato in Poggio and Vagliagli.
Read more
Eating & Drinking
Castellina is awash with Chianti Classico. The trademark on bottles of Chianti Classico is the Black Rooster (or Black Cockerel), the historic symbol of the Chianti Military League, depicted by famous artist Giorgio Vasari on the ceiling of the Salone dei Cinquecento at Palazzo Vecchio in Florence. Our recommended wine estates are featured in each of the individual Chianti guides.

As a foodie hotspot, Castellina is peppered with outstanding restaurants, along with appealing food and wine shops. In particular, the ice cream in Gelateria di Castellina is considered the best in the area. Along with a highly traditional attitude to food, the area also offers distinctive delicacies and seasonal dishes, such as truffles and wild mushrooms.

This is just a taster to the Chianti. See our restaurant recommendations below and also see our other guides to top Chianti towns and villages, all accessed through our Destinations listings,
Read more
Shopping, Parking & Getting Around
Shopping in Castellina is essentially about good-quality Tuscan food and wine, including edible souvenirs. The ice cream in Gelateria di Castellina is considered the best in the area. Some foodstuffs are so delicious that they might never find their way back home. Stock up on Chianti Classico wines, artisanal honey, bottled sauces and dried pasta. For more shopping options, ranging from ceramics to cashmere at a goat farm, visit neighbouring Radda.

Read more