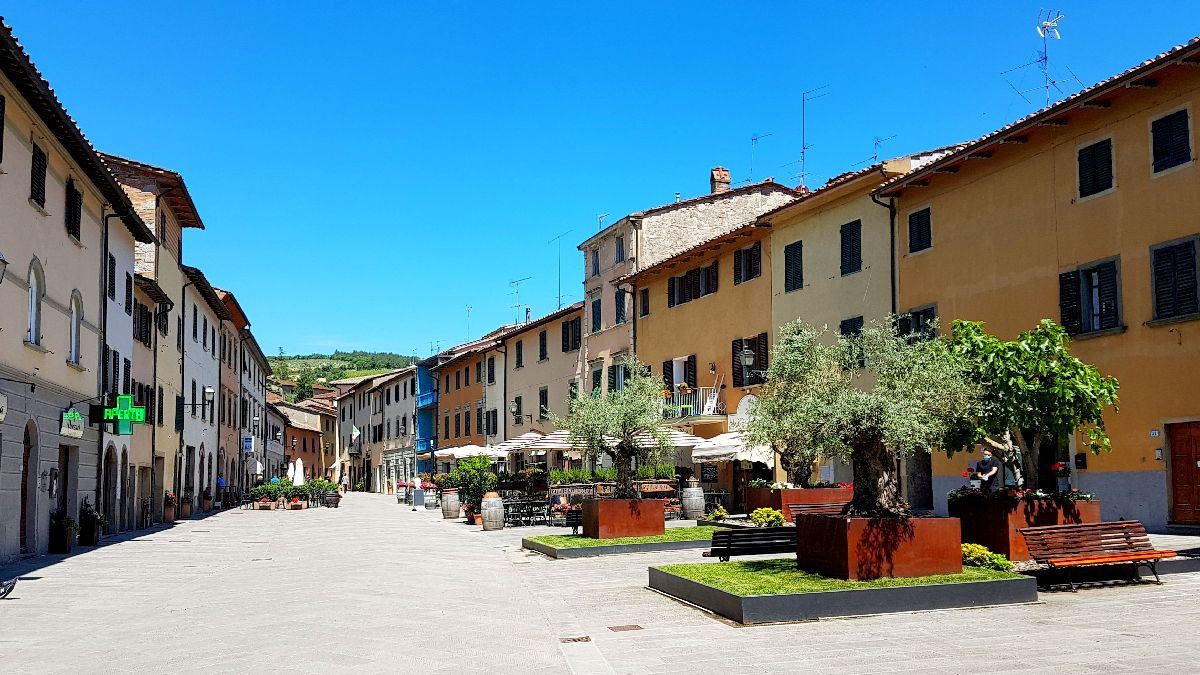 Gaiole in Chianti
Hilly Gaiole is, of course, wine country but also castle country and cycling country. A decade ago, this sleepy market town was dubbed the world's most idyllic place to live. Not much has changed since then so lap up the quality of life. This market hub is forever linked to the Ricasoli wine dynasty, whose ancestors supposedly launched the Chianti Classico brand in Brolio Castle. Apart from boasting of being the birthplace of Chianti Classico, Gaiole is celebrated in its own right. In medieval times it was one of the three capitals of the Chianti League, along with Castellina and Radda. The hilltop town is set among oak and chestnut forests but also surveys vineyards and olive groves. As a former military stronghold, Gaiole is ringed by medieval castles and fortified abbeys. The triangular-shaped main square is a stepping-stone to explorations of castles, cosy inns, wine estates and ancient abbeys.
Essential Gaiole in Chianti Information
Top Ten Things to Do
Hilltop Gaiole makes a great stepping-stone to explorations of local inns, wine estates and ancient abbeys. From the fortified monastery of Badia di Coltibuono to Castello di Brolio. a former Florentine castle with its gaze firmly fixed on its ancient enemy, Siena. The area abounds in wine estates and gourmet inns but there are enough challenging cycle trails to keep you fit en route. As for culture, consider day trips to Siena, Florence or charming Castellina.

This is just a taster to the Chianti. See our specific guides to top Chianti outposts, all accessed through our Destinations listings, For starters, check out our guides to GrevePanzanoCastellinaRadda and Castelnuovo Beradenga. Our additional Chianti guides cover Castagnoli, Volpaia, San GusmeSan Donato in Poggio and Vagliagli.
Read more
Eating & Drinking
Remember that this area is the birthplace of Chianti Classico. Look out for the symbol of the Black Rooster (also known as the Black Cockerel) which denotes Chianti Classico. The wine is made from Sangiovese grapes, or a Sangiovese blend, and aged for 14 months in French oak barrels followed by at least seven months in the bottle, or two years for a Riserva. Our recommended wine estates are featured in each of the individual Chianti guides.

The local restaurants range from fine-dining to fuss-free inns and all specialise in versions of Tuscan cuisine. The most memorable spots are in castles and wine estates in Gaiole territory outside town. Pasta can be made with organic local flour and includes such stalwarts as pappardelle di lepre (pasta ribbons in hare sauce) or the same pasta with wild boar (cinghiale).

This is just a taster to the Chianti. See our restaurant recommendations below and also see our other guides to top Chianti towns and villages, all accessed through our Destinations listings.

Read more
Shopping, Parking & Getting Around
Browsing for ceramics in Gaiole or cashmere in Radda makes a change from wine-shopping. Tuscan ceramics made here and around Radda are often inspired by ancient models, including Renaissance designs. The Medici dynasty had sets of dishes designed for each of their country villas, virtually inventing the concept of elegant place setting. Also consider a foray to neighbouring Castellina to taste great ice cream and to stock up on speciality foodstuffs such as artisanal honey, bottled sauces and dried pasta.
Read more