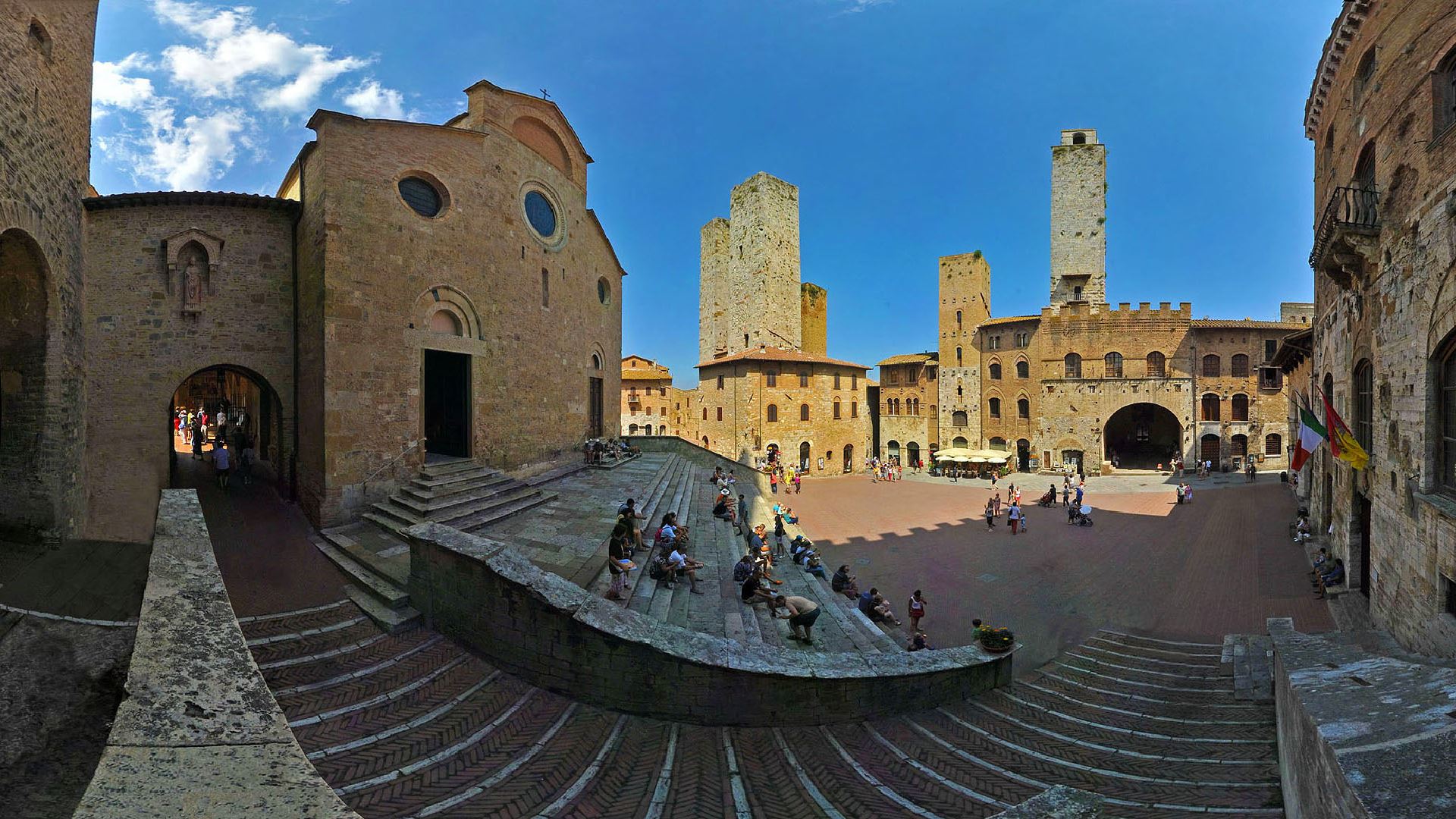 San Gimignano
San Gimignano, bristling with ancient towers, is often dubbed the `medieval Manhattan.' The skyline has scarcely changed since the Middle Ages - yet the famous towers do, indeed, resemble miniature skyscrapers. San Gimignano's towers were built in the 12th and 13th centuries by the magnati, or nobles, during the Guelf-Ghibelline conflicts. These windowless towers protected the wealthiest families in times of strife: families could retreat into the many rooms inside for months at a time. As well as defending the city, the towers served as status symbols: the higher the tower, the richer and more powerful its owner. Given its spectacular setting, San Gimignano is one of the most touristy towns in Tuscany but manages to rise above the masses. Come for its medieval mood but try and linger after the tour buses have left town. Reward yourself with a toast to medieval glory – in local Vernaccia wine, of course.
Essential San Gimignano Information
Top Ten Things to Do
The towers alone make a visit to this medieval time capsule worthwhile, but San Gimignano abounds in quirky sights. Make sure to stay after the crowds have gone. As for the museums, note that one combined ticket allows access to them all.
Read more
Shopping, Parking & Getting Around
San Gimignano is geared towards tourism and the shopping reflects this. While there is little original or outstanding to buy, the speciality food and wine shops are good for gifts, or for topping up supplies in the villa. The local olive oil is recommended. (Olive oil quality is measured by acid content, with finest oil being extra vergine, which has less than one percent acid content).

Read more
Eating & Drinking
Vernaccia di San Gimignano is the characteristic white wine - crisp, full-bodied, golden-hued, and popular since Dante's day. To round off a Tuscan fest, dip cantuccini, crunchy almond biscuits, into Vin Santo, the region's amber-hued dessert wine.

Tuscany's olive oil has long been famous for its quality and excellent flavour and texture. The San Gimignano locals are passionate about olive oil, where olives have been grown locally since Etruscan times. Such is the case on the Montenidoli estates. This cru of Extra Vergine di San Gimignano is a tasty example.

Meats are to the fore, with fennel salami often on the menu, as is rabbit. The meat dish par excellence is still the bistecca alla fiorentina, a vast, tender, juicy and succulent T-bone steak. That said, given San Gimignano's closeness to Siena, expect plenty of Sienese dishes, too. In the Sienese countryside, the white-striped Cinta Senese breed has been producing the region's finest pork and charcuterie since the Etruscan era. Hunting is a popular sport, resulting in plentiful offerings of cinghiale (wild boar), which come in many guises on local menus. Despite conservationists' pleas, small birds, from sparrows to quail, are still considered fair game.


Read more