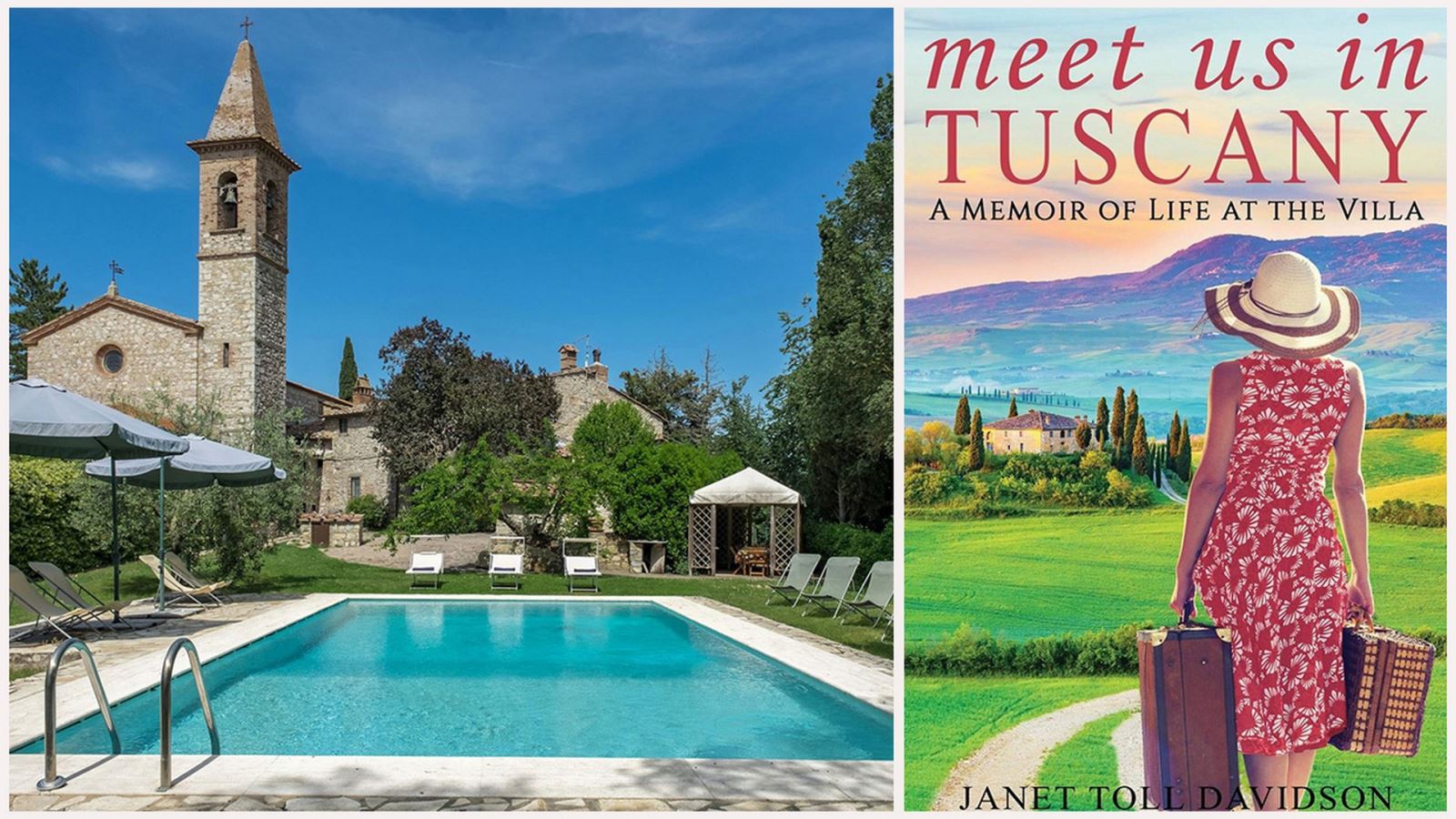 Tuscan tale: Casale La Canonica, the villa starring in 'Meet Us In Tuscany'

When Janet Toll Davidson and her husband Richard embarked on a trip to Tuscany, little did she realise this fascinating trip would result in a book. Meet Us In Tuscany is the memoir of a happy holiday with extended family that's sure to inspire your own journey to the heart of Italy. The following excerpt sees the family settle in at Casale la Canonica and begin to explore the local area…

"Our three weeks unfolded in chapters. Guests came, guests left. They stayed from four nights to seven nights. The only constants were Richard and me. For us, every week was a new beginning. Early in our planning, I had created an Excel spreadsheet with arrival and departure dates to make sure that we were not overbooked. We needed to assure ourselves that there would always be an available bed. There was.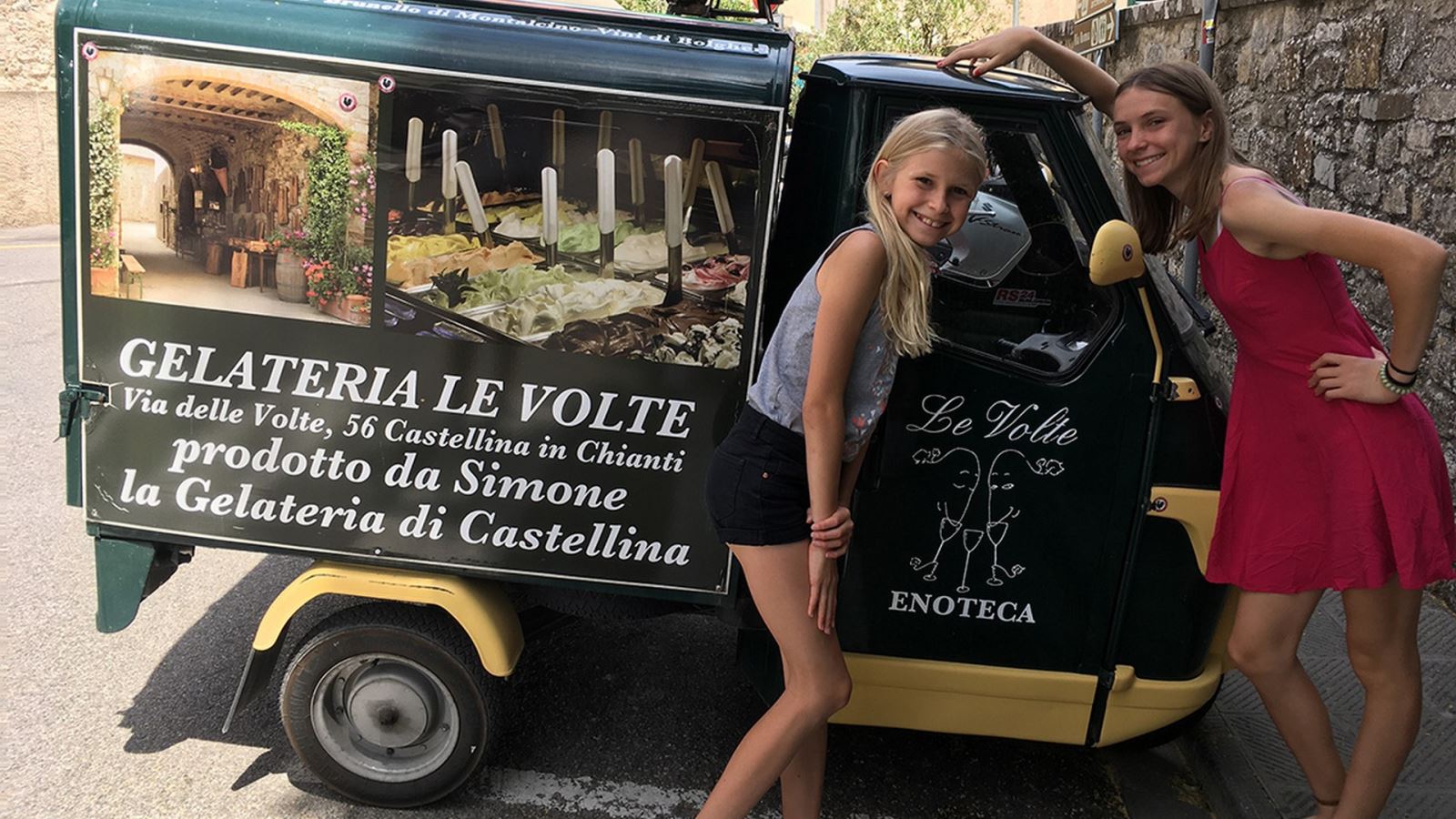 Mimi and Corona with the gelateria van

The villa was not air-conditioned so we hoped it would be cool enough on hot Tuscan summer days. The pool was not heated so we hoped that the weather would be hot enough to keep it warm. I think we had the perfect combination. The pool was indeed warm enough, even for me, and the house temperature was delightful thanks to the thick stone wall of a centuries-old edifice.

For all, life at the villa was at the top of their list of favourite memories. Just hanging out in the living room, the kitchen or by the pool, chatting and laughing, was such fun. However, because the villa was large and spread out, it was easy to sneak away for a nap, a read, a shower or just some quiet time. Our schedule was unstructured. We arose at different times anywhere from about 5am to 10am so the morning was very slow and casual. Zachary took a fierce bike ride each morning, Debbie did T'ai Chi by the pool, Tierna and AJ worked out, many of us took a hike and others just lolled about smelling the tantalising aroma of Italian coffee…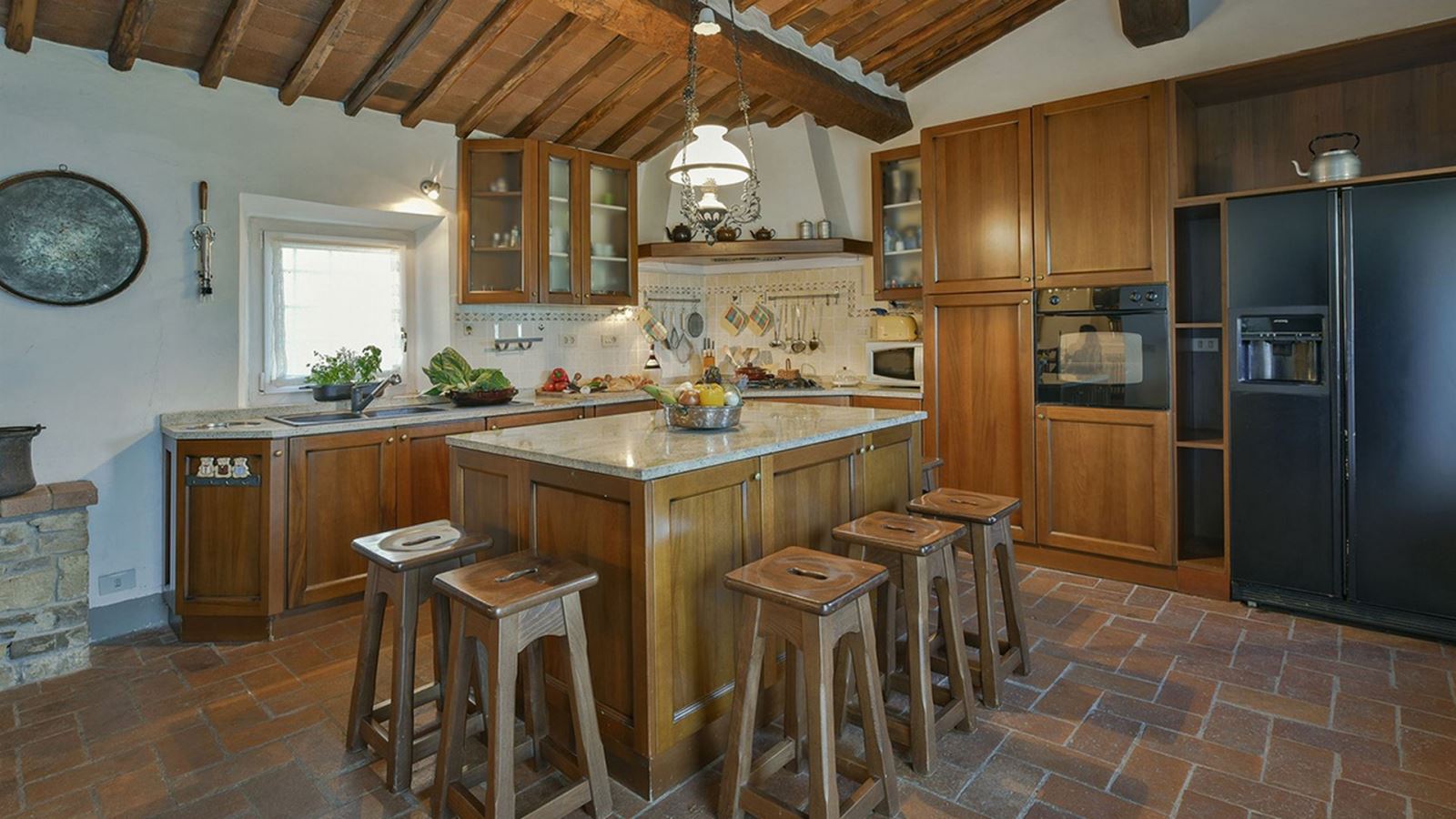 The villa's kitchen is just the place to try out some Tuscan recipes

...[One] day, while I was walking to town [Castellina] alone, I encountered a woman who had emerged from the bushes on the downward slope next to the road. She seemed to have some crops in her hands. In my meagre Italian and with lots of hand gestures, I asked what was down the slope. Apparently, she had a small garden just off the road. She showed me what she had picked that day, all fresh and beautiful. We smiled at each other and waved as she left to walk home. Each time I took that trip, I looked for her. It made me want to have my own little herb and vegetable garden… It was such fun to engage these lovely Italian villagers even if we did not speak the same language…

…When Karen and Debbie arrived just six days after our arrival at the villa… we went into Castellina… Karen was amazed that I knew so many people after such a short time. In general, Italians are among the friendliest people on this earth but in small towns they knock themselves out to make your time there such fun… I met Silvia, the owner of Il Rifugio dei Folletti [shop]… on my first day in town. She spoke little English and I less Italian but we became fast friends. I visited her every time I was in town, whether I needed items from her shop or not. That first day, I had asked her about a cheese she had out for tasting. It was unusual as it incorporated pistachios. I also asked her about some pastries on the counter. Once I had completed my purchases and paid my bill, Silvia cut a chunk of the special cheese, wrapped it up and stuck it in one of my shopping bags. Then she grabbed four of the pastries, wrapped them up and placed them in another of my bags. What a sweetheart. From that day on she always gave me a little something special…"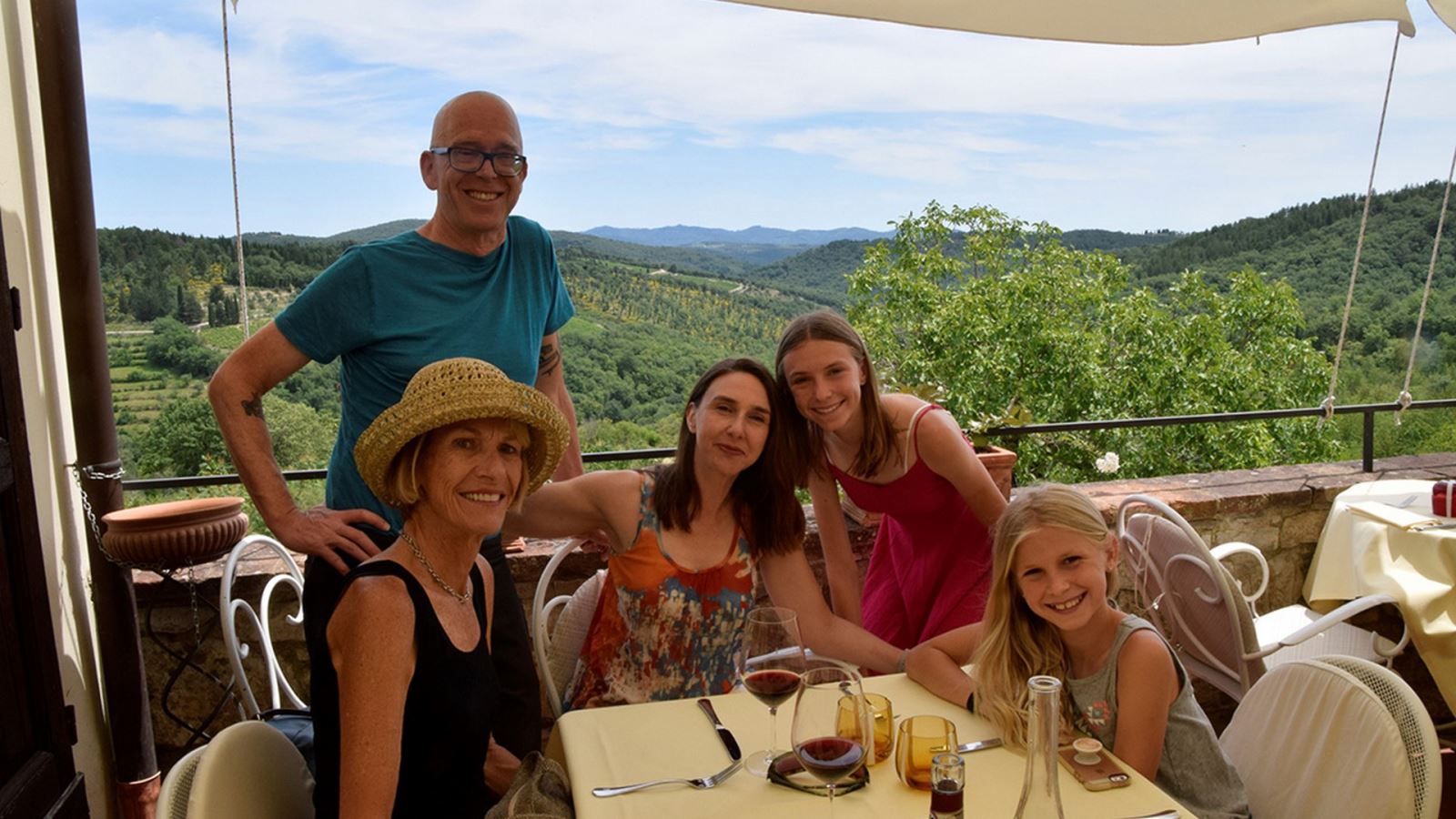 Family lunch in Castellina in Chianti

This excerpt from Meet Us In Tuscany: A Memoir of Life at the Villa by Janet Toll Davidson has been published by kind permission of the author and Publish Authority. Copies of the book can be ordered at www.publishauthority.com and other online outlets.