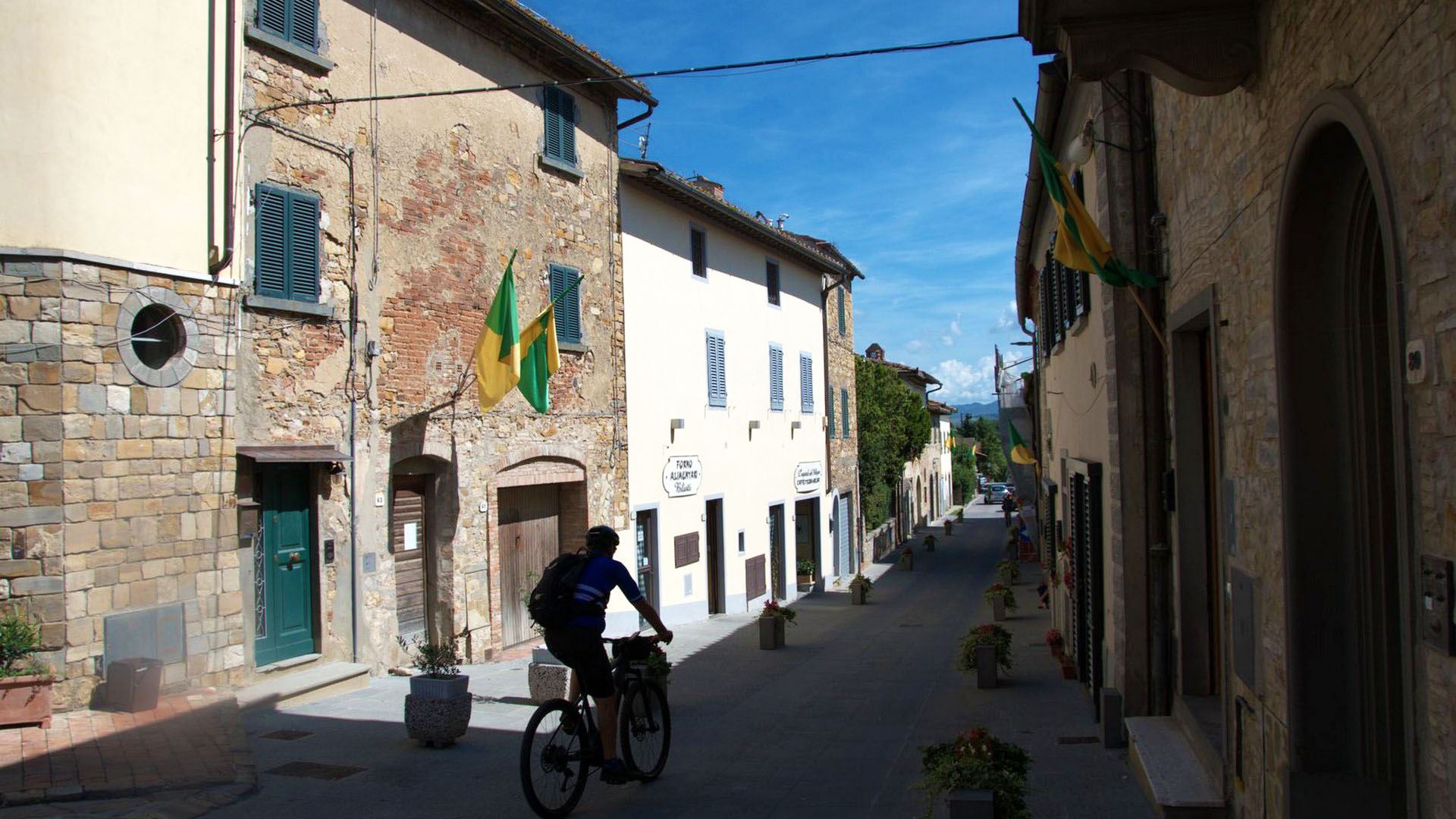 San Donato in Poggio
San Donato in Poggio is set in one of the prettiest patches of the Chianti. The hilltop medieval village dominates a ridge separating the Val di Pesa from the Val d'Elsa and enjoys views of olive groves and vineyard-clad hills. This walled, stone-and-brick-built hamlet is tucked into its medieval fortifications. Even if only stretches survive, including two gateways, the street plan remains medieval. A remaining watchtower on the western edge of the hamlet leads to a bell-tower and the atmospheric main square, along with the Gothic church of Santa Maria della Neve and an octagonal well. Given its position as a pawn in the long-running battles between Siena and Florence, San Donato often depended on this well for survival. The Florentine-Romanesque church of San Donato stands by the Porta Senese, the Sienese gateway, a reminder that medieval peace treaties between Siena and Florence were twice signed in this former citadel.
Essential San Donato in Poggio Information
Things to Do
San Donato in Poggio makes a charming base for activities as varied as visiting abbeys and villas or exploring vineyards on a Vespa tour. As well as discovering some of the Chianti's loveliest wine estates, you could learn how to blend your own wine. Hiking through the vineyards is another temping option. Magical ballooning trips run from neighbouring Tavernelle Val di Pesa. As for culture, consider day trips to SanGimignanoFlorenceor even Siena

This is just a taster to the Chianti. See our specific guides to top Chianti outposts, all accessed through our Destinations listings, For starters, check out our guides to GrevePanzanoCastellinaRadda and Castelnuovo Beradenga. Our additional Chianti guides cover Castagnoli, Volpaia, San GusmeSan Donato in Poggio and Vagliagli.
Read more
Eating & Drinking
For all its history, Tuscany remains at the forefront of the wine industry, which is still dominated by many of the original noble families.  "The know-how in the vineyards today compared to even a decade ago is phenomenal," claims Lamberto Frescobaldi, whose Florentine family has been in the wine business for 700 years.

The main centres in Chianti Classico are Panzano, Greve, Castellina, Gaiole, Fonterutoli and Radda. Easily accessible off the picturesque route SS222, the grandest, castle-like estates have often been run by the same families since medieval times, as is the case with the aristocratic Antinori, Frescobaldi, Mazzei and Ricasoli dynasties. Our recommended wine estates are featured in each of the individual Chianti guides.

Local dining tends to be rustic but robust, nourishing the soul and the spirit as much as the body. Legumes are a mainstay, where cannellini, white kidney beans, add a smooth texture. Yet in both Panzano and Greve meat dishes take centre stage, partly thanks to the presence of excellent butchers.

This is just a taster to the Chianti. See our restaurant recommendations below and also see our other guides to top Chianti towns and villages, all accessed through our Destinations listings.
Read more
Shopping & Parking
Shopping in San Donato in Poggio is limited so for wider shopping options, head to neighbouring Panzano, Castellina, Radda and, of course, Florence.  Panzano offers Chianti foodstuffs and, of course, cured meats. The Sunday morning market sells everything from fruit and vegetables to cheese, roast chicken, shoes and clothes. For even more choice, go to Greve or Castellina.
Read more