Rosado Rosadi is the owner of Palazzo Rosadi and Torre del Cielo, two villas featured by To Tuscany. In this series of occasional interviews with our villa owners, Rosado reveals his family's long association with the region and talks about his beautiful properties.

"My family has been in this part of Tuscany since 1182. We were one of the first families in the region to produce the tobacco for the Toscano cigar. We also grow sunflowers, corn, olive oil and chestnuts. My ancestors built Palazzo Rosadi as a family home in 1785.
"Palazzo Rosadi and our neighbouring property, Torre del Cielo, are located in Monterchi, a village in Arezzo province, which is famous for its fresco painted by Piero della Francesca, Madonna del Parto. The villas are about half an hour's drive from Cortona in the Valtiberina. Torre del Cielo's heritage as a border watchtower means we are in a great location right on the edge of Tuscany and Umbria, about an hour from both Siena and Florence.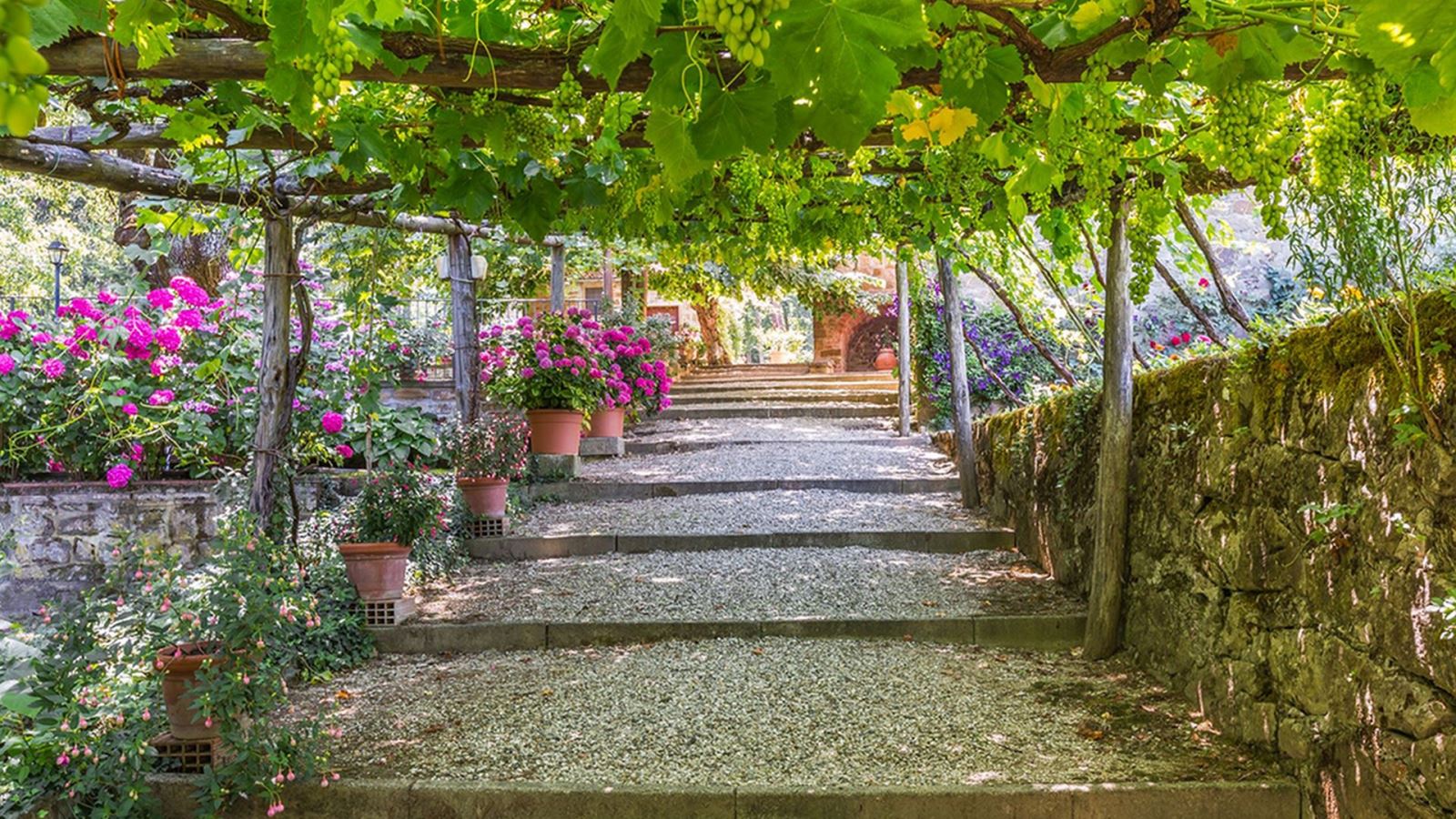 The garden at Palazzo Rosadi has beautiful features, such as this walkway

"Torre del Cielo – which means Sky Tower – began life as a medieval watchtower and was built by the Medici family. Back then, Umbria was part of the Pope's realm and remained so until 1861 when it was subsumed into the Italian state. Like many of Tuscany's medieval towers, Torre del Cielo was constructed to allow the Medici to survey their enemies: the Papal army. In 1894, my family acquired the property and transformed it into their country house.

"The last member of the family who lived there passed away in 1974, and Palazzo Rosadi remained empty until 1999. One of my good friends, Coleschi Bruno, an estate agent, urged me to rent it out – seeing a good opportunity to put something truly Tuscan on the market. So we renovated the property, adding a pool, along with the kitchen, four of the bedrooms, and a bathroom. Today, Palazzo Rosadi has six bedrooms, all en-suite.
"Each winter we do major works on both properties. It's a continuing labour of love; not a one-off job. It's the same attitude I have towards my guests. We don't have them check in and hand over the keys, and that's it. As part of the rental fee we include all sorts of extras: a welcome arrival buffet, a tour of the valley, visiting such sights as the monastery where St Francis of Assisi lived, and a wine tasting at a local vineyard.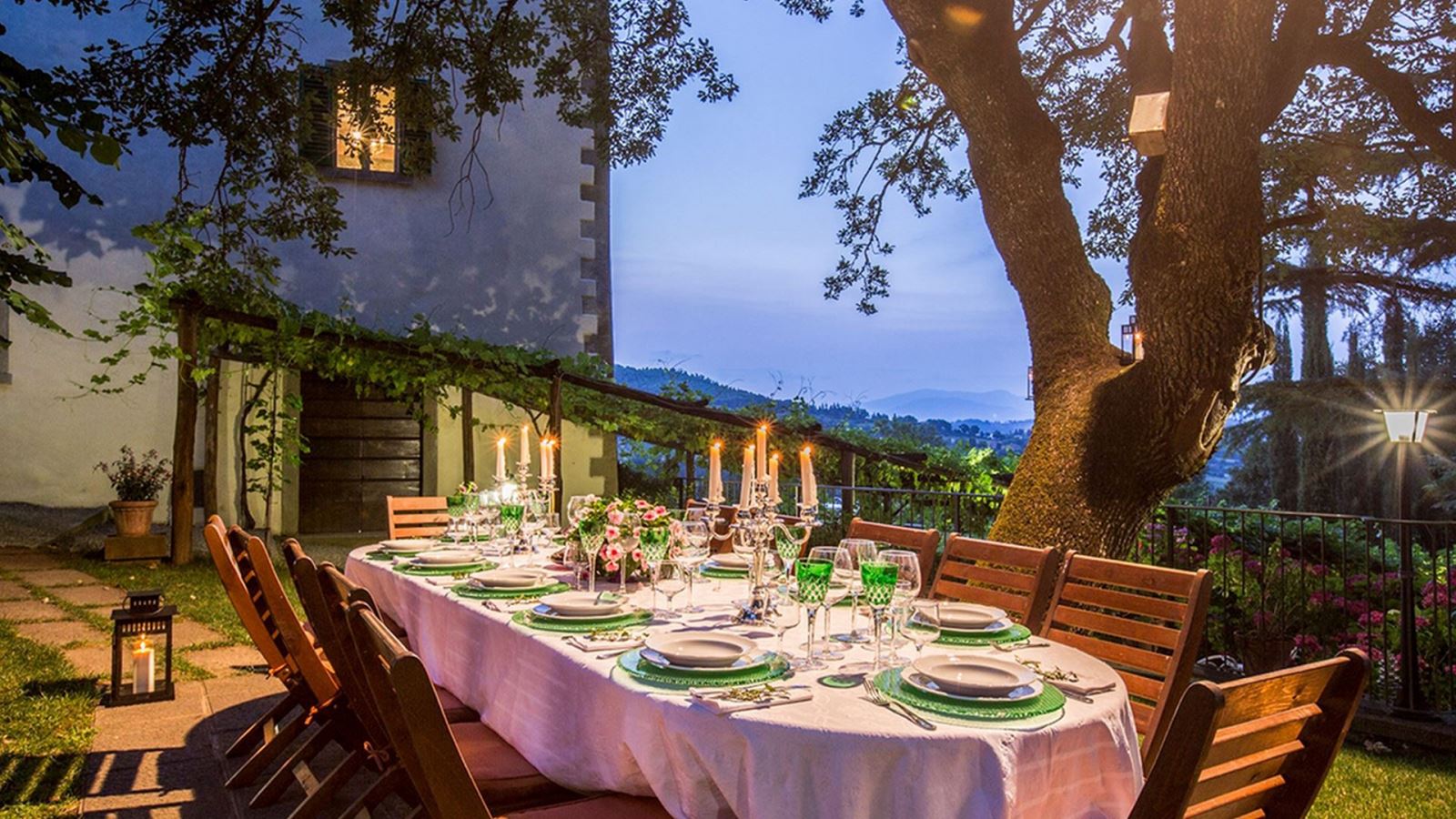 Dine al fresco as dusk falls at Palazzo Rosadi

"Before beginning to renovate Palazzo Rosadi, I had absolutely no experience of restoring or renting out villas. I got priceless advice from Sean Caulfield of To Tuscany, which helped me pre-empt what guests expect: air-conditioning, for example is a must in August, as is a pool. I rented Palazzo Rosadi for the first time in the year 2000, to an English family. I remember them well, and fondly.

"For the initial restoration of Palazzo Rosadi, which took nine months, I put together a team of 14. This included an architect, builders, carpenters, plumbers, and electricians. I chose a local architect, Casacci Claudio, who had worked with the region's villas for generations, and knew their histories, and how to keep the integrity of their traditional Tuscan design styles.
"Because I've done the restoration in stages, it's hard to gauge the cost. It's always ongoing. Just to renovate three bathrooms at Palazzo Rosadi recently, cost €98,000. But I don't do things by halves. I always want to use the best materials, taps, tiles, etc. I've maybe spent between €1.5 million per property in total so far.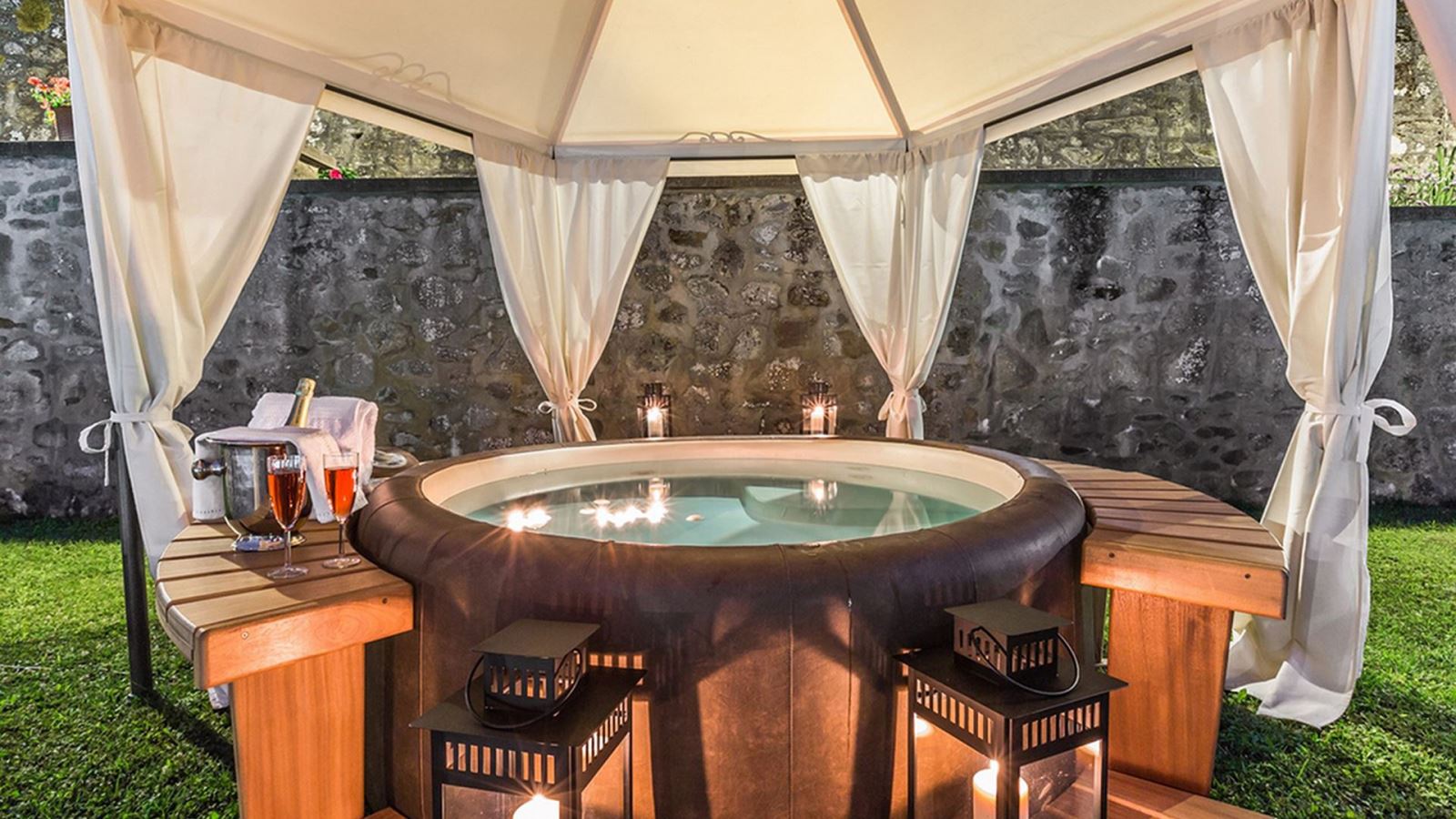 Treat yourself to a dip in the hot tub at Palazzo Rosadi

"In 2005, after witnessing the success of Palazzo Rosadi, I began work on transforming Torre del Cielo from a family country house to a rental property. I wanted two villas with different styles. Palazzo Rosadi is bigger, grander, more elegant. It's a classic Tuscan villa (and my wife's favourite). Torre del Cielo is smaller, cosier, more rustic (and the favourite of my two daughters).

"One of the key elements I wanted to bring to each property, along with a showpiece swimming pool, was to have every bedroom with an en-suite bathroom – it's something I prefer when travelling.

Palazzo Rosadi is decorated with a mix of original restored furniture owned by my family – carved wooden beds, ornamental antiques – along with modern kitchen and bathrooms. Torre del Cielo has a more simple, rural Tuscan style. In both properties, we wanted to keep as many of the original design features as possible. You'll find flagstone floors, and terracotta floor tiles, lots of wood from local nut trees, and each bedroom has its own colour scheme, different paintings and decorative accents.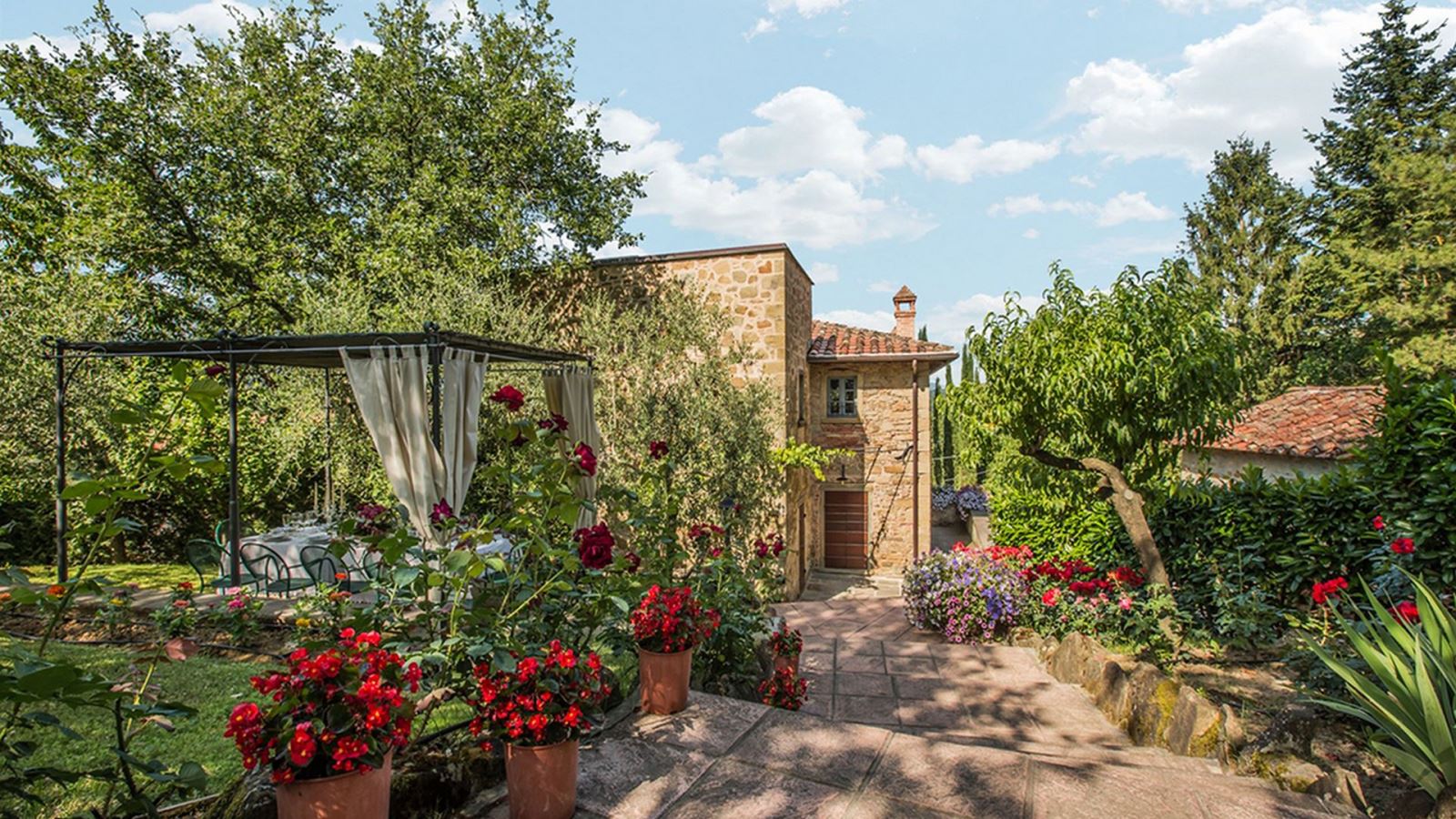 Torre del Cielo was originally an ancient watchtower

"I bought much of the furniture, ad hoc, in small shops in and around Sansepolcro, where I live, not far from where the villas are located. When I find something I like, I buy it. Some pieces were made originally for the villa, and I wanted to leave some of these family objects to create the feeling of a family home, because this is part of the story of these villas. Apart from the bathrooms, much of which was sourced from Devon&Devon.

"My creative goal was to impart a real sense of Tuscan charm; to keep key Tuscan traditional details with some added modern Italian flair. I didn't want a super-modern property that could be found anywhere in the world.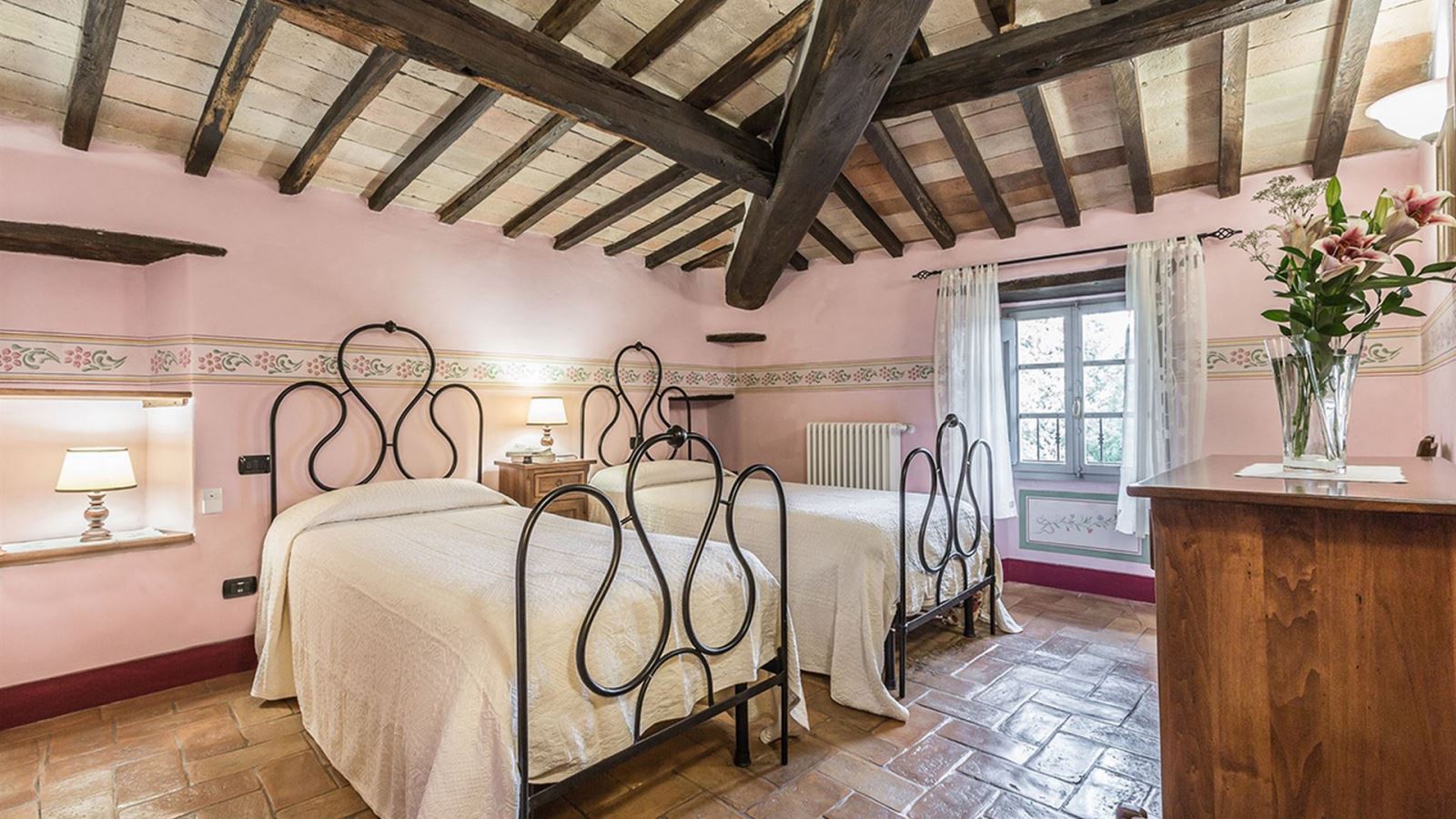 A cosy night's sleep awaits at Torre del Cielo

"While the interiors of both houses are beautiful, the grounds have been a long-standing labour of love for my family, for generations. Palazzo Rosadi's gardens are almost 1 hectare, plus there's another 25 hectares of land. Torre del Cielo is surrounded by 11 hectares of land, and the garden is about half a hectare in size.

Our gardener, Martino, does an enormous amount of seasonal planting, working from March onwards. Between the two properties, we have about 25 lemon trees that are a quarter of a century old – we house them in the barn during the winter. There are plenty of lovely old olive trees, too. In the gardens, throughout the year, we have a rotating range of 220 kinds of roses, plus marigolds, zinnia, agapanthus, and petunia. It's labour-intensive but beautiful work; there's something blooming year-round. It's always colourful. The estates offer amazing panoramas of the countryside, too. They are both set above a small hamlet, at about 400 metres, surrounded by rolling countryside.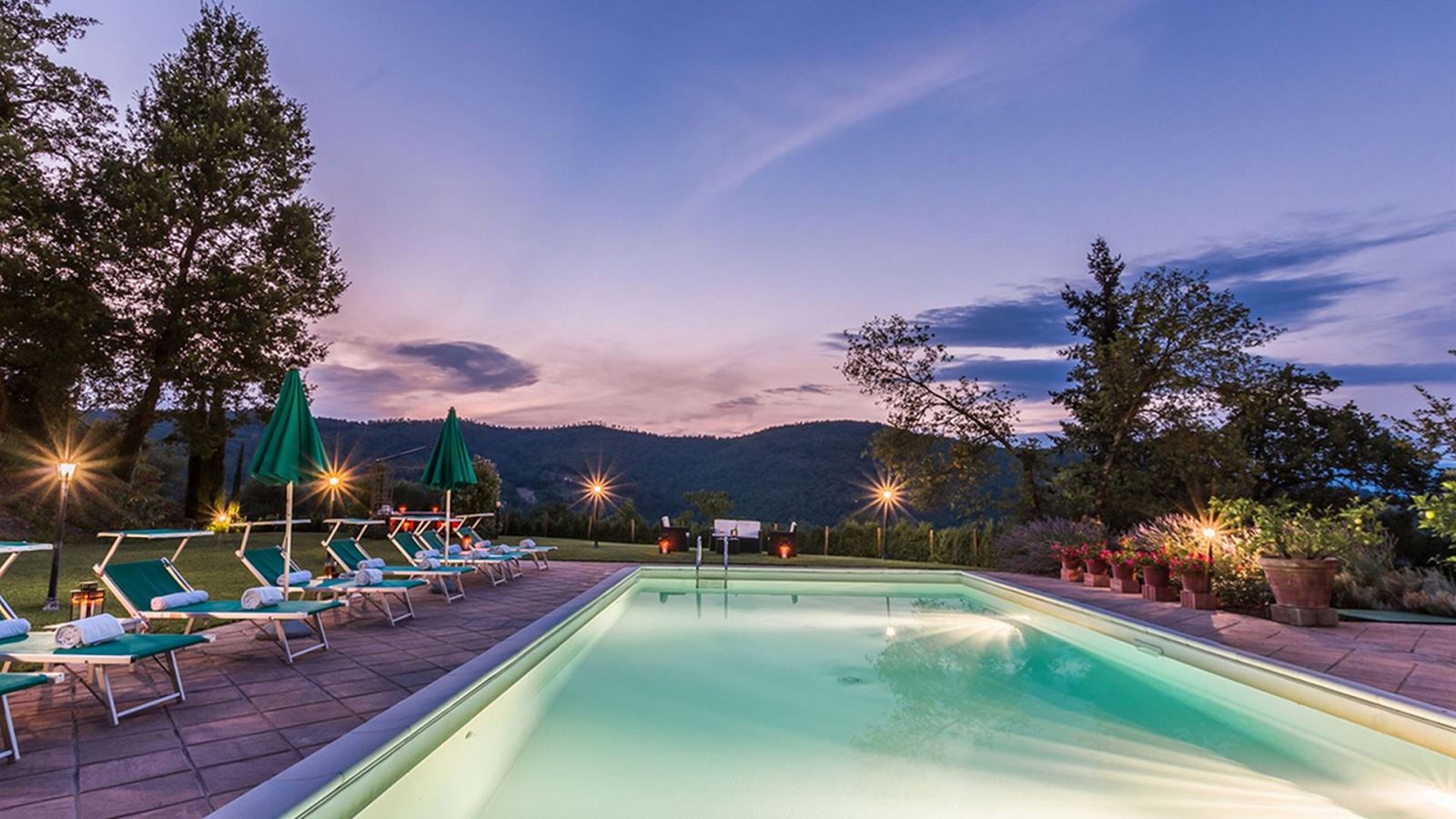 The pool is bound to be at the heart of the action if you stay at Torre del Cielo

"At the end of the valley, the town of Monterchi has all the services guests could want – restaurants, supermarkets, bars. You can walk there through the valley, or borrow one of the villas' bikes.

"The setting is so peaceful that we have some guests who simply want to sit and enjoy the relaxing locale, reading books all day. They don't move at all. If that's the case, we can provide a chef for meals, or cooking classes, and we can do their shopping for them. But we also host plenty of people who want to spend every day visiting Tuscany and Umbria's sights. Because of the villas' location, right on Tuscan-Umbrian border, it's really easy to hit the must-sees."

Find out more about Torre del Cielo at to-tuscany.com/torredelcielo and Palazzo Rosadi at to-tuscany.com/palazzorosadi