Tuscan Chianti Braised Ox Cheeks and Pici Pasta
Serves 4 people
Cooking time: 3 hours

Ingredients
2 ox cheeks, 1.5kg approximately
325ml of red chianti
1 bay leaf
peppercorns, a few
1 garlic clove, bashed, for the marinade
1 large onion, peeled and chopped
1 stick of celery, finely chopped
2 carrots, peeled and diced
2 garlic cloves, peeled and sliced
300ml of beef stock
2 tbsp tomato purée
salt pepper
oil

For the Pasta
3 cups 00 pasta flour
4 eggs
1 tbsp olive oil

1. The day before, put the ox cheeks in a bowl and add the wine, garlic, peppercorns and bay leaf, cover and leave to marinade overnight in the fridge.
2. On the day, fry the onion until golden then add the carrot, celery and sliced garlic and gently fry.
3. Remove the mix from the frying pan and pour into a casserole dish.
4. Remove the ox cheeks from the marinade, saving the liquid, season the meat then place in the pan and brown on both sides. Pour the marinade over the ox cheeks to deglaze the pan.
5. Add the contents of the pan to the casserole dish, place the lid on and bake in the oven for 3 hours.
6. Half way through cooking turn over the ox cheeks so that the sauce helps to cook them.
7. After three hours, the meat should fall apart. If not, cook for another 20 minutes to 1 hour.
8. When done, pull the meat apart into small pieces so that it mixes with the sauce.
While the meat is cooking make the pasta
9. Place the flour in a mound on the worktop and make a hole in the centre. Crack the eggs into the hole and add the oil. Using a fork start stirring the eggs into the flour, pulling in flour from the edge as you go. Then mix with your hands and knead into a ball.
10. Cover with plastic wrap and let rest for 20 minutes. To make pici pasta, either roll the dough out and cut strips then roll into spaghetti-like strands, or break off small chunks and roll out between your hands and then on the worktop.
11. Add the pasta to boiling water and cook for 6 minutes, then strain and toss in the meat sauce.
12. Serve with grated hard Italian cheese and some fresh basil.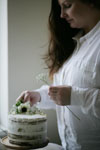 Recipe created by: Aimee Twigger
http://www.twiggstudios.com/2016/09/tuscan-chianti-braised-ox-cheeks-pici-pasta/